After losing his driver to Covid, Ahmedabad engineer Shivam Dhruva felt the need to build an app that will provide latest medical updates at the click of a button, free of cost.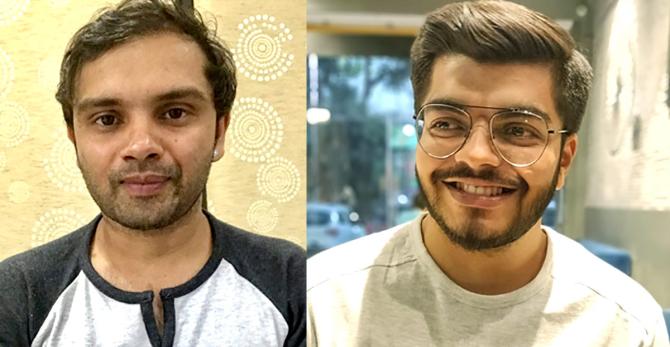 At this point, if you open any social networking site, community or group you are part of, your timeline would be updated with requests for beds, ventilators or maybe a plasma donor.
Most often, it is an emergency, life and death situation.
And even if you think you have it all under control, after scouring through dozens of resources available online and offline, you realise that some of the emergency resources you thought you could rely on, are either unavailable, ineffective or not functioning at the opportune moment.
Unfortunately, by the time you have managed to find something useful, the person you intended to help has either passed away or paid a hefty amount to meet the emergency requirements.
Ahmedabad techie Shivam Dhruva found himself in a similar helpless situation when their family driver who worked with them for over 20 years, lost his battle to life when he was unable to find emergency resources at the right time.
"I was personally shattered by his loss. His family and neighbours were helpless in the struggle. He was in his late 40s and quite healthy, so it was really hard for all of us to accept it. Around the same time, a I lost a few people in my society where I live." Shivam tells Divya Nair/Rediff.com.
Shivam's experience and frustration may ring a bill to lakhs of Indians looking for emergency Covid related resources online.
In order to help people and to find a temporary solution to this, Shivam along with his friend Mahendra Rathod decided to come up with a free app that will provide the most recent and relevant resources at the tip of your fingers.
"Right now everyone is trying to help. But the resources that are available online are so overwhelming. There are multiple war rooms, contact numbers and e-mails. Initially, even we sought help from volunteers who knew people in the medical community for quick updates on availability of beds, ventilators and oxygen facility. But sometimes, even if you have the right number, the person you call may not be available to answer the phone or be able to help you when you really want them to," Shivam, 30, describes the grim situation we are all facing.
"India is literally grasping for air (oxygen). So, I just wanted to streamline the process and make it easier for someone who doesn't have a lot of time to spare, something that will make the process easier in times of crisis," he explained.
The app CovidTweet launched in the last week of April 2021, identifies the latest, verified information from Twitter API and displays it on the site, along with a phone number.
The app that was built by the duo within 48 hours, displays tweets requesting and offering medical services based on these following popular keywords, ranked below in their order of average percentage of tweets:
Oxygen (99%)
Beds (50%)
Hospitals (40%)
ICU (21%)
Ventilators (13%)
Plasma (2.6%)
Remdesivir (0.5%)
Knowing that he would need a large server to process volumes of data, Shivam approached his company Everledger where he works as a concept engineer.
"Fortunately, they agreed to provide us with a production server that could withstand the large number of tweets," he said, while going on to explain how it all works.
"On average we process around 50,000 tweets related to Covid resources posted every day. Out of these, 10,000 are tweets with contact information that move further to our Web site."
"The automated Web site looks for verified recent tweets through hashtags and keywords. As soon as a tweet with a contact number pops up, the algorithm of CovidTweet reads the information, classifies it by hashtags, makes it searchable through text, city, hashtags, and phone number. In case the users want to review the comments, they can still view the tweet on Twitter."
Within a week of its launch, thousands of users from across India accessed it and more than 15 people responded saying they were benefitted in some way.
What makes CovidTweet functional is the short lifespan.
A tweet is not older than 4 days. Every six hours, the algorithm wipes out tweets that are older than 4 days, making sure that the Web site stays true to its motto: real-time updates on available resources.
Another advantage is the easy accessibility.
"Unlike other Web sites that demand registration, CovidTweet never demands signup or login and it is free of cost for all users," says Shivam, while insisting the website was never built or designed to be profitable.
Right now, the duo is in talks with the Twitter team to promote the resource on their website so more people can access and benefit from it.
In his appeal to techies around the world, Shivam says, "Technology is really the driving and differentiating factor here."
"The doctors and healthcare providers are already doing what they can. The government, although ambitious, unfortunately lacked the foresight to build technology that would cater to a large population. We all saw what happened with CoWin registration. The app crashed because it couldn't withstand the load."
"Ideally, the government should have prioritised vaccination for 18 to 45 year old. Because it's not our parents, but the youngsters who are stepping out for essentials, for work, etc. Also, what is the point of having multiple helplines and war rooms if people are not able to reach you or avail of the services when they actually need it? So, if the youngsters, the techies, engineers, we can all come together, maybe form a community to brainstorm our ideas and build local apps that solve our problems, we may be able to win this fight against Covid."
"I am open to ideas, suggestions and feedback on how to make the app more accessible or to build something new that would solve an existing problem," he says. "This is the time where we have to work as a team and find both short term and long term solutions and ultimately save lives."