Chef Mohammad Shiraz from Hilton Bangalore Embassy Golflinks shares his special recipe.
Ingredients:
250 gm mutton mince
20 nos samosa sheets
1 l oil
1 tsp ginger, chopped
100 gm onion, chopped
1 tsp garlic, chopped
1 tsp coriander powder
1 tsp turmeric powder
1 tsp cumin powder
Salt to taste
Refined flour paste or water for sealing
1 tsp chopped green chilly
Coriander springs
For the dough:
100 gm ghee
200 ml water
500 gm refined flour (maida)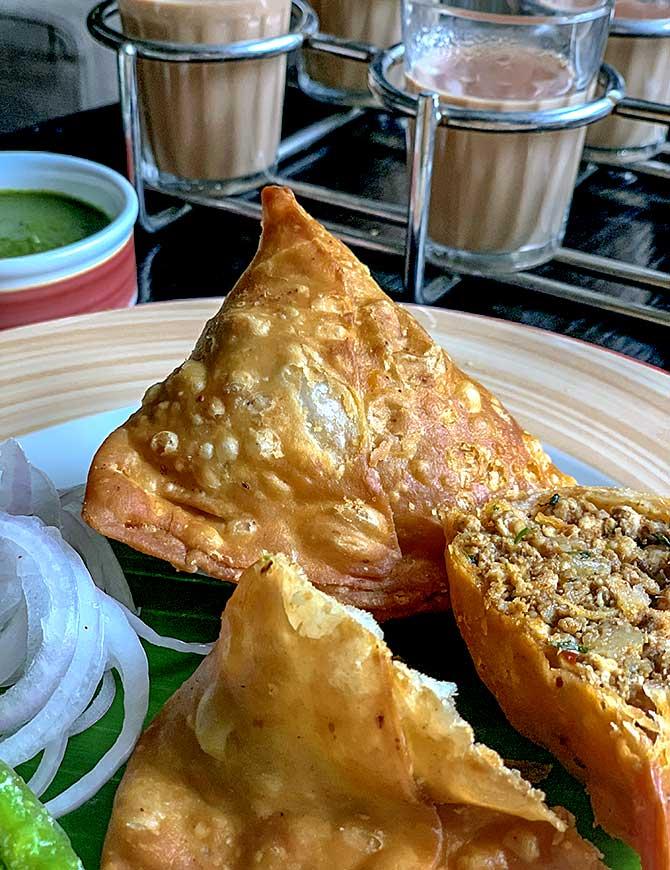 Method:
To prepare the dough:
Sift flour in a bowl. Add ghee and cold water and knead into a dough. Set aside.
To prepare the mixture:
Heat 1 tbsp oil in a non-stick pan. Add chopped onions, garlic and saute for 15 minutes. Add ginger chopped, coriander powder, turmeric powder, cumin powder and salt. Mix well and saute for 2 minutes.
Add mutton mince, mix well and saute. Add 2 cups of water and cook for 15 minutes. Chop coriander sprigs, green chillies and add. Mix well and cook till dry.
Mash the mixture and transfer into a bowl. Cool to room temperature.
Spread some flour paste on one end of a samosa sheet and fold into a triangle with a pocket. Put some mixture in it and fold over to make into a samosa by sealing the end flap with the flour paste.
Heat sufficient oil in an iron kadai. Deep fry samosas till golden and crisp. Drain on absorbent paper. Serve hot with green chutney and khajoor chutney.