Presenting a recipe for a crunchy, spicy, crispy snack that will go well with your Diwali mithai.
Sangita Agrawal's Sooji Ki Masala Nimki, also known as Rava Masala Namak Para, is also one of those dip-in-your-chai treats.
Usually made with maida and/or wheat flour, this recipe calls for suji or rava or semolina.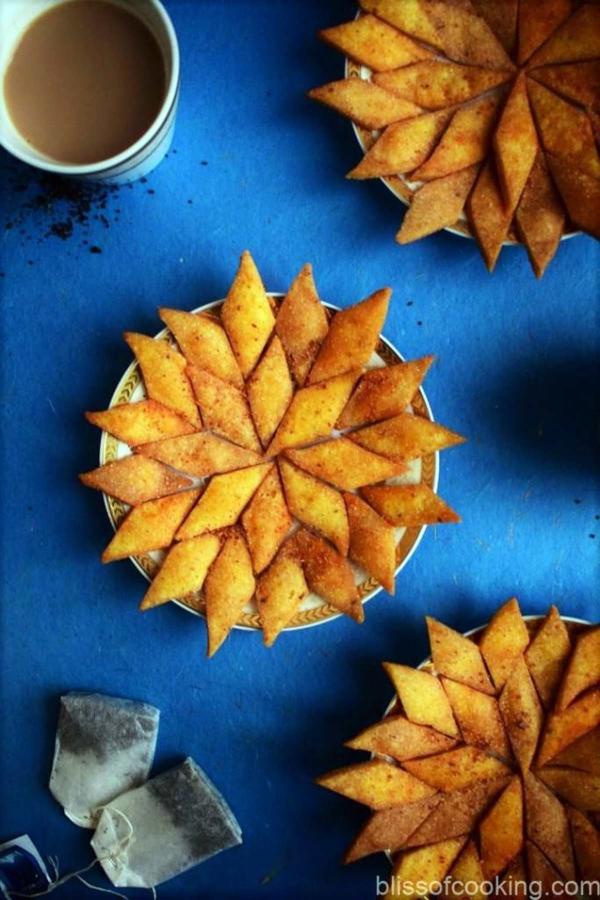 Sooji Ki Malasa Nimki
Servings: 100 pieces
Ingredients
2 cups sooji or rava or semolina
2 tbsp besan or gram flour
2 tbsp wheat flour
1 tbsp salt or per taste
½ tsp ajwain or carom seeds
¼ tsp haldi or turmeric, optional
2 tbsp oil (if preferred, can substitute with ghee)
1 cup water
Oil, for frying and greasing before rolling
For the masala mix
1 tsp chaat masala
1 tsp Kashmiri chilly powder
¼ tsp garam masala, optional
Method
Mix all the masalas together and keep aside.
Grind the suji in a mixer to a powder-like consistency.
It should be a little coarser than rice flour.
Transfer to a big bowl and add the besan, wheat flour, ajwain, haldi, salt, oil and mix well.
Add as much water as required to make a soft dough.
Cover the dough and let it rest for 20 minutes.
Knead the dough again 2-3 minutes to get the perfect consistency and softness.
Rest for 5 minutes.
Divide the dough into two parts and make small balls.
Lightly grease a flat surface and roll each ball to ¼-inch thickness or a little less.
Using a knife, cut the rolled dough into diamond shapes or cubes.
Heat oil in a deep heavy-bottomed kadhai or deep frying pan.
Fry the nimkis in batches over medium to low heat.
Maintain the heat at medium when you add the nimki sand then reduce to low.
Fry till they become light golden brown.
Drain excess oil and transfer onto a tissue or paper towel-lined plate.
Sprinkle the masala mix onto the fried nimkis as soon as they come out of the oil.
Let the nimkis cool.
Store in an airtight container.
Sangita Agrawal lives in Mumbai and publishes the food blog Bliss of Cooking.