Light up your Diwali with homemade sweets instead of firecrackers.
Presenting contemporary, fusion desserts by Chef Ranveer Brar especially for the Festival of Lights.
Try something traditional yet new with melt-in-your-mouth Strawberry-Flavoured Coconut Laddoos.
Choco Coconut Karanji is a fun version of that Diwali favourite and is made with pastry sheets, desiccated coconut and chocolate syrup.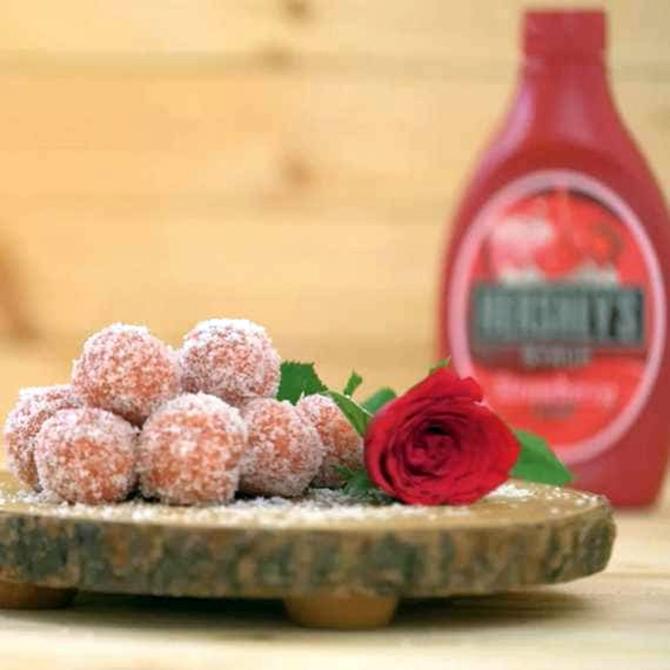 Strawberry-Flavoured Coconut Laddoo
Servings: 6-8 pieces
Ingredients
4 tbsp grated desiccated coconut + extra for coating
1 fresh coconut, grated
1 tsp ghee
3 tbsp water
5 tbsp strawberry syrup
Method
In a small heavy-bottomed saucepan warm the strawberry syrup along with the water for a few minutes.
Reduce heat and add the 4 tbsp desiccated coconut and the fresh coconut.
Add the ghee and cook the mixture till it leaves the sides of the saucepan.
Take off heat.
Set aside to cool slightly.
Using your hands shape the mixture into small laddoos.
Spread the extra desiccated coconut on a plate and roll the laddoos in it.
Serve or store in an air tight container, preferably in the fridge.
---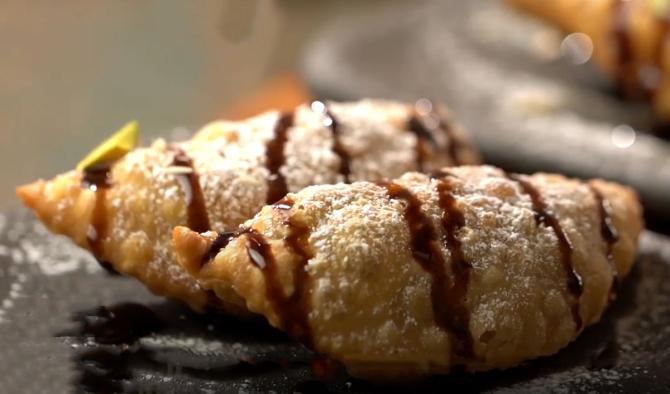 Choco Coconut Karanji
Servings: 15-20 pieces
Ingredients
15-20 fresh pastry sheets
Oil, for deep frying
For the stuffing
A handful raisins
30 gm chopped nuts like pistachios, almonds, cashews
2 tbsp Cocoa with Almond by Hershey's Spreads
4-5 dates, deseeded and pureed
5 tbsp grated desiccated coconut
1 tbsp milk powder
2 tbsp chocolate syrup + extra for drizzling on top
Method
In a heavy-bottomed saucepan or kadhai, over low heat, warm the ghee, raisins, chopped nuts and fry for 30 seconds.
Add the cocoa-almond spread, date puree, desiccated coconut and chocolate syrup.
Cook for 2 minutes.
Add the milk powder and stir well.
Take off heat and transfer into a bowl so it cools faster.
Mix well and set aside.
For the outer layer:
Place the 15-20 ready-made fresh dough sheets on a counter or ledge.
Place ½ tsp of stuffing at the centre of each sheet and seal the ends with water to give it the shape of a karanji (please see this video for the stuffing method).
Using a fork make patterns on the edges.
Heat oil in a heavy-bottomed kadhai for deep frying.
Drop in the karanjis, one by one, and deep fry until golden.
Drain.
Rest the fried karanjis on a wire rack and allow to cool completely.
Drizzle chocolate syrup on top and serve.
The video for preparation of Choco Coconut Karanji is available here.
Chef Ranveer Brar is an author, MasterChef India judge and restaurateur with over 25 years of experience in the food industry.