For the first time, DietSabya, an Indian Instagram handle is calling out Indian designers for allegedly copying, ripping off original work.
Creativity is a gift. And some are naturally blessed with it.
But there are times when even famous artists look for inspiration elsewhere. When you are in the business that thrives on original ideas and creativity, there is an additional responsibility to come up with new ideas and also be commercially viable.
In the age of social media, where information is available at the tip of your fingers, claiming someone else's work as original can cost you a lot.
Remember the time when Sonam Kapoor's Elle cover sparked a controversy? Read all about it here!
Now, an Instagram account by the name DietSabya is confidently calling out Indian designers for blatantly copying and ripping off international and fellow designers' work and claiming as own.
DietSabya proudly identifies itself as the desi version of DietPrada, an international account that shames designers who copy designs abroad.
If the research and claims by DietSabya is anything to go by, the list of designers who allegedly copy art and aesthetics include Nithya Bajaj, Riddhi Mehra, Falguni and Shane Peacock, Archana Kochchar, Nikhil Thampi, House of Misu (who they claim have blocked from tagging them) and labels like AJIO Life.
And the worst part of this alarming trend is that stylists, celebrities and fashion influencers like Malaika Arora Khan, Bhumi Pednekar, Kriti Sanon, Disha Patani, Pooja Hegde and the likes are endorsing these ripoffs.
Don't believe us? Check these samples from DietSabya:
Pooja Hegde models a Riddhi Mehra creation at Lakme Fashion Week 2018 which is allegedly copied from Maison Valentino's Spring 2008 collection.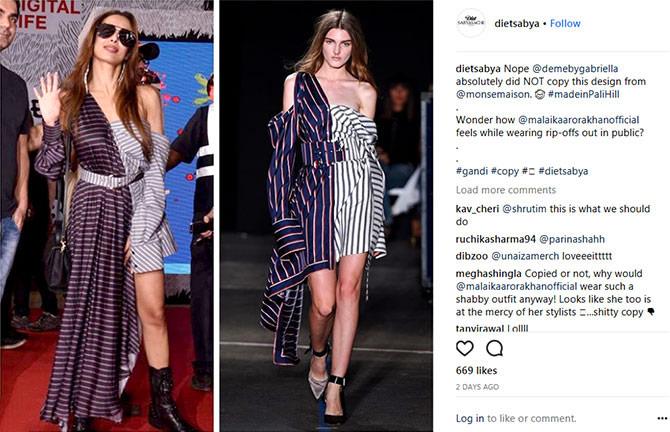 Malaika Arora flaunts an outfit by DeMe by Gabriella which according to DietSabya is an original design by Monse.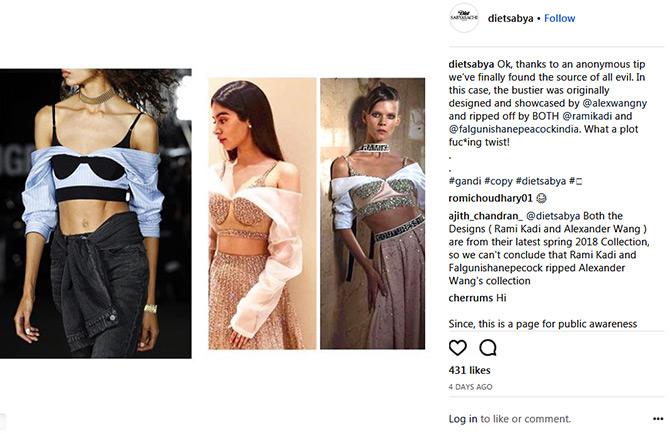 See how two designers Rami Kadi (right) and Falguni and Shane Peacock (centre) took inspiration from Alexander Wang (left) this year.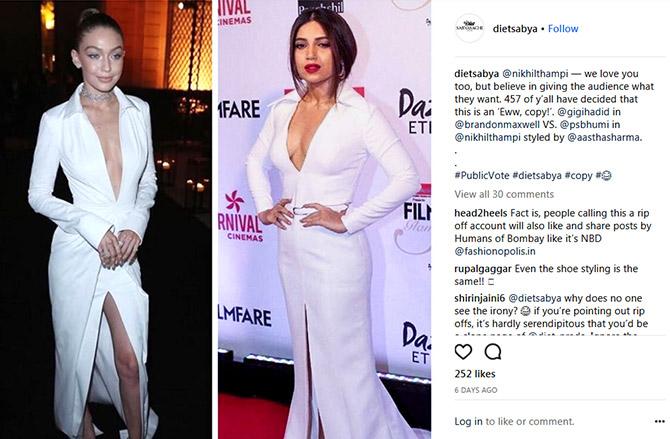 Does Bhumi Pednekar know that the Nikhil Thampi gown she's wearing was first seen on Gigi Hadid?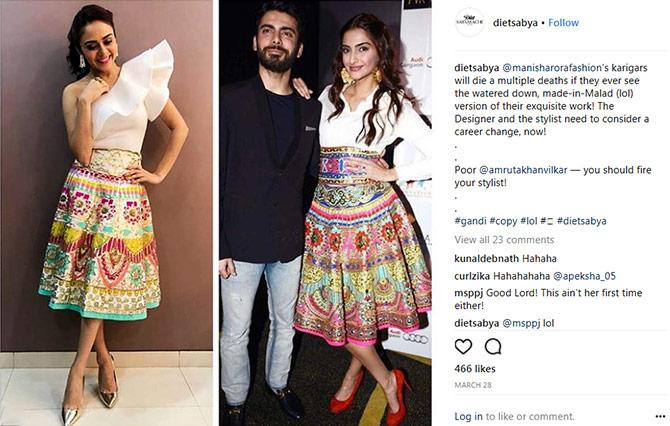 It's not just Indian designers copying international work, sometimes charity begins at home.
Amruta Khanvilkar is seen wearing a copy of Manish Arora's skirt modelled by Sonam Kapoor.