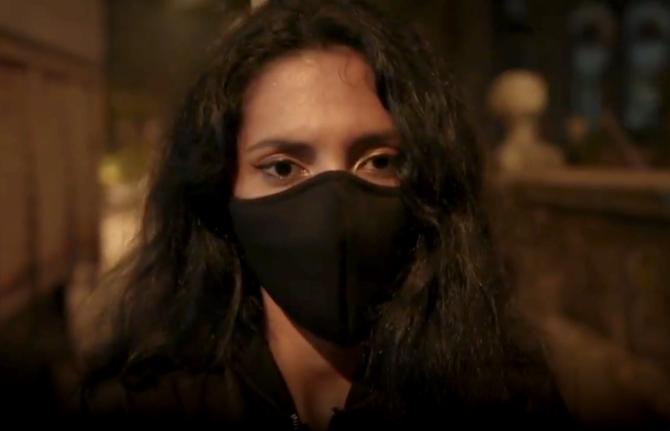 How many times have you walked alone in the streets of your city and felt unsafe?
Even the faintest sound of footsteps or a car/bike approaching your way would make your heart beat faster.
Most girls and women who step out of homes don't like being told what to wear or how to dress up.
Whether they like it or not, girls are expected to be in safe company of a male friend and not venture out alone or stay up outside too late in the night.
Diya Parakh, for example, grew up in downtown Mumbai with liberal parents who are extremely supportive of their daughters. Yet, Diya says, she wouldn't step out of home without a jacket.
"Fortunately, I've never had a bad experience. But whenever I talk to my friends, I realise that there is always a nagging fear in our minds whenever we step out or walk alone. Since I was a teen, I've always been told to be careful," the 23-year-old aspiring actor-writer tells Divya Nair/Rediff.com.
"I don't like to think so much about what I should wear; I can't do that. Simple things like sharing the number of the vehicle you travel in, keeping your parents informed when, where and who you are going out with at the end of a party, we are always thinking how will I go home safe? Will I have to travel alone? Is someone going to drop me?"
"No matter which part of the world you live in, I am sure every woman must have experienced this at some point of their lives. Irrespective of the time of the day -- be it day or night -- women are always thinking about safety first," says Diya.
Ahead of International Women's Day, celebrated March 8, Diya and her friends made a short film to highlight how women feel when they step out and walk alone.
"The film is a small project to create awareness. I felt that it's important to emphasise the idea of women safety," she said.
Titled Not Alone is a 4 minute long film directed by Diya. It features her friend Sanaya Havaldar and is shot by Ritvik Tyagi.
Diya released the film online on her Instagram on Friday, March 5.
The video shows a young woman walking alone in a street. It captures what goes into her mind and how she reacts when she hears and sees someone approach her from behind.
You can watch the film here (external link)!