'As I sat down in the cab, I forwarded details of the cab number, driver's name and phone number to a family member.'
'I also switched on the GPS on my phone.'
Upasna Pandey, who travels at odd hours in taxis every 15 days, reveals how she stays safe.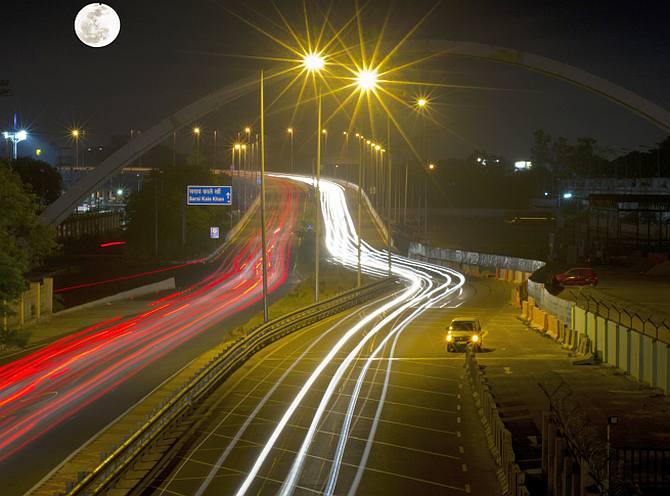 I'm both, a novice and expert on Delhi roads. I am a novice because I have travelled to all parts of Delhi, but cannot give directions if the need arises.
I'm an expert because I have used all possible modes of public transport -- from the Delhi Metro to a cycle rickshaw.
When I need to travel long distances at odd hours and have to select a cab service, which may happen at least once in 15 days, the decision is usually a quick one, based on earlier experiences.
I am sharing with you one such experience at night.
It started with a trip to Dwarka for a family event which was to end post dinner. I requested a cab to take me from Dwarka to Noida opting for 10 pm as the pickup time.
Dwarka is one of the biggest residential hubs in Delhi, located close to the Indira Gandhi International Airport. It is densely populated and well-connected through a deep reach of public transport. So when I decided to use a private cab, I was confident it was a safe decision.
The driver turned up at the designated time. He was a middle aged man, heavy built, tall with a heavy voice. This is important to share as I am the opposite of this in size, so an immediate sense of intimidation is almost natural.
As I sat down in the cab, I forwarded the details of the cab registration number, driver's name and phone number to a family member for reference. I also switched on the GPS on my mobile phone to understand the most suitable route to reach Noida.
There is one more thing which I have been doing for many years, almost instinctively: As soon as I board a cab, I remove all expensive jewellery in case I am wearing any.
We were on our way when I realised that the route shown on the GPS was actually a deserted stretch and my instinct was to move on to the busier roads which may have taken much longer.
Some panic had set in as I worried over this while the driver continued to drive on the GPS route; he also assured me that we would be reaching a busy road soon.
I called up my family member to share the exact location and seek an opinion on whether it was safe to continue on it or to deviate to a busy road.
I noticed that the driver was speaking to someone in Punjabi on his phone. I understood the language so was at ease to know it was his personal call, and nothing with reference to me. It did bother me when he chose to speak in his native language, I would have preferred if he spoke in Hindi or English.
The 5 to 10 minutes drive on a deserted stretch was enough to give me goosebumps; I resolved not to commit myself to any such engagements which would require me to travel alone at night in cabs.
I was waiting anxiously to see a busy road and some streetlights, which are also missing in many parts of Delhi, regardless of these being well developed areas.
Soon we hit a busy National Highway and then the Ring road which is the lifeline of Delhi, heading for Noida. I had the option of taking one more relatively lonely stretch which would help enter Noida via Mayur Vihar or taking a toll road which required payment, I chose the latter.
I was not consistently on the phone with my family member but making repeated phone calls, so I could remain attentive and alert to the route and the driver's behaviour; this is crucial.
Keeping myself rooted in the reality of being alone with a stranger for a short span on the road made more sense for me instead of talking over the phone with a loved one, as an escape to comfort.
I saw a couple of police patrol vehicles en route, which was also comforting but I was praying I wouldn't need to reach out for any help.
I reached home in almost an hour, paid the cab fare, and thanked the driver for a service which was more about safety than about distance.
I knew if there is one learning for me from this experience, it was simple: It's better to be paranoid than be casual and careless.
The driver would normally be a good person, but the risk is too high if he isn't. It is better to be slightly aloof than being friendly and being misunderstood.
Let's not take a chance.
Photograph: Rajarshi Mitra/Wikimedia Commons
EARLIER IN OUR KEEP SAFE SERIES...