Theirs is the kind of story dance films in Bollywood and Hollywood are made of.
Elvis Mascarenhas and Namrata Wittke blew through their savings to participate in the World Salsa Summit in Miami in January. And they won!
Yet very few in India know about their achievements.

The Mumbai-based dancers tell Rediff.com's Divya Nair about how they are keeping the dance alive despite all odds.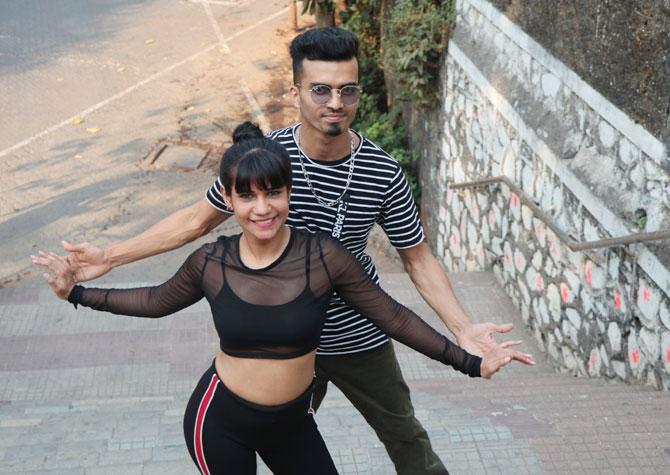 Elvis and Namrata participated in the World Salsa Summit held in January 2018 in Miami.
Elvis won in the men's solo category.
Namrata took second runners up in the freestyle category.
Photographs: Hitesh Harisinghani/Rediff.com.

In January 2018 when Elvis Mascarenhas and Namrata Wittke made a leap of faith to participate in the World Salsa Summit in Miami representing India. They had a lot at stake.
Namrata, 31, had quit a cushy job as a television producer for Star TV, and Elvis, 27, had spent the last of his savings to fund his air ticket to New York (from where they flew to Miami).
The trip set them back by approximately ₹8 lakh.
"I broke my FDs and all that we had saved over the years...." Namrata says, "to live our dream."
A few months ago, the championship wasn't even on their minds as they struggled to make ends meet teaching salsa in Mumbai. But when passion meets perseverance, success surrenders itself.
"After training in New York with the Huracan Dance Studio, they were confident that I should participate in the competition. But breaking into the final rounds was definitely tougher than we thought," says Elvis.
Namrata adds, "There were dancers from 45 different countries, one better than the other."
However, Elvis and Namrata were even better.
He won gold in the solo-men's category called Rising Star; she brought home the second runner up trophy in the freestyle category.
The duo is back in India to practice more, collect funds and reapply to the championship next year.
They teach various styles of salsa through their Rare Grooves Dance Company, which has about 70 students.
Rediff.com meets the duo in Mumbai to find out how they've managed to keep their passion for dancing alive despite the odds.
Discovering their passion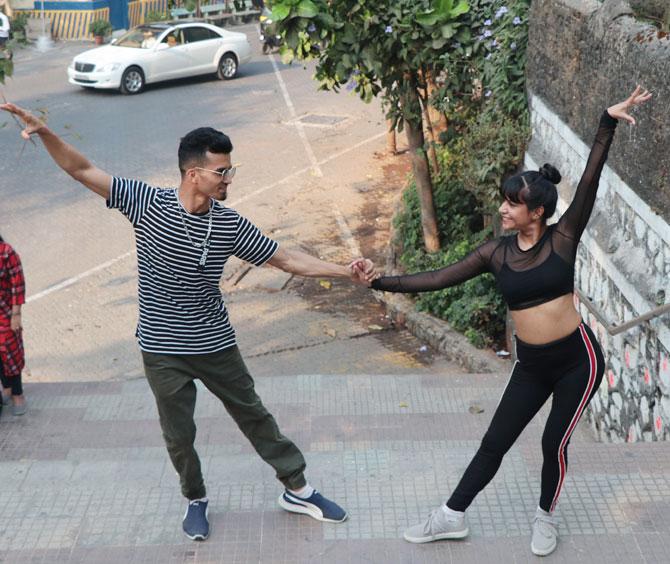 The duo have been practicing together for six years now.
Namrata has been passionate about dancing since her school days. But she truly began giving it her all from 2009.
"in 2009, I quit my job to pursue it as a full time career," she says. "From earning thousands a month, I came to zero. My mother flipped. She asked me, 'Are you out of your mind? How will you pay your bills?'"
Slowly, Namrata says, her mother calmed down and began supporting her.
"When I told her about going to the US with my savings, she said, have you thought about contingency fund? How long you think you can survive like this?' If you ask me, just now, I really don't know."
For Elvis, it was always about the music in the dance.
"I used to watch Michael Jackson's videos and go wow. I want to do this."
In 2008, Elvis watched the movie You Got Served (a dance drama film) and he got serious about his passion for dancing.
"I come from a middle-class family. So, initially, I'd watch YouTube and learn from friends."
How they met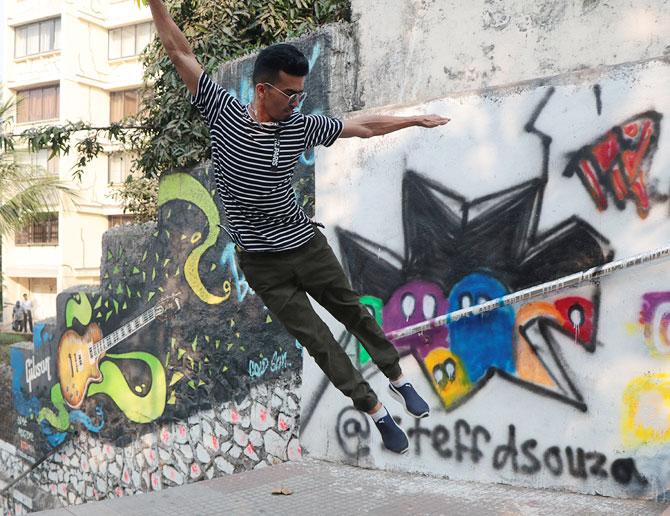 Elvis, who knows hip-hop, b-boying and salsa, also moonlights as a DJ to pursue his love for house music.
"While I was producing (shows), I used to attend dance workshops over the weekend. That's how I landed at Salsa India, which was started by a group of passionate dancers," Namrata says.
At Salsa India, Namrata and Elvis trained together.
In 2014, they travelled to New York to train with some of the best dance artistes and learn new techniques. The learned new routines in mambo, Afro-Cuban, hip hopping, house, hip hop freestyle.
In 2016, they discovered the Angolan dance form Kizomba.
"In Kizomba, I liked the music. Nobody was teaching it in India. We learned it from scratch from professional dancers in New York," Elvis says. "It looks very easy, but you need to understand a lot of things before you could actually do it -- the rhythm, the music, footwork."
The World Salsa Summit
Watch Elvis and Namrata perform Kizomba, "the sexiest dance ever".
Video: Hitesh Harisinghani and Afsar Dayatar/Rediff.com.

"The (salsa) summit was crazy. I had never seen so many dancers together. The way they have trained, it was amazing. After competing and training with them, I was like why is this getting over?" Elvis says.
"Most artistes who come there are professionally trained. They've been doing salsa much longer than us. There is so much to learn from them. We've come a long way to see this dream. And we want to see more of it," Namrata adds.
The buck stops here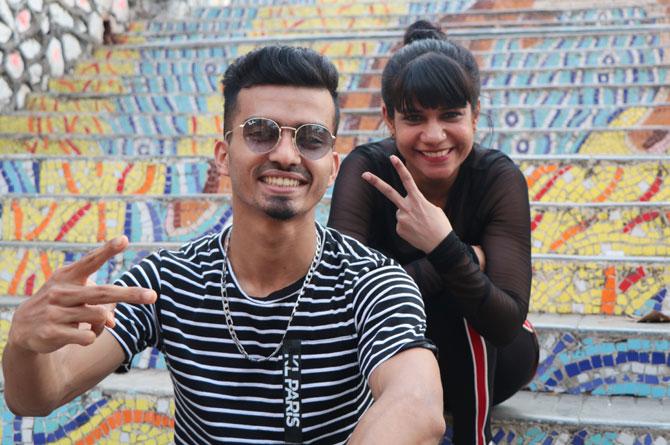 The duo run Rare Grooves Dance Company since 2014.
They travel to cities like Bangalore and Delhi to organise dance workshops. They have approximately 70 students from across India.
Namrata has been dancing for six years and Elvis has been training for eight years.
Elvis has even travelled to Paris, Bangkok to compete, train and learn new techniques. Yet, they haven't had any luck with sponsorships so far.
In Mumbai, they rent Temperance Studio in Bandra over the weekends where they train students in different routines of salsa, tango and bachata.
"The rent is ₹1,200 and we make between ₹800 to ₹1,200 per session," Namrata says.
Elvis adds, "A lot of people don't know us. So, they are like 'Aap TV pe nahi ho to mushkil hai (You are not on TV so it's difficult to fund you).'"
In New York and wherever they travel to, the duo "don't party or buy clothes."
"We save money, every penny," they say almost unanimously.
Namrata and Elvis have tried appealing to government authorities for funding so that they can keep the dance alive.
Namrata says, "Some of them have turned us down saying salsa hamara culture nahi hai."
They've both got offers to participate in leading dancing competitions. But Elvis and Namrata have reserved their choice.
Namrata explains, "The amount of money you can make on these shows is huge. But for us, it was never about the money. We've realised that we can't do salsa on just any Bollywood song, worse we won't have any creative freedom there. We know what we are missing out, but let's see how long we can pull through."
None of this has strapped their ambitions or dreams.
They'll be hosting the first-of-its kind kizomba workshop in April in Mumbai.
"We also want to participate in the international kizomba festival in Orlando," Elvis says.
He adds, "My dream is to learn as much as I can, share whatever I know, pass on my knowledge."
Elvis and Namrata's appeal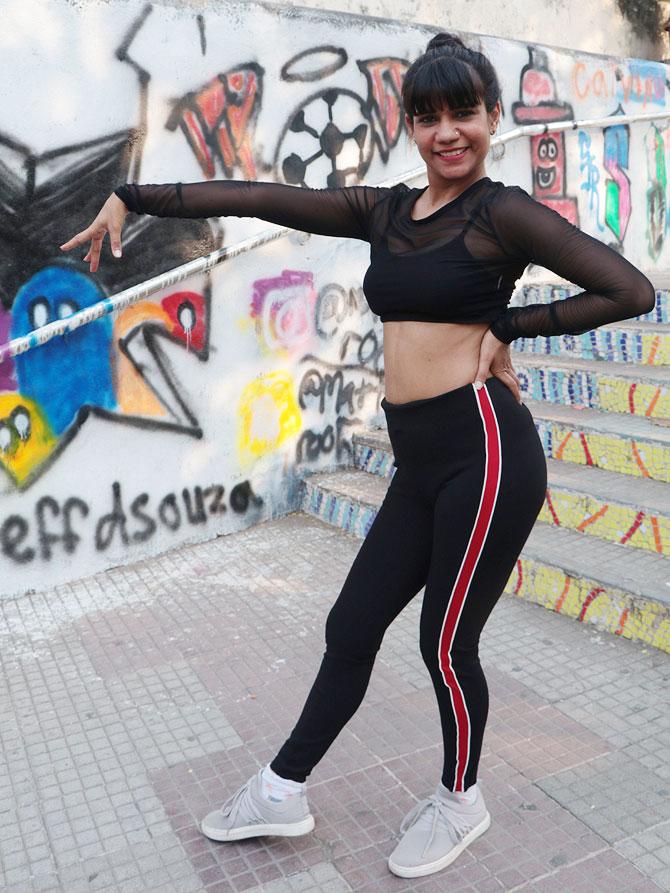 Namrata is looking for sponsorship to help keep the spirit of salsa alive.
Namrata and Elvis want people to help them so they can represent India on the global stage.
"Support the art, support our dance," she says. "Every time it's not possible to use our money."
She adds, "When we stand in front of a global audience, we forget all our struggles. We want to represent India, show them the dance. We want to make India proud."
TOP ACHIEVEMENTS
Elvis Mascarenhas
Winner of Prove Your Groove NYC 2014
Winner of Urban Renewal NYC 2015
Top 4 in Juste Debout Paris 2016
Featured in the Top 8, House Dance International NYC
Top 8 in Live World Cup Taiwan
First runner up at the IIDC Asia Championship Kizomba in 2017
Namrata Wittke
First Indian to win freestyle category amongst 45 countries at the World Salsa Summit in Miami in 2018
Won the Asia Championship 2017 for Kizomba