'I saw an opportunity to provide people with employment, enabling them to sustain themselves and, in the process, help alleviate society's suffering.'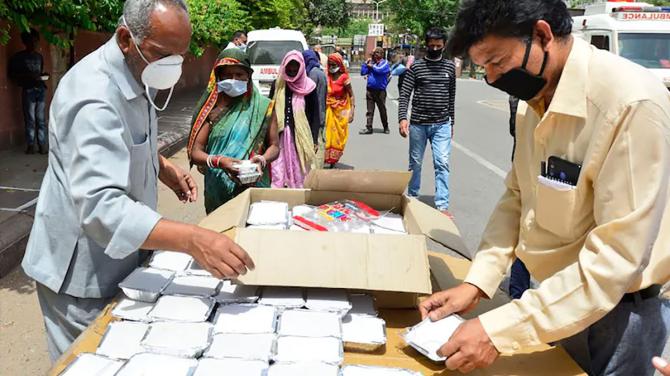 Appu Pillai did not know what to.
As a tiffin service provider, his home ran, and his family was fed, because he provided food for others.
But he had reached a stage where he was seriously considering shutting his business down.
He had barely survived the first lockdown. With the second, as more of his customers returned to their hometowns, he was facing a despairing future.
Until Amogh Balakrishnan came to his rescue.
Amogh, who lives alone in Pune and is working from home during the lockdown, "needed a local tiffin delivery service" for his meals. "And I really like the food Appu sends. So I decided to try and help keep his business afloat."
This was two months ago. Since then, Amogh has distributed upwards of 15,000 free meal packets across Pune.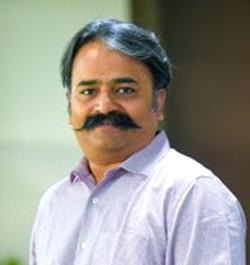 Forty-year-old Amogh is the head of marketing at the Maharashtra Institute of Technology Academy of Engineering, as well as the MIT School of Design.
What started as an initiative to help sustain one man and his family gradually evolved into what it is today. The initiative expanded as Amogh realised how employment opportunities were few and far in between, and how survival was hand-to-mouth for many daily wage labourers.
He was also shocked at the plight of frontline workers -- medical professionals, police personnel, sanitation personnel, etc -- who risk their own health, as well as the health of their families, every day.
Despite the steadily rising number of fresh infections as well as deaths in this community, he believes the risk they take remains largely unnoticed.
"I don't like to think of what I do as charity," Amogh tells Atreya Raghavan. "I saw an opportunity to provide a few people with employment, enabling them to sustain themselves and, in the process, help alleviate society's sufferings."
With an initial investment of approximately Rs 10,000, Amogh helped Pillai procure ingredients for and distribute 1,000 meal packets to personnel posted at five police barricades in the vicinity of Pune's Vishrantwadi chowk.
Eight personnel are posted at each barricade, working 12 hour shifts, with a total of 16 personnel over a 24-hour period. Five such barricades in the vicinity meant that nearly 80-100 packets were distributed per day in the initial phase.
Amogh also encouraged Pillai to convert his business into a cloud kitchen set-up (a cloud kitchen prepares delivery-only meals. They do not have a storefront/dine-in option).
The business is handled by Pillai, his wife and younger brother and sister.
Except for Amogh's initial investment -- which he would give them in the form of advances for three days at a time -- the initiative has been crowdfunded, with no NGO, government or private sector entity involved at any point.
"Each meal," he says, "costs approximately Rs 22 to make and Rs 8 to transport. Any profits Appu and his family make through bulk orders, by saving money on ingredients or in any other way, I ask them to keep for themselves so as to ensure their sustenance."
"Besides the meals prepared for the purposes of donation, they are free to keep delivering meals through Swiggy and Zomato."
Pillai's brother, says Amogh, owns a tempo which allowed them to increase the areas they could distribute to. Naturally, the number of meals they could distribute also increased.
"From about 80 meals a day, we gradually increased our capacity to about 200 meals a day when we began to distribute food in slum dwellings in and around Vishrantwadi amongst upwards of 40 families," says Amogh.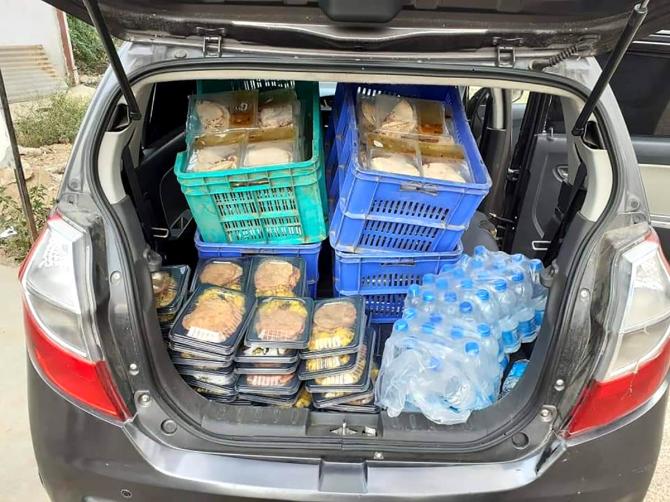 "Anant Gore, an autorickshaw driver, is a major contributor to my cause. He helped me identify areas as well as sections of people worst hit by the lockdown and in urgent need of food," says Amogh.
"It was on his suggestion that I gradually extend the ambit of my cause to the settlements and vegetable markets near Yerwada, wherein a further 300 meals are distributed each day," Amogh says. At present, he adds, their capacity stands at 500 meals a day.
Each day, the first meal packet is delivered to Amogh for a quality check, following which, as per his suggestions, the food is either altered or readied for distribution.
"Merely distributing free meals isn't enough," he says. "One has to ensure they are filling as well as nutritious. I try to ensure, to the best of our capacity, that each of the major food groups is included in each meal.
"Each packet consists of three chapattis, rice, dal, one vegetable, and a bottle of water as of now."
Two local residents, he adds, who requested anonymity have donated 2,000 water bottles and 10,000 masks respectively to help his cause.
"We don't limit the number of meals we allow a person to take, but we also ensure we don't serve anybody who is not wearing a mask or maintaining social distancing," says Amogh.
"By doing this, we try to ensure that we do not inadvertently add to the already existing pandemic issues," he says.
"It's like (U2 singer-songwriter-activist) Bono once said: 'If you want to eliminate hunger, everybody has to be involved'."