Set up a demarcated work area.
Identify an area away from the main living room and mark it uniquely for work. Use a desk and chair.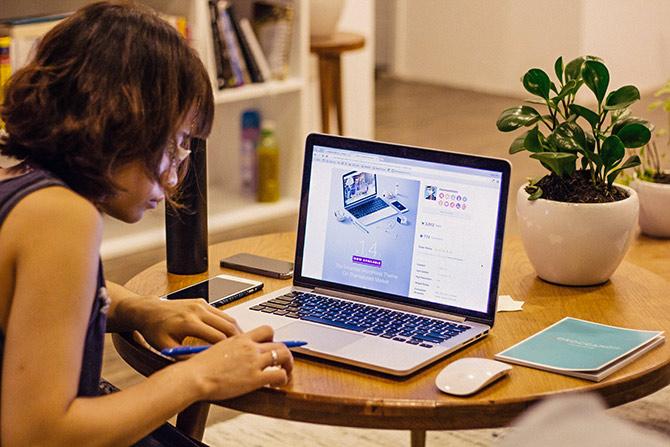 The COVID-19 epidemic is opening up a new work culture, and the most prominent one is – work-from-home.
And it isn't easy: For Devesh Chandra Srivastava, a 38-year-old New Delhi-based independent marketing consultant, these are trying times.
"Under normal circumstances, my three-and-a-half-year-old daughter would have begun school, and I would have been free to focus on my work during the first part of the day. But since she is at home, and my wife, too, is working, it sometimes gets strenuous to manage the demands of both parenting and work simultaneously," he says.
Like Srivastava, many people are discovering that working from home for a longer time is not the cakewalk they had imagined it would be.
Simulate office conditions
The first and biggest challenge: Maintaining a high level or same level of intensity.
There is a tendency to start work late, take unscheduled breaks, and get distracted into unproductive activities.
Sometimes, family members also behave as if the officegoer is on vacation.
Approach work from home with the same attitude as when you go to the office. "Don't make any changes to your schedule. The time you go to sleep, wake up, and the activities you do before leaving for work must remain the same," says Rituparna Chakraborty, co-founder and executive vice president, TeamLease Services.
Those who may have to attend video calls with clients and senior management should dress appropriately.
"Getting ready and wearing the same clothes as those you normally do to the office is crucial for setting the right mood," says Chandrasekhar Sripada, clinical professor-organisational behaviour and strategic human capital, ISB. On the other, staying in your pyjamas could lead to a sloppy attitude.
Set up a demarcated work area. "Identify an area away from the main living room and mark it uniquely for work. Use a desk and chair," says Sripada.
If you can have a room to yourself where you can shut the door, that is ideal. In smaller houses, set up your workstation in a secluded corner and use soundproof headphones. Do not work sitting on your bed.
Maintain fixed hours
Often, when you work out of home, the work hours can extend interminably.
Your colleagues, customers and others tend to call at any hour of the day or night with sundry requests.
"There must be a designated hour when you start work and a fixed one when you shut shop," says Chakraborty.
At the start of the day, create an agenda. List the tasks you ed to accomplish. It will act as an anchor, ensuring you don't drift.
Start using a daily scheduler. "Break up the entire day into half-an-hour or one-hour slots.
Schedule specific activities, especially those that involve other stakeholders, for particular hours.
Keep blocks of time when you will work intensely by yourself and will brook no disturbance.
Such segregation is important or else the entire day could go by without you accomplishing much," says Chakraborty.
Take scheduled breaks of 5-10 minutes at regular intervals. Walk around the house and do a few muscle-stretching exercises.
Leaders need to work harder to keep their team members motivated. "Use video-conferencing tools to replicate the office environment. Schedule calls, assign the day's work, and monitor. Offer counsel and engage more intensively with colleagues," says Sripada.
Get adequate bandwidth
If you work on heavier applications, the slow speed of the internet could become a hindrance.
Upgrade to a more expensive plan if you need to. Also, use file sharing apps like Dropbox to transfer heavy files.
Ensure software is compatible
Those who are using their home laptops or desktops could face this problem. "Workers may not have the necessary software at home, or the version they use may be an outdated one. They may need to upgrade to stay productive," says Udbhav Tiwari, public policy advisor, Mozilla.
Begin using video conferencing
Regular office meetings will need to be substituted with video conferences. Use a free service like Google Hangouts, which makes it easy to set up calls.
Zoom is another dedicated video conferencing tool that has both a free and a paid version. It allows the entire meeting to be recorded.
A link can then be shared with members who were unable to attend. It also offers a 'raise your hand' feature. By clicking on a button, a participant can let others know that he wants to speak.
In its enterprise version, Google offers a video-conferencing product called Google Meet, which also has the recording feature.
Collaborate with co-workers
A good application for working simultaneously on a document with other remotely located team members is Google Docs.
It is a word processor that can be shared online. If you have tried working on one and have been disconcerted by the movement of the line you were working on because of your teammate's frenetic typing a few lines above you, the simple solution is to work on different paragraphs and on different pages.
When people work remotely, you may also need an online collaborative whiteboard like Google Keep or Lino.
A whiteboard is useful while brainstorming as people at various locations can all put their ideas and suggestions at one place.
Minimise disturbance
Avoid pesky calls altogether by using an app like Truecaller. "Our primary mission is to make communication safer which is why the core feature of caller ID and spam blocking will always be free," says Nami Zarringhalam, co-founder, Truecaller.
The premium version offers additional benefits. "If you go premium, your phone will not ring when top spammers call you," says Zarringhalam.
Paid users can even activate a feature that allows only phone calls from numbers listed in their contact list to come through.
"If the number of calls you receive in a day drops, you will have those many more minutes of uninterrupted work time," adds Zarringhalam.
Timers
If you are a professional who bills his clients by the hour, you may need timer software to calculate the number of hours you have worked for.
Timers can also be used to set time limits for each task. They can also remind you to take breaks at reasonable intervals.
Pomodoro Timer Lite is one app you can use for this purpose. Google calendar can also be used to set reminders, events and alerts.
Trello is an app you can use to create a task list.
Be security conscious
Finally, office computers tend to be safer than computers at home because the system administrators are meticulous about security best practices.
At home, too, you need to observe a few basic protocols like not clicking on links from unknown sources, and having an antivirus on your computer.
Technology to the rescue
Video conferencing tools like Google Meet, Google Hangouts and Zoom can lend the same intimacy to meetings as an actual meeting in the office
Use Google Docs to work with another colleague simultaneously on a document
Google Keep and Lino can be used as whiteboards for teaching, and to record ideas during brainstorming
An app like Truecaller can minimise pesky calls
Timers can help you keep a record of the amount of time spent on a task so that you can bill appropriately