'No matter where you work, where you live, do also keep in mind, the needs of your motherland, your Mother India.
'Think of how your work, research, innovation will help your motherland. It is also your social responsibility.'
Narendra Modi addressed the Indian Institute of Technology, Madras' graduating class of 2019.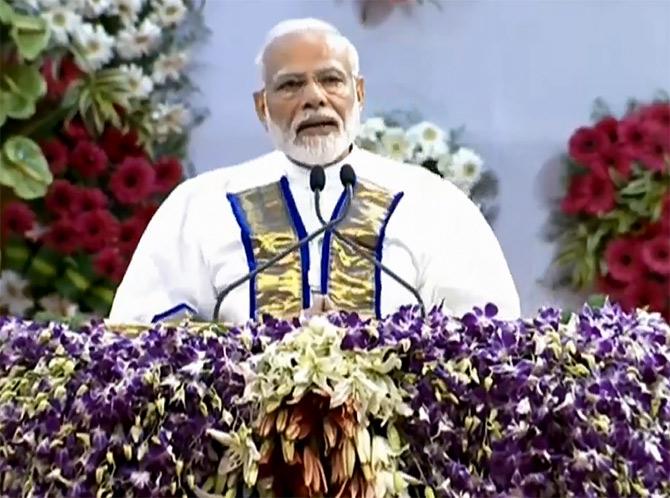 Indian prime minister Narendra Modi gave a rousing speech in English at the Indian Institute of Technology Madras on September 30.
In his convocation address to the graduating class of 2019, the prime minister congratulated the students and also acknowledged the efforts of the parents, faculty and supporting staff of the institute for contributing to their success journey.
'There's energy, vibrancy and positivity. I can see the dreams of the future in your eyes. I could see the destiny of India in your eyes,' Modi addressed the audience.
'Friends, I want to congratulate the parents of those graduating today.'
'Imagine their pride and joy. They have struggled, they have sacrificed to bring you to this juncture in your life.
'They have given you your wings so that you can take flight. This flight also reflects in the eyes of your teachers. They have created through their untiring efforts, not just engineers but also good citizens,' Modi said.
'The role of support staff, the silent behind the scenes people who prepared food, kept your classes, hostels clean. In your success, they too have a role to play.'
PM Modi also emphasised what he learned from his recent visit to the US.
'You are indeed fortunate, you are passing out from such an institute at a time when the world is looking at India as a land of unique opportunities.
'I have just returned from America. During this visit, I met many heads of state, business leaders, innovators, investors. In our discussion, there was one thread common -- it was he optimism about new India and confidence in the abilities of the young people of India.'
'The Indian community has made a mark for itself all over the world, especially in science, technology and innovation. Who is powering this? A lot of them are your IIT seniors. You are making brand India stronger globally.'
'I see the foundation of 21st century resting on three pillars -- innovation, team work and technology.'
'Today as India is inspiring to become 5 trillion dollar economy, your inspiration, innovation and application of technology will fuel this dream. It becomes the bedrock towards India's big dream into the most competitive economy.'
'Your hard work made the impossible possible. There are many opportunities awaiting you, not all of them are easy. Never stop dreaming, keep challenging yourself. That way you will become a better version of yourself.
'No matter where you work, where you live, do also keep in mind, the needs of your motherland, your Mother India. Think of how your work, research, innovation will help your motherland. It is also your social responsibility.'
Watch prime minister Narendra Modi's full speech at the IIT-Madras in the video below:
Video: Kind courtesy Narendra Modi/Twitter
During his visit to the institute, Narendra Modi also inspected the research park and start-ups at IIT-Madras. Watch the video below:
Video: Kind courtesy ANI