In an online chat with readers overseas education consultant NNS Chandra addressed queries related to international admissions.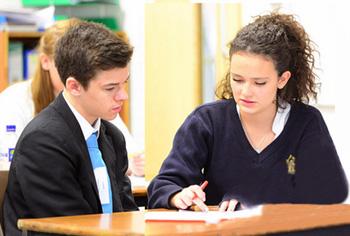 Pursuing an international education comes with its fair share of preparation and research.
If you are aiming to study in the US, you'd be spoilt for choice -- what with a range of programmes and institutes to choose from.
Needless to say, a lot of questions might be running in your head right now.
What leadership skills are required by Ivy League schools and how can I demonstrate that in my application?
I am not an IB student. Will that affect my chances of admission?
What are college level credits? How much GRE I should get to get into Cornell Hospitality programme?
I want to get into MIT and when should I start preparing?
To help you readers make an informed choice, Rediff.com had organised an online chat with overseas consultant NNS Chandra on Friday, March 13, 2015.
For those who missed the chat, here's the transcript:
---
NNS Chandra: Hello all. I am Syam Chandra. I work in Trans Web Global INC in our Boston office. I am glad to be here - in conversation with you all.
SUNAIZEE MAMDANI: I want to do my medical after 12th grade. How do I go about please let me know do I have to do ACT
NNS Chandra: Premed or Life Science programs are quite challenging to get admitted.
ACT - with its delivery model with subjects and English and math built in would give an admission officer a good idea of where you are academically. And for an Indian student ACT is relatively easier exam, in my personal experience.
---
joseph: I got admitted into the uni of Tampa for an mba in finance, can you give me your reviews
NNS Chandra: Hello Joseph. I have been to Sykes campus. Very nice. I know their program is very selective. I will check on their Finance program and get back. Please email me at syam.chandra@transwebglobal.com
---
balaji sampath: My son is at present pursuing a dual degree course (BE in CSE & MSC in Biological sciences).
He is interested in doing MS/PHD in Bio informatics.What are the top institutes that offer the course and expenses involved? Are there any scope for scholarships?
NNS Chandra: Hello Mr Sampath. What a combination your son got. Great. Several universities should be interested in a candidate like that with academic caliber. Universities I can think of from Ivy to UBC, which got wonderful programs in Bio Informatics. Reply is continued in next posting..
Tuition should be around 20K $ each year of study. Living expenses can vary depending on school, one's style etc. Financial assistance is possible. Scholarship depends on candidates' demonstrated academic ability.
---
praveen: How to do PHD in mechanical engineering in US from Top universities after completing Mtech from india....... is there any special exams for financial aid.
NNS Chandra: Hi Praveen. Most of the PhD programs would be covered financially, either through a research grant or scholarship or aid. It all depends on your guide and faculty. Have you identified schools, research topics, etc? There are several academic hurdles, yes, from GRE on, to get to a solid programme.
---
alphabet alphabet: With Physics-Chemistry - Biology what are options after 12th other than MBBS ?Also what are THE BETTER MBBS options overseas and procedure?
NNS Chandra: Hello – one cannot get to MBBS directly in United States. Several health and life sciences courses are available around the world. And very focused programs like Bio-Chem etc.
All are great depending on interests' career choices etc. Our practice guide students into medicine programs in different places like Caribbean, Ireland, Poland etc… other than USA/Canada.
---
Shajid Merchant: What are the benefits of Honors exam to students applying to grads school in North America?
NNS Chandra: Shajid, One key question in the mind of any admission officer, while going over a university application, would be whether this candidate has the intellectual capacity to be in their campus.
Participating in internationally recognized academic competitions, like AMC, SIN etc., and these are collectively known as honors achievements.
Always note honors program is a challenge for international students as many of these programs are not available. It is hard to find exams, competitions, centers etc. in India.
---
Sumit Goyal: What under Education Section in Common App means enrichment program? Which are those enrichment programs?
NNS Chandra: Hello Sumit - you are referring to College Application to USA question - have you done a program in secondary school - right. Yes.
It is absolutely important for an admission officer to know if the candidate got direct American High School experience. Make a lot of difference.
---
sai narayanan: If admitted, does a married person's I-20 come along with the F-2 for the spouse? Please clarify. And what would be the procedure of visit to the counselate?
NNS Chandra: Hi Sai, to apply for an F-2 visa, you need to contact your school's international student office and request a new I-20 for your dependent.
You will likely be asked to provide documents to demonstrate the relationship, such as marriage certificate, birth certificate, notarised certification, etc.
You will also need to show evidence of financial resources sufficient to support your family living in the United States.
This may include bank statements, pay stubs, affidavits of support, and family savings in your home country.
After receiving a new I-20, the F2 application procedure becomes very similar to applying for an F-1 visa.
Your dependent needs to make a visa appointment at a U.S. embassy or consulate, and bring to the interview all documents mentioned above, plus additional information to support their request for a non-immigrant visa.
---
vibhas gupta: my son is in XII STD (science stream) and has both biology and maths....what are his options ??
when should he give the SAT exam? he is more interested in going to the engineering side.
NNS Chandra: Hi Gupta, I would definitely encourage your son to take SAT. Check out ACT too.
In my experience, working with students from India, ACT seems to yield better results. Take exam this summer.
---
Vijeet Rathi: I wish to do my masters in sports management. Which universities should I go for? How am I eligible? What all exams do I need to appear for?
NNS Chandra: Great choice for an Masters. Several courses are available. Did you complete your GRE. . What did you take for your bachelors. Please email me your SOP I can guide properly.
---
vibha malhotra: Are scholarships /other forms of financial aids available for Indian students at good US Universities, for undergrad programs?
What weightage do extracurricular carry in admission decisions of good US Univs at undergrad level? Are class 12th marks more important or the SAT scores?
NNS Chandra: Excellent question! Several schools offer financial assistance (mostly need based) to international students.
Most schools offer some kind of scholarships for qualified international candidates. One of my students received 25,000 $/yr scholarship this season.
Yes your impressive leadership efforts or engagement in community (collectively known as Extracurricular) can fetch you admission offers.
Your last question -- both I would say. One cannot cover with other.
---
vibha malhotra: How is the University of Waterloo in Canada rated, specially their co-op programmes. Are there any good univs in US which offer co-op programmes?
NNS Chandra: Waterloo is a great school, pioneered co-op in Canada. Success, effectiveness of such programs depends on experience, network and commitment (especially alumni involvement).
Of course there are several schools in USA offering co-op and similar programmes (like internship) – Check out Northeastern, Douglas, North Carolina.
I go to Waterloo campus often (50 minutes from my house!) impressive co-op program. Have several of my students in the program. They love it. I can connect you to few people there.
---
samidha sambare: I am Microbiologist - a masters , now with approx 12 yrs experience in industry.
I am looking forward for my Ph.D in Clinical & Translational Science , how is the promise of this program.
Can you share University list for this and are there round the admission ongoing in some universities or Spring 2015 - 16?
NNS Chandra: Wow Samidha. This is cutting edge research! Are you a research physician?
I know several top (University affiliated) research facilities from Mayo to in University of Pittsburgh offers course content and deliver research support in the clinical and translational science area.
Tuffs should be another.
---
Neep: I am getting into Std XII CBSE Science and want to pursue Undergraduate pre-Med and then M D in US.
I have scored 2020 in SAT.
Is that enough for admission in US with scholarship ? Do I need to appear for SAT Subject Test? Which are good pre-med undergraduate schools/colleges in US?
NNS Chandra: Hi Neep, 2020 in SAT is a good score.
PreMed is a challenging program to get in. Go all out.
Get SAT II (three). Consider may be even doing an AP this May. That will keep you in loop for scholarship, aids etc.
---
Have questions for NNS Chandra? You may email him on syam.chandra@transwebglobal.com
About NNS Chandra
Based in Boston, USA, Chandra is an engineer by training, an academician by trade and researcher by passion.
He often shuttles between India and the US to coach students in admission related counselling.
He is associated with professional organisations like Study Iowa, NACAC, OCACA, ACA, ASCA to name a few.
Image: Wellington College/Creative Commons