Reshma Aslam tells us how to prepare an ideal Indian breakfast.
ALSO SEE
Parathas are a popular breakfast meal, especially in North India.
In order to ramp up their nutritional value, why not stuff savoury wheat parathas with vegetables and cheese for a tasty and filling meal.
Take a look at the recipe.
Veg Cheese Paratha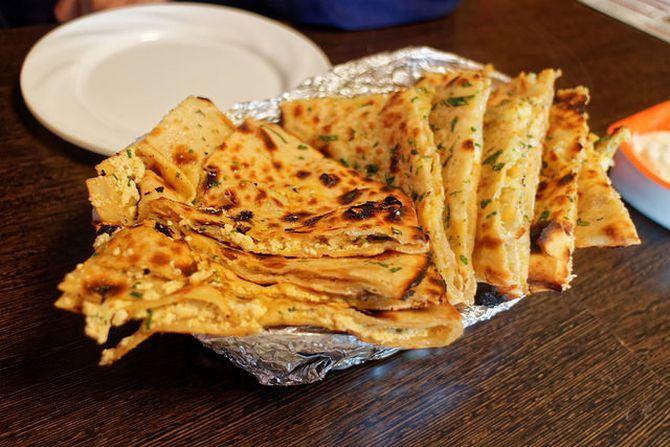 IMAGE: Veg Cheese Paratha. Photograph: Nadir Hashmi/Flickr/Creative Commons
Ingredients
2 cups wheat flour
1 cup red and yellow bell peppers, chopped
1/2 cup cabbage, chopped
1 small onion, chopped
3 to 4 black olives, chopped
1/4 cup sweet corn kernels
1 cup mozzarella cheese, grated
1/4 cup coriander leaves, chopped
3 to 4 green chillies, chopped
1 tbsp pizza sauce (you can also mix tomato ketchup and schezwan sauce in equal quantity, ie 1/2 tbsp each)
Butter for roasting the paratha
1 cup water
1 tbsp oil
Method
For filling
Take a mixing bowl and add bell peppers, cabbage, onions, olives and corn kernels. Mix well.
Add grated mozzarella and salt. Mix again.
Add chopped coriander and mix once more. Keep aside.
For dough
Take wheat flour, add some salt and knead into a soft and smooth dough by adding water as needed.
Once the dough is kneaded, add oil and knead for two to three minutes more.
Let it rest for five to six minutes.
For paratha
Make small balls of the dough and roll them out into round chapatis.
On one chapati, spread sauce spread all over. Carefully add the filling on half the side of the chapati.
Fold the other half on the filled side. Seal the edges with a fork.
Heat a flat bottomed pan. When hot, roast the filled paratha till both the sides are cooked.
Add butter on both the sides and roast until they turn golden brown. Serve hot.
*Lead image used for representational purposes only.
Have an interesting breakfast recipe to share?
Simply e-mail your recipes to getahead@rediff.co.in (subject line: Breakfast Recipe) with your name, hometown and any interesting details about the origin of the recipe, along with a photograph of the recipe, if possible.

We'll publish the best preparations right here on Rediff.com and India Abroad.

Loved this recipe? Click here for more interesting recipes and food features!