Rediff reader Reshma Aslam shares a quick-and-easy breakfast recipe for you to try. You can share your recipes too!
We all know that breakfast is the most important meal of the day.
Given the busy lives we all live in, we are all looking for easy to make recipes that are healthy too.
Over the next few days, we will try and bring you breakfast recipes that can be dished out in a jiffy.
For egg lovers, here's the recipe for Omelette Muffin:
Omelette Muffin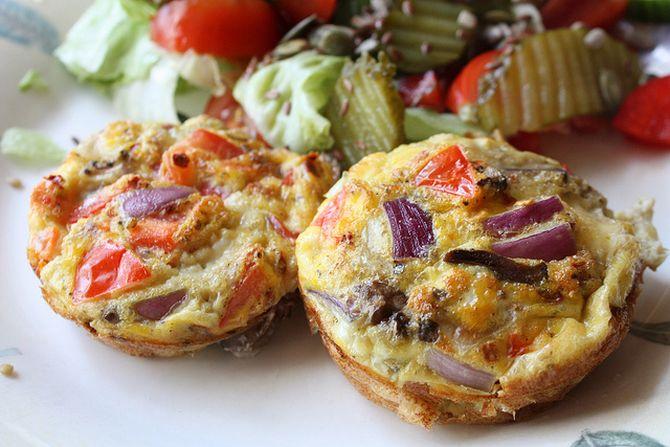 Photograph: Sally/Flickr/Creative Commons
Ingredients
8 eggs
1 cup chopped onions
1/2 cup chopped tomatoes
1/4 cup chopped red bell pepper
1 cup grated cheese
2 tsp pepper powder
3 to 4 chopped green chillies
1 tbsp butter
A handful of chopped coriander leaves
Salt as per taste
3 tbsp water
A muffin tray (with approx eight cavities)
Method
Grease the muffin tray with butter.
Preheat the oven at 180 degree Celsius for 10 minutes.
In a mixing bowl, add the eggs. Whisk well.
Add chopped onions, tomatoes and bell pepper.
Add salt and pepper powder. Whisk it further.
Add chopped chillies and coriander leaves. You may add three tablespoons of water.
Add cheese.
Take a spoonful of this mixture and fill the muffin cavities one by one.
Bake at 180 degree Celsius for 10 to 12 minutes.
Remove from the oven and serve hot.
ALSO SEE
Simple breakfast recipes to power up your day!
Have an interesting breakfast recipe to share?
Simply e-mail your recipes to getahead@rediff.co.in (subject line: Breakfast Recipe) with your name, hometown and any interesting details about the origin of the recipe, along with a photograph of the recipe, if possible.
We'll publish the best preparations right here on Rediff.com and India Abroad.
Loved this recipe? Click here for more interesting recipes and food features!