Rediff.com's Rajesh Karkera brings you all the details on Triumph Tiger 800's latest launch in Mumbai.
Photographs: Rajesh Karkera/Rediff.com
As adventure riding is gaining momentum on Indian roads, companies are rolling out off road bikes with custom designed features and major upgrades.
First came the Himalayan from Royal Enfield, followed by KTM Duke 390 among others.
Now, we have Triumph Motorcyles, who are the pioneers in the premium off road segment for bikes claiming to have 68,000 plus Triumph Tigers on roads all over the world.
On March 21, Triump launched its all new 2018 edition Tiger 800 off roader in India with three models.
The much expected launch price has gone lower in price against the expected price tag of Rs 18 lakhs.
The three models -- XR , XRx and the XCx -- launched at Four Seasons Hotel, Mumbai -- are priced at ₹11,76,000; ₹13,13,000 and ₹ 13,76,000 respectively.
The pricing will be the same all over India, the company declared.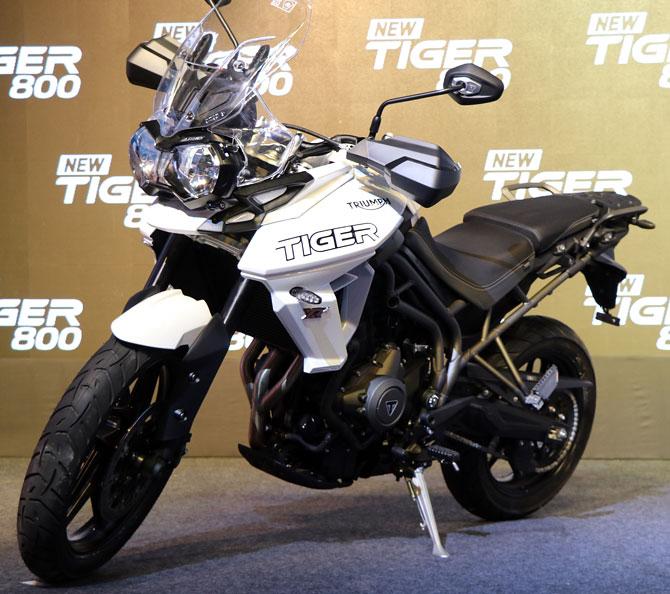 The Tiger 800 XRx, above, comes with 5-spoke alloy wheels.
The XCx model comes with regular spoke wheels which are technically better for offroad capabilities.
The first Tiger 800 was launched in 2010.
"Triumph motorcycles are changing the way Indians look at motorbikes from how much fuel efficient they are to how safe the bike is," Vimal Sumbly, MD Triumph Motorcycles India said.
Triumph, which started its journey in 1936 with competition off road models 70, 80 and 90 went on to start a movement of off-road biking.
It gained momentum in 1973 when Ted Simon, better known as the Godfather of motorcycle adventure bought a 1973 Triumph Tiger and rode around the world for 4 years covering almost 1,25,000 kms.
That model was the Tiger 100 Cub. The last Tiger seen on road was the 2014 Tiger 800 V2 which was a bike meant for everyone, not just off roaders.
Today in 2018 Triumph has launched the Tiger with as many as 200 new upgrades including improvements in ride handling, safety and comfort.
The engine, for example, is now more responsive and the sound gives it a distinct character.
Off road capability has also been increased and major stress has been made on all-day comfort, putting less stress on the shoulders and forearms.
And it's not just us who's excited. Check these photographs.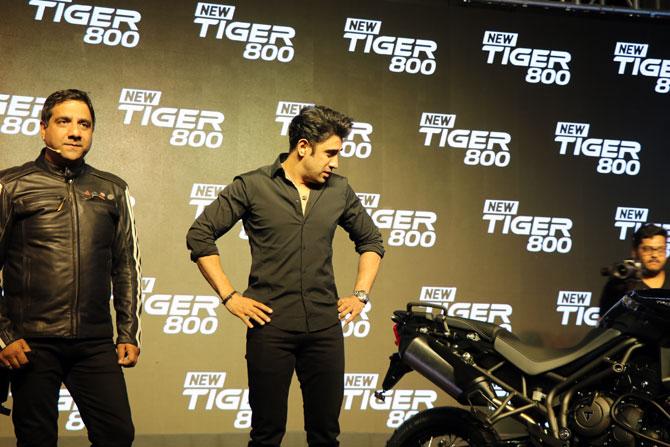 Actor Amit Sadh who came as a guest couldn't take his eyes off the bike when he was asked to join the stage.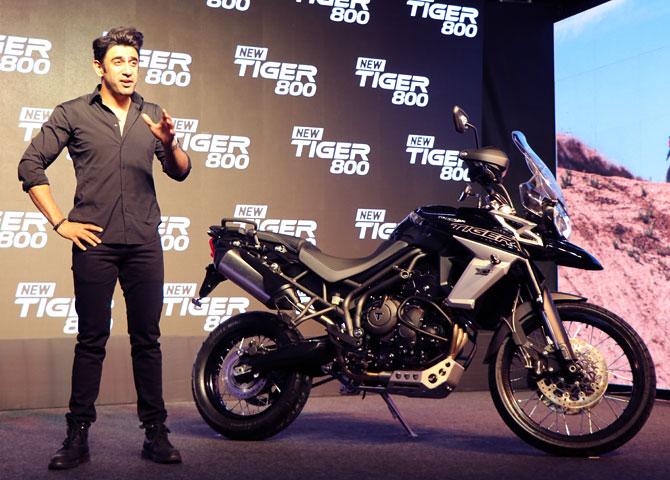 The next few minutes, Sadh was busy exploring the mean machine oblivious that photographers were expecting him to strike a pose.
When he did realise, he apologised and confessed how he was taken aback with new bikes.
Don't believe me? Check this below: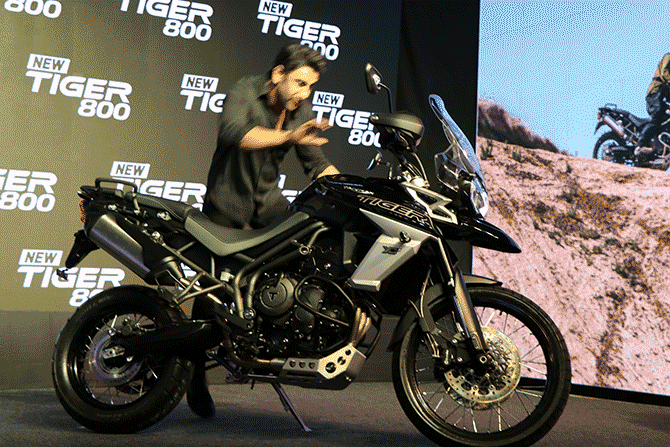 The offroader clearly was a beauty too tempting to try on.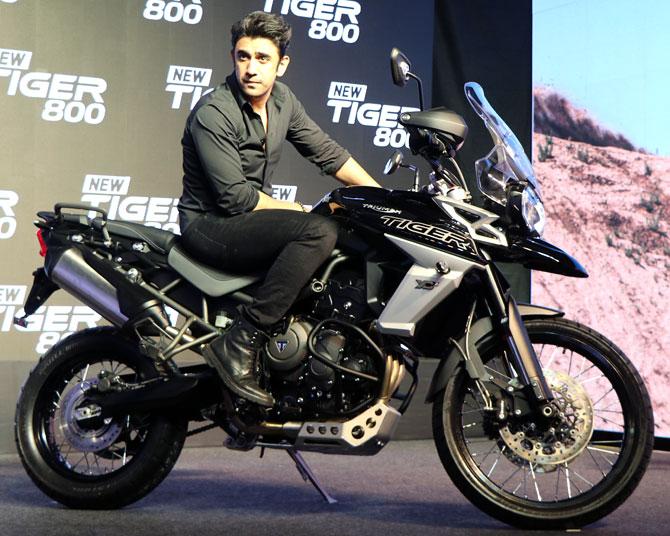 The actor finally posed.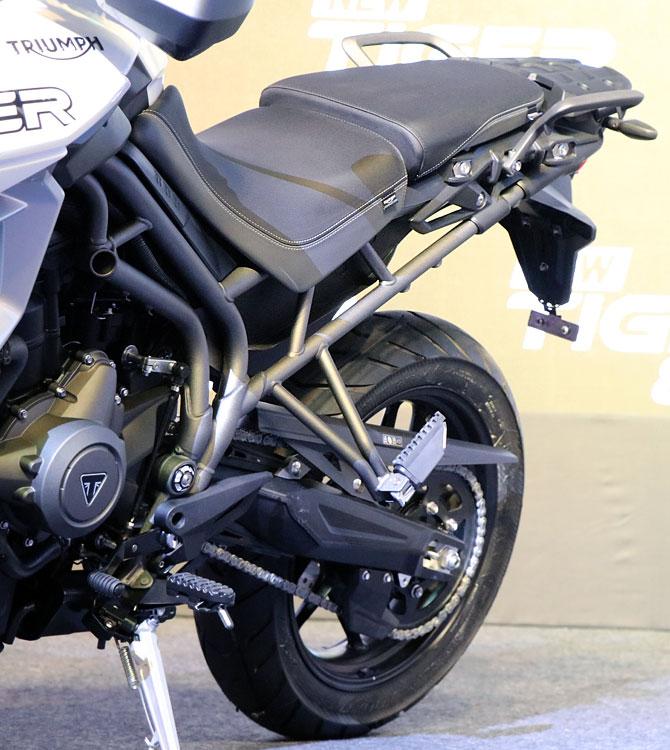 The seats of the Tiger are height adjustable. Even a 5-ft rider can manoeuvre it easily.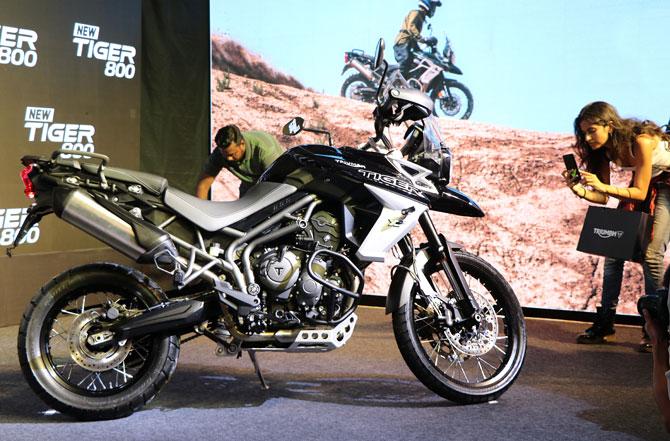 This particular Tiger 800 XCx caught everyone's attention.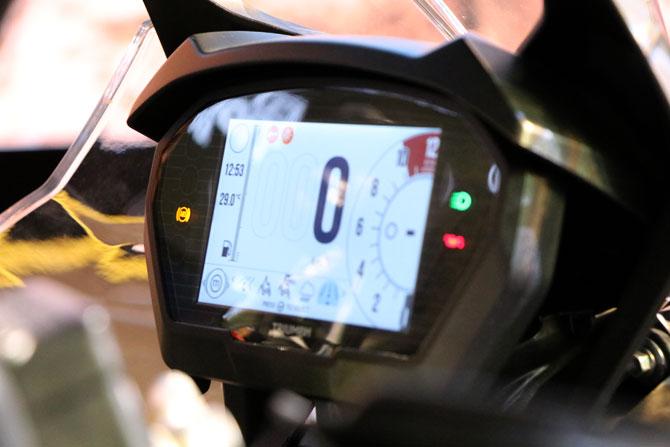 There is a 5" colour TFT instrument panel to provide precise rider information like in a premium car.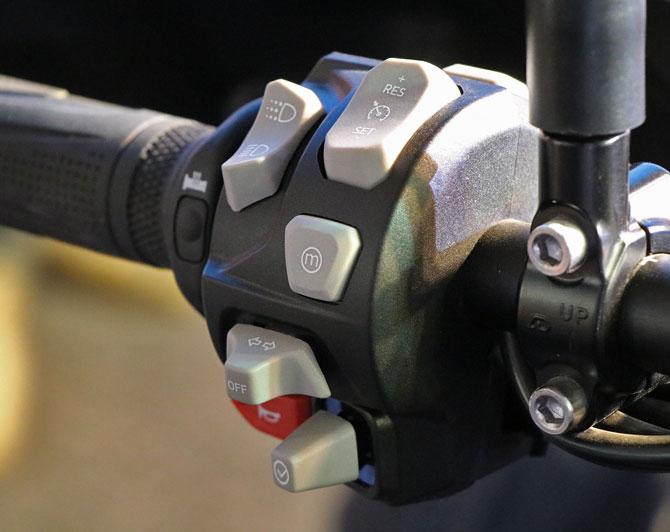 The five-way joystick below the indicator switch will control the display on the instrument panel. There is an advanced cruise control button for those long highway rides.
It also comes with 6 different riding mode settings.
The buttons are backlit which makes it safer when riding in the dark.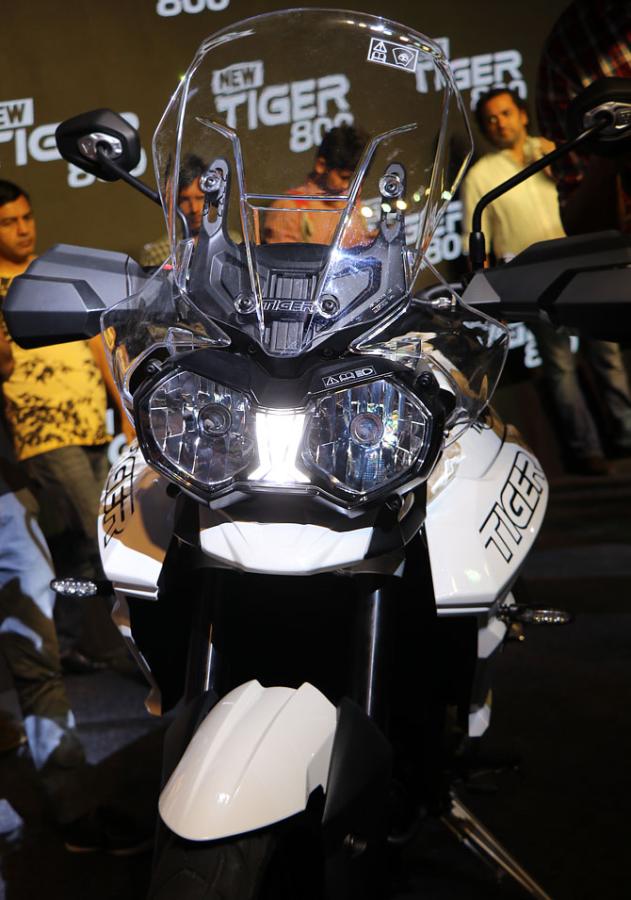 There are LED Daytime Running Lights. Another first is a five position adjustable windscreen. You can tweak it according to your height using one hand.
Anti-lock braking system, traction control and ride by wire are a standard in all three models.
A 6-speed gearbox tuned to an optimised 800cc three-cylinder engine gives a power of 95PS. Torque is 79NM at 8050 rpm.
Tiger XR is available in two colours -- jet black and crystal white.
Tiger XRx is available in jet black, crystal white, lucerne blue and matt black.
Tiger XRc too is available in 4 colours jet black, crystal white, lucerne blue and khaki matt green.
"This is the most advanced adventure motorcycle in India," the company declared.
And why not? It impressed me in seconds.
What's next? A test drive for sure!