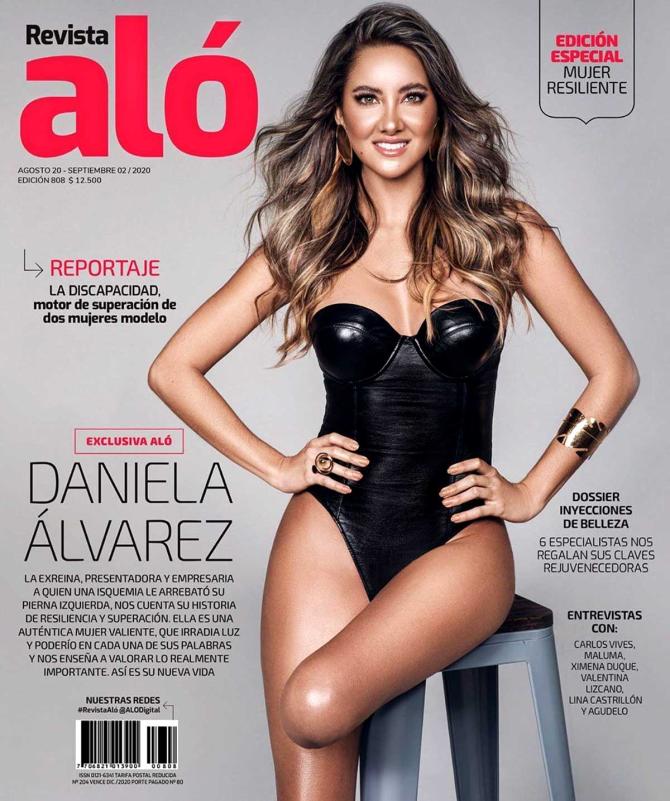 It's not every day that you see an amputee on the cover of a glamour magazine.
Daniella Alvarez, who was crowned Miss Colombia 2011, underwent surgery which she believed would a minor one.
Unfortunately, the beauty queen had to go through 5 back to back surgeries which included sacrificing her leg.
It was during her fourth surgery when the doctors noticed that the mass they were operating had wrapped around Daniella's main aorta leading to a condition called ischemia, where an organ or body part does receive enough blood.
In June 2020, as part of the fifth and final surgery to remove a lump from her abdomen, the doctors amputated her foot to minimise complications.
Daniella who made it to the August cover of Alo magazine in a black bodysuit, proudly shared the photograph on her Instagram.
'THE NEW VERSION OF ME', the beauty queen wrote.
'Wow!! What a nice surprise this cover! The most beautiful thing is that although a bit of me is missing, my eyes continue to see the Daniella that I have always been, happy, full of faith, and with many dreams ahead.'
'Here, I opened my heart to tell you more about this whole process of loss that I have gone through and how I have faced it with my family.'
Danielle is proud of the photoshoot for two reasons.
'This photo is super special for me for two things, first because I officially dressed again in my Daniela Alvarez Boutique venture that I love and adore, only this time with a leg and a half!!'
'And second, because neither the photographer nor any of you could imagine the nerves I felt from standing on these crutches,' the inspiring beauty revealed to her 2.7 mn followers on Instagram.
'Although for you it would be a piece of cake, imagine doing it without feeling your foot! Trust me, the foot is too critical for balance. I have already had two falls on crutches and I will keep trying as they will be with me for the rest of my life.'