HR Guru Mayank Rautela offers practical advice.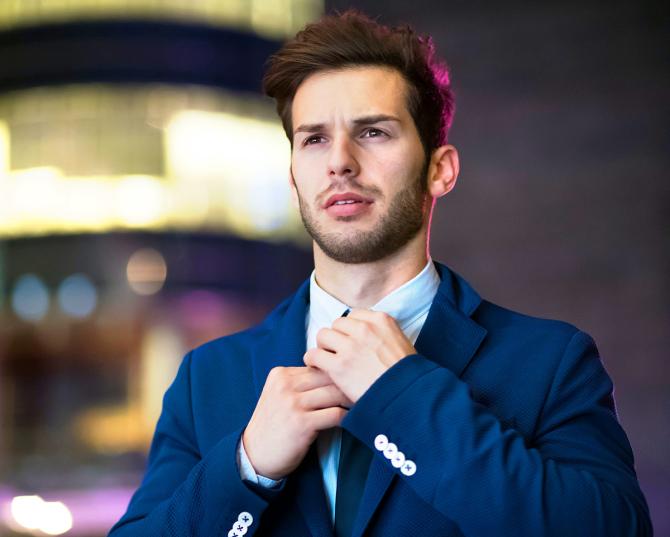 Dear reader, are you just starting out in your career and want to know the right steps you need to take?
Not sure how to prepare for your first interview? Or your first online interview?
Struggling with office politics? Or with working from home?
Have a bad boss? Or a colleague who is undermining you?
Nobody seems to listen to you at meetings?
Have you hit a dead-end at work and see no way out?
Please send in your concerns to our HR guru Mayank Rautela at getahead@rediff.co.in. (Subject: Mayank, can you help?).
Dear Mayank,
Name: Vaibhav Jain
Age: 28
Currently unemployed.
I really need your help and guidance at this point of time as I am very confused regarding my career.
I am a mechanical engineering graduate; I graduated in 2015. Qualified Gate 2017 but not with a good rank. Till February 2018, I prepared for government exams but unfortunately couldn't crack them.
Then I started to do a job in the ayurvedic health care sector in a relatively smaller subsidiary of a known company as a GRE and FOE.
I worked there from June 2018 to July 2020.
I did not enjoy my job and the salary was not good. Also, I was inclined to choose yoga as my career path so I participated in a short term yoga teacher training programme in 2019 and quit my job in July 2020.
In my experience letter, the company said I had made an excellent contribution towards the organisation.
After quitting my job, I completed my post-graduate diploma in yoga education from Kaivalyadhama, Lonavala, in April 2021.
After completing the course, I was excited about pursuing a career in yoga. But due to some unfortunate circumstances at home, I am not finding the time to do so. I self-practise. Circumstances have caused financial issues at my home which is forcing me to do some kind of job to balance the expenses.
One of my friends, who is working at one of the biggest e-commerce companies of the country, has asked to apply for an opening for floor executive (inventory management role) in his company.
I am interested as the salary is good, which can help me in current situation. But I don't have any idea or experience of how to go about doing an interview at such a big corporate company.
I don't have any prior experience of working in this field, therefore I'm not confident about cracking the interview. Based on what I have heard from my friends, the company gives preference to candidates with prior experience.
Please guide me for this interview process and how to prepare a resume as I am finding difficult to recognise my strengths and weaknesses and my good skills which may help to crack the interview. Guide me for my interview preparation.
Also guide me if should follow my interest of yoga as a career or find some other job to meet my financial needs.
Thanks and regards,
Vaibhav Jain
Dear Vaibhav.
I think your key strength is that you are a qualified engineer. With that comes analytical, logical and mathematical abilities.
Also, you have prepared for competitive exams so you have that competitive spirit.
Build on these strengths and look for a career where you can use them. Almost every industry needs these skill sets.
Keep practising yoga for good health and calmness.
A full-time career in yoga is not really a financial option.
What you could do is apply for migration to Canada/Australia and then make yoga a career there.
Dear Sir,
I will graduate this year in BCom and I wanted your help deciding a career.
I am interested in the hospitality industry -- specifically hotels and aviation (cabin crew).
I would like to make my career in either of these two industries.
I did not have clarity earlier so I have not done any specific course.
At this stage, what to do suggest I should do to get a good start in either of these industries? My competitors will be people who have done these courses, so how do I stand out?
Also, both these industries have taken a hit because of coronavirus so I understand there may not be jobs available.
What kind of jobs should I look for that will give me a boost when these sectors open up?
Thank you.
Rajeev Dhedia
Dear Rajeev.
Most companies hire for attitude and not just for skills.
Although hospitality-trained students will have an edge in technical skills based roles like that of a chef, you stand an equally good chance for guest interfacing roles like the front office.
Sharpen your communication and process orientation abilities.
Till the time these sectors open up, you can explore jobs in the e-commerce/BPO space.
Hello Sir,
I completed my MBA in finance in 2016.
I have two years of work experience.
Due to some family issues, I have not been working for the last three years. How can I re-enter the job market?
I am 29 years old. Please suggest the possible sectors where I will do well.
I am in dire need of a job.
Thank you, Sir.
Trimukh Pasheme
Hi Trimukh.
With a finance background, you stand a chance to enter almost every industry.
However, since you have not been working for three years, you would need to do some course in financial management and also be open to entry level jobs like that of a billing executive to restart your career.
Dear Sir,
I am working for a private company in a mid-level position.
I have got consecutive promotions and a pay hike and my performance is good.
But some of my peers, who could not got promotion or pay hike, are doing politics against me by maligning my image.
I am frustrated by their act. Please suggest a remedy.
Regards,
Rushilesh
Hi Rushilesh.
The best advice is 'Ignore Them'.
It is human tendency to be jealous and that's what your colleagues are feeling.
Since they can't compete with you on skills, they are using these unethical means to distract you.
Remain focused on your job and don't let your good performance slip.
Keep your manager in the loop about the office politics so that s/he can back you if things get worse.
Respected Sir,
I am suffering from unemployment.
I am a BTech (CSE) graduate. I earned my degree in 2012.
Due to some family issues, I completed my BTech very late.
I completed one year of apprentice training as a software developer and came to Bengaluru to get a job as a developer.
However, I was not getting one.
Then, then I got a job in the BPO sector where I worked for some time. I wanted to shift my career to another field so I quit my job.
Right now, I am jobless and I am not getting any job.
I am also confused about which field I should choose where I can earn good money.
I did not get a good salary when I was working at the BPO.
My age is 37.
Please guide me.
Thank you.
Sukesh
Hi Sukesh.
Please don't look for a job that pays well, but a job where you can deploy your knowledge and skills. Look for a a job that you like and you can build into a career.
What's also important right now is that you restart your career. Do complete some courses in the area of your interest.
---
Mayank Rautela is the chief human resources officer at Care Hospitals.
He is a management graduate from the Symbiosis Institute of Management Studies and holds a master's degree in labour laws from Pune University.
He has over two decades of experience in the field of general management, strategic human resources, global mergers and integrations and change management.
He has held various leadership positions across marquee companies, including the Piramal Group, the Tata Group and multinational healthcare organisations like CR Bard and Becton & Dickinson.
Please send in your workplace concerns to Mayank Rautela at getahead@rediff.co.in. (Subject: Mayank, can you help?), along with your name, age, where you work (eg, Mumbai, Lucknow, Agartala) and job profile. Do let us know if you wish to keep your question anonymous.
Please Note: This is not a recruitment service. This column is an advisory.