'We need to confront such people else they will be encouraged to harass more women in the future,' notes HR guru Mayank Rautela.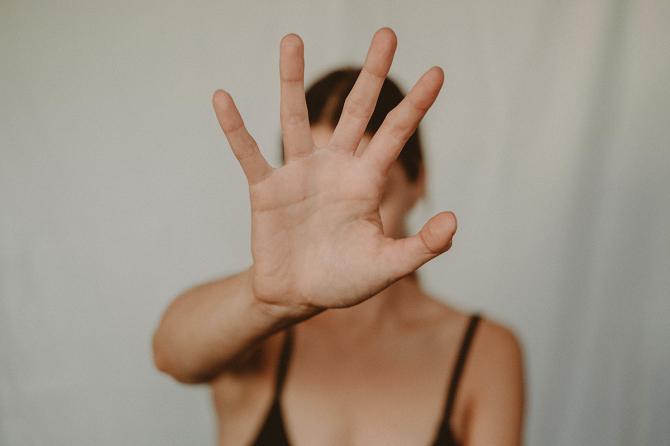 Dear reader, are you just starting out in your career and want to know the right steps you need to take?
Not sure how to prepare for your first interview? Or your first online interview?
Struggling with office politics? Or with working from home?
Have a bad boss? Or a colleague who is undermining you?
Nobody seems to listen to you at meetings?
Have you hit a dead-end at work and see no way out?
Send in your concerns to our HR guru Mayank Rautela at getahead@rediff.co.in. (Subject: Mayank, can you help?).
Dear Mayank Sir
I would like to keep my identity a secret.
I am being sexually harassed at work. Once, my boss even kissed me in his cabin.
I was trying to avoid being alone with him as much as possible. Then, because of COVID and work from home, things became better because we not in the same physical location. He tried different ways of troubling me during this time, but I managed.
Now, office has opened and we have to go to work three days a week. I am finding it difficult to avoid him.
I have been looking for another job but nothing is available.
I need my job.
What do I do? Please advise.
Name withheld on request.
Hi.
I am really concerned about your well-being and security.
Prevention of sexual harassment at the workplace is a legal requirement and you must immediately raise the issue with your top management.
Ideally, your company must have an internal complaints committee to handle such complaints.
In case your company is not supportive or does not have internal mechanisms, then you can take help of a lawyer or even the police.
Remember, as a society we need to confront people like your boss else they will be encouraged to harass more women in the future.
Take this head on. The law of the land completely supports you.
Leaving your job is not an option.
Dear Mayank
Our office is going to open soon.
I live in Mumbai and at a long distance from the office.
I don't have a choice but to take the local train and bus.
Under the present circumstances, I would prefer to work from home. We have been working from home till now and it has not affected my output.
Though they haven't said it outright, it is clear that everyone is expected to come to work.
Is there any way I can work from home and still keep my job safe?
Thanks,
Name withheld on request.
Hi.
The very fact that you have worked from home during the pandemic and the lockdown shows that you are working in a stable company that takes care of its employees.
Now leave it to the senior management to decide what is best for the company and the employees.
Though WFH is a good concept and really works well in IT companies, it is certainly not sustainable in the long run.
Prepare yourself mentally and physically to start going to office. Take care and stay safe.
Dear Mayank Sir
Our salaries have been cut steeply since the lockdown.
Though we were to get our full salaries from the beginning of the year, that has not happened.
Expenses are high and it is difficult to manage.
Is it a good idea to raise this question with the HR? If so, how does one do it? Will it affect my job?
Thank you.
Name withheld on request.
Hi,
First of all, research about how well your company has performed financially during the pandemic.
If the business has been impacted badly, then it's obvious that the company will cut down expenses including salaries.
If salaries have been cut across levels -- including senior management -- then the company has been fair.
Having said this, you can always connect with your HR team to get clarity on the way forward. At the same time, don't come across as someone who does not understand the situation.
Dear Mayank
With the COVID numbers rising again, our office has decided to continue work from home for some more time.
But WFH is new to us and not easy and I can see it affecting the morale of my team.
How do I keep their morale up and ensure work output does not get impacted?
Thank you and regards.
Kiran Lobo
Hi Kiran.
I agree that WFH is a relatively new concept and does impact productivity especially in India as our homes are not designed to have work stations and infrastructure.
As a team leader, you can initiate these specific steps:
1. TRUST your team members. No one is having fun at home. Everyone wants to work and add value.
2. Clearly define the job roles and outcomes/targets.
3. Connect one-on-one with your team members to understand what they are going through.
4. Going to the office and travel would be a challenge, but you can get your colleagues to meet in smaller groups closer to their homes.
5. Make online meetings informal and fun and not very stiff and formal.
Hello Mayank,
I am a commerce graduate and have around 15 years of experience in back office operations.
I am currently working at the document management department in an oil and gas MNC at a designation equivalent to that of a senior clerk.
I am nearing 40 and I will be losing my current job in the next few months.
My problem is that I am searching for a new job since one year but not getting any interviews. I guess this is due to my age (I am 40 and still at the clerical level) and my salary (around Rs 50,000) which is a bit on higher side with respect to my designation in my city.
I don't have the skillsets or attitude for a team leader or managerial position.
At present, I am not in a financial and mental state to acquire new skill sets, learn new things or start new businesses which are obvious suggestions.
I can't work in BPOs as they don't hire associates at this salary and particularly at this age. Besides, I am not comfortable working night shifts.
Could you suggest some different solution to my problem as I have already figured out/tried the common ones.
Thanks in advance.
Name withheld on request.
Hi.
Your question has so many 'I can't' statements that you have yourself ruled out many feasible options.
Please remember that, in the job market, there are many more qualified people than there are decent jobs. So you will certainly need to change your mindset and be flexible to adapt and learn new skill sets.
Even Sachin Tendulkar had to adapt to T-20 to play the IPL!
Approach the situation with a positive mindset and things will work out for you.
---
Mayank Rautela is the chief human resources officer at Care Hospitals.
He is a management graduate from the Symbiosis Institute of Management Studies and holds a master's degree in labour laws from Pune University.
He has over two decades of experience in the field of general management, strategic human resources, global mergers and integrations and change management.
He has held various leadership positions across marquee companies, including the Piramal Group, the Tata Group and multinational healthcare organisations like CR Bard and Becton & Dickinson.
Send in your workplace concerns to Mayank Rautela at getahead@rediff.co.in. (Subject: Mayank, can you help?), along with your name, age, where you work (eg, Mumbai, Lucknow, Agartala) and job profile. Do let us know if you wish to keep your question anonymous.
Please Note: This is not a recruitment service. This column is an advisory.