'Children are easily distracted while studying from home... Teachers are overworked... Parents are over-indulgent,' observes Anu Krishna in her latest self-help series, where she discusses the impact of online education on mental health.
When online classes were first introduced in India, it seemed like a fun, interesting getaway from attending regular classes.
There was the excitement trying a different kind of classroom, a new way of studying, participating in activities and staying connected with peers.
However, as the months passed and the monotony of routine crept in, students, teachers and parents started feeling the exhaustion and boredom.
Two years ago, what started off as a convenient and safe means to access education and learning for all has gradually introduced us to excessive tech stress, anxiety, fatigue and burnout -- all of which is now taking a toll on the mental health of the student community, their parents and their teachers.
While online education did offer a lot of advantages and benefits for a certain group of people, Anu Krishna, mental health expert and NLP (neuro linguistic programming) trainer, says the new normal of being conditioned to a confined space/s where home means 'all work and no play' has also affected productivity, thinking and performance to a great extent.
"During the pandemic, our normal routine was disrupted. We were not prepared to turn our homes into workspaces or classrooms where everything had to be closely monitored and scheduled.
"Over a period of time, we could see that parents had become over-indulgent and over-observant," she says.
"Children are constantly staring at the computer. They have access to multiple tabs and are easily distracted at home; so focussed attention is missing," adds Anu, while explaining the daily triggers that has led to a decline in the mental health of students.
Interview: Divya Nair/Rediff.com
Videos: Rajesh Karkera/Rediff.com
Parents, both working and homemakers, found themselves faced with additional, unexpected responsibilities.
Besides multi-tasking, managing the daily chores and struggling to maintain a work-life balance, parents found themselves more responsible for their child's education and future. Naturally, they got fussier and felt more anxious and burdened.
"The juggle wasn't easy," Anu agrees.
"When the pandemic began in 2020, it was all about survival," she says. As the pandemic rules continue, she advises parents how to cope. Do watch!
If your child is specially-abled, the challenges are even greater.
Remember, you are not alone. "You must seek help from support groups, experts and other parents facing similar challenges who can suggest ways and ideas to keep your child occupied," says Anu.
Grandparents too can help care for their grandchildren, bond with them and make them more independent, she adds.
The pandemic has been equally tough on teachers.
While students have the option of muting their audio, switching off their video or leaving the classroom, the teachers can't.
Interference from parents, the pressure of adapting the syllabus to online education and expectations from the school management, parents and students has resulted in a rapid increase in both physical and mental stress.
"Not many (teachers) in India have the luxury of a separate room or space to conduct classes. Many weren't tech-savvy. Very few teachers, I think, knew how to teach online via a camera. They did the best they could," says Anu, as she suggests why parents and students must appreciate and respect the teachers's effort.
---
Dear readers, if you have a question for Anu Krishna, please e-mail it to getahead@rediff.co.in (Subject: Ask ANU) for her advice. Kindly mention and your request for privacy will be considered.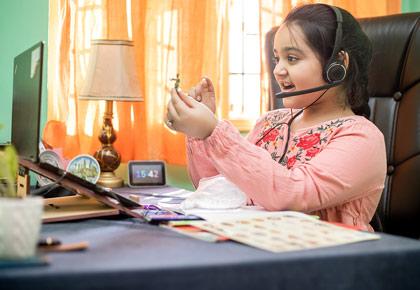 ---
Disclaimer: All content and media herein is written and published online for informational purposes only. It is not a substitute for professional medical advice. It should not be relied on as your only source for advice.
Please always seek the guidance of your doctor or a qualified health professional with any questions you may have regarding your health or a medical condition. Do not ever disregard the advice of a medical professional, or delay in seeking it because of something you have read herein.
If you believe you may have a medical or mental health emergency, please call your doctor, go to the nearest hospital, or call emergency services or emergency helplines immediately. If you choose to rely on any information provided herein, you do so solely at your own risk.
Opinions expressed herein cannot necessarily provide advice to fit the exact specifics of the issues of the person requesting advice.
---