Prasad Sankhe reveals what he likes and dislikes about his daughter's online classes.
I am the father of Jashvi Sankhe. She is 8 and studies in Class 3 in Pune.
If you ask me whether online education is good or bad, it's not an easy question to answer.
In the current situation, there is no other alternative. You could self-study or opt for home tuition (preferably from parents, siblings or grandparents).
Either way, you can continue doing that along with online classes which will definitely add value.
At least online classes will keep the kids connected to school.
For Jashvi, when online classes began in the first week of June, she was very excited to wear her uniform and sit in front of her mother's laptop.
Her excitement could have been the outcome of various emotions.
She was getting to use her mother's laptop for some time, along with some screen time with her parents's permission.
She was wearing her school uniform after the break and could finally see her teachers and friends on the laptop.
The excitement did not last too long though.
A month-and-a-half later, today, I saw her yawning in front of the laptop.
When I checked, I realised that she had muted both her audio and video and was listening to the teacher over the headphones.
She is lazy in completing her homework and writes slowly during the online classes.
I have also noticed that teachers rarely ask students to write in the class.
At this age, I feel that teachers should focus on getting children to read and write in a group. It is infectious and helps keep each other motivated.
Group study is extremely important for kids (below 15 years) as they have multiple thoughts in mind and find it difficult to concentrate.
Overall, it's not easy to adjust to the 'new normal' but we need to try to make the experience more comfortable as per our requirements till we find another alternative.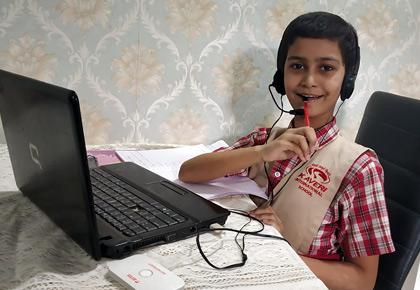 ---
Dear readers, are you a young parent or a student?
How are you dealing with online classes during the lockdown?
What are your concerns and going forward, how do you plan to address them?
Please share your stories, experiences and suggestions.
Simply write to getahead@rediff.co.in (subject: Coping with online classes) along with your NAME, LOCATION and details of your child, if you are a parent. We'll feature the best responses on Rediff.com.
---