Read on to learn how Raju Dabhade created history...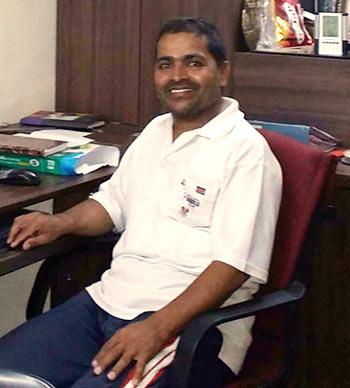 Do you know this man?
No? Even I didn't, till I met him.
Now that I have, I will never forget him.
He is a man who makes India proud.
No, he is not a celebrity or a sportsperson who has won medals for the country.
Fifty-year-old Raju Dabhade is the creator of the game of roll ball that will see its third World Championship in December, 2015, in Pune.
The first Roll Ball World Championship, held in 2011 in Pune, was won by Denmark; India was the first runner up.
The second World Cup, which India won, took place in Kenya in 2013.
"Roll ball is so named because it is a fast-paced game where the players use skates and the ball is always rolling, says Dabhade, who is also the general secretary of the International Roll Ball Federation.
Roll ball is a combination of basketball, handball, throwball and skating that requires balance, speed, accuracy and teamwork.
It is played between two teams; the objective is to score the maximum number of goals within a stipulated time.
So how did someone who, as young a boy, made ends meet doing odd jobs like working in a tea stall and delivering newspapers door-to-door end up inventing an international sport?
We asked Dabhade himself: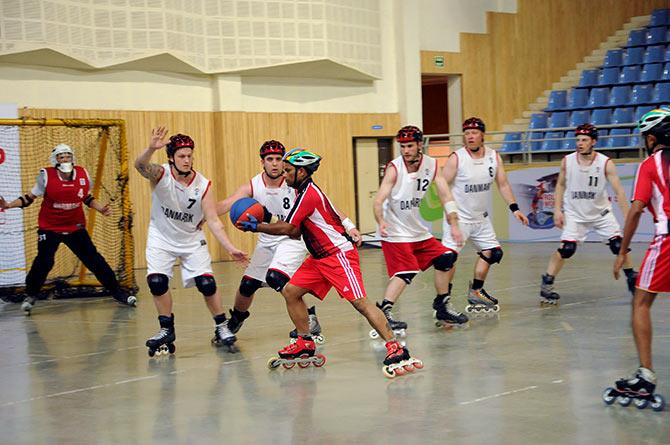 How did roll ball begin?
As a Physical Training teacher in Pune's MES Bal Shiksha English Medium School, I used to train and take players from different games for interschool competitions.
During the matches, I was always curious about the origin of these sports.
So I researched about them in detail -- I used books from our school library and the internet.
I found out how different types of sports such as basketball, judo, hockey, football, etc, started, their history, playing techniques and strategies, different types of balls, etc.
Then, I began to wonder if it was possible to create a new game and started working on it.
Once in 2002, while teaching skating to students, a ball from the basketball court came bouncing over and I saw a student on skates bouncing the ball back to the players.
That's how the idea of roll ball began.
It took one year to finally create the game with proper rules and techniques.
How did roll ball get international recognition?
I took the idea of roll ball to the school's then principal, Dr Sunitha Bhagwat.
She was very encouraging and talked to the students' parents about it. I also contacted people I knew.
In February 2003, the official demonstration of the game was organised before the Sports Authority of India.
They liked it a lot and guided us on how to get the game recognised by the government.
We started working on the procedure and I personally went many times to New Delhi for this purpose.
After roll ball was recognised by the Indian government, we obtained a copyright certificate from the USA in March 2003.
Thereafter, first we contacted people in India and held matches here.
Once roll ball got national recognition, we started contacting the neighbouring countries and so on.
Dr Bhagwat adds: "PT teachers usually fall into a routine and are least motivated about getting involved in activities that are not within that routine or interacting with students. But Raju was different. He was an honest person who was good with people and went out of his way to help others.
"Initially, parents of his students funded expenses like transportation that were required for the game's development.
"He had no financial or social support and lacked communication skills. Yet still, he never came to me with a problem.
"He would say that this is what he had found and needed to see how it works. Hence, I allowed him to use the school grounds for roll ball practices.
"All the support that he has is due to sheer goodwill.''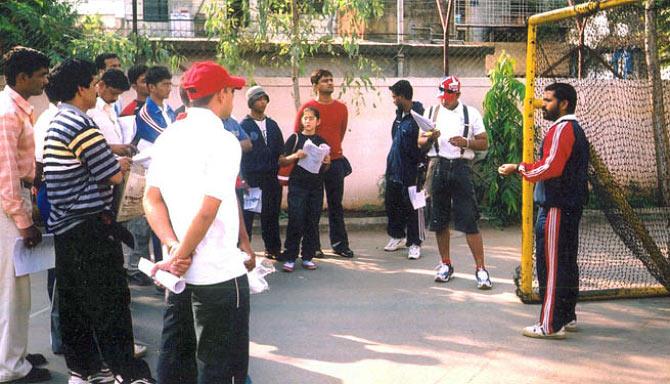 Can you tell us about your early days?
We were a financially poor family.
I was 15 when I lost my father. So I started earning early through odd jobs like working in a tea stall and door to door newspaper delivery.
I completed my education through night school and finally found a job as a PT teacher at BSEM school.
It has been 15 years since I stared working here and I am indebted to its people for having believed in me at the first go.
I am grateful to that newspaper delivery job which helped me feed my struggling family.
I now have a newspaper agency where I provide employment to poor boys.
You won the national level skating championship at school. How did that happen?
I wanted to learn skating but did not have enough money as my income went towards supporting my family.
Somehow, I managed to save some money and bought the basic skates with iron wheels.
I polished them well and covered them with rubber.
I learned skating on my own.
Later, a friend gave me a pair of good quality skates and I put my soul in practising with them.
I competed at the national level between 1980 and 1985. Then I got a job and couldn't continue.
It will be the third world cup for roll ball. The game's reach is surpassing the resources available to manage it. How has this been handled now and initially?
I am lucky. Behind the immense moral and financial support of the school management, friends and parents of students is perhaps the reputation I have earned over the years.
I was a punctual, fair and dedicated teacher, who was a mentor-cum-friend to students.
Fortunately, I have a very supportive wife.
My family never questions me about my whereabouts.
That is their faith in me, perhaps because I've never indulged in any wrong doing.
People like local businessmen and associations have also helped after seeing the matches.
Recently, we put up a sports stall in Russia.
As we couldn't afford LCDs, I took the television set from my home and attached a pen drive to it.
We continuously played match videos and had many people stop by our stall.
What are your success mantras and advice to young Indians?
Work hard and don't give up till you succeed.
Keep calm and be positive.
Pursue your passion and own your work.
Do something different and innovative.
Everyone gets the opportunity to succeed. Don't miss it.
Make your nation proud.
Photographs: Kind courtesy Raju Dabhade
ALSO SEE