Super 30 is a free coaching centre in Bihar that selects 30 meritorious, economically-backward students every year and prepares them for the prestigious Indian Institutes of Technology.
Founded in 2002 by Anand Kumar, Super 30 has managed to send about 300 students from extremely impoverished backgrounds to the coveted IITs in the last 12 years.
But what happens to these youngsters after they complete their graduation?

In the first of a series, Divya Nair/Rediff.com talks to Shubham Kumar Gautam (pictured below), son of a farmer and a Super 30 student, who feels that if you have the passion and determination to pursue what you want, the sky is the limit.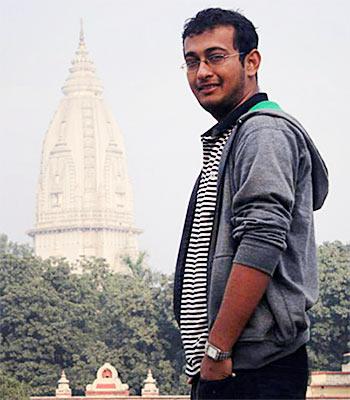 Who would have thought that a son of a farmer who grew up without reading a newspaper would study at an Indian Institute of Technology one day and set an inspiring example to several hundred youngsters in his little known hamlet?
Twenty-two-year-old Shubham Kumar Gautam says had it not been for mentors like Anand Kumar of Super 30, he wouldn't have been able to give his family a better life today.
Here, the young engineer recounts how, in a journey laced with perseverance, grit and determination, he achieved what seemed impossible.
'I grew up without reading a newspaper'
Shubham Kumar was born and bought up in Kulti, a small village in Nalanda, Bihar.
His father worked as a supervisor with Anaupcharik Shiksha Karmachari Sangha (Bihar State Non-Formal Education Employees Association). His mother is a homemaker.
They lived a fairly comfortable life until 1990, when Lalu Prasad Yadav took over as chief minister.
As part of his reforms, the Anaupcharik Sangha programme was called off and many people, including Shubham's father, lost their jobs.
"My grandfather had taken a huge loan for my aunt's (my father's sister) wedding; he had to sell our ancestral property and the responsibility of paying off the debt fell on my father," says Shubham, who has a younger sibling.
They were left with a small piece of land and, since his father wasn't able to find a job, he decided to take up farming.
"Most of the households in our village are poor and resources are limited. We grew up without reading a newspaper, so you can imagine…" his voice trails off.
Fortunately, Shubham, then aged 13, was a good student, a fact that encouraged his uncle Uday Singh to take him under his wings.
His uncle, also a farmer, promised to take care of Shubham's education and living costs and, in 2005, enrolled him at the Sri Sankar Government High School in his village, Pillich, on the condition that Shubham would continue to excel in his studies.
"Situated 20 kilometres from Kulti, it was a relatively better village and the school was just two kilometres away from my uncle's place. I would mostly walk to school but if I was late, I would take a lift in a bail gaadi (bullock cart) or cycle," he recalls.
"The school had four classrooms, of which only two were functional. Most kids would bunk school. Even the teachers took little interest. But I really wanted to continue studying, so I formed a group of like-minded students who were keen on completing their education and willing to work hard for it," says Shubham, about the school from where he completed his Class X.
'I had no clue about engineering or the IITs'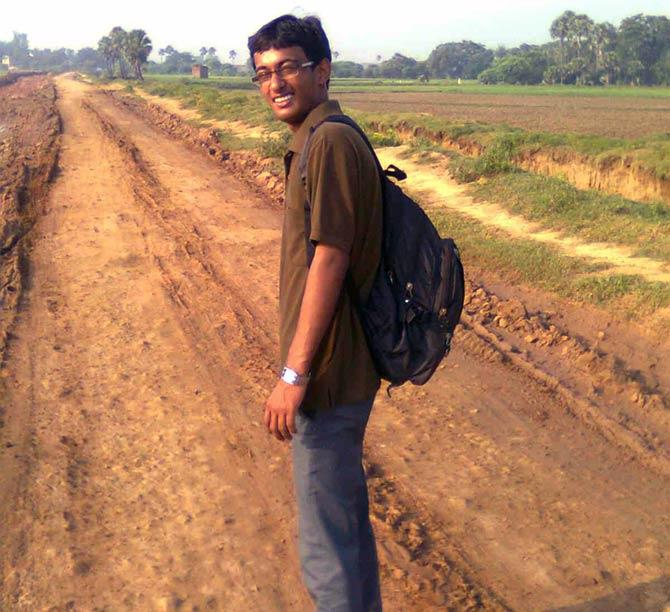 Shubham's elders and neighbours would often advise him to prepare for the UPSC and bank exams like the other bright students in the village who managed to complete their graduation.
But Shubham wasn't keen on these options.
"During my Class X, I would visit a store in Pillich to buy second hand books for revision. There, I found books on technology and computers and became interested. Slowly, I started to seek more information about the courses available."
In Pillich, Shubham also had access to a newspaper where he had read about "Anand Sir and Super 30 and his special programme in Patna".
"Until then I had no clue about engineering or the IITs," he confesses.
The more he read about Super 30, he says, the more he was convinced engineering could be the "doorway" to his future.
But he had his fears. "If I did not qualify for the Super 30, I would have to spend extra for private coaching and accommodation, which we could not afford."
He would worry about the cost of staying in Patna and wonder whether his father could afford it. "But I was clear that I wanted to do something different. I wanted to pursue a career that would bring dignity to my family and make my parents proud," he says.
In July 2007, after completing his Class X, Shubham's uncle took him to Patna and enrolled him at the Nalanda College, Biharsharif.
"When I first came to Patna in 2007, I stayed in a lodge and the bed charges were Rs 400 per day, which I shared with another student. I could not sleep that night; I kept thinking how long I could survive in this city."
His first step was to move to another lodge, where he paid Rs 450 a month to share a room with two other boys.
It took him two months to trace the Ramanujam School of Mathematics, the coaching centre run by Anand Kumar, but getting admission wasn't easy.
"I was new to Patna and very few people knew the exact address. After a lot of difficulty, I reached the place only to realise that about 1,000 students apply at the Ramanujam School of Mathematics every year. But Anand Sir doesn't take more than a few hundred students.
"He carefully scrutinises the profile and academic performance of all the applicants and prefers to enrol those with weaker economic backgrounds. Those who are financially well off, he says, can always enrol in a better coaching centre.
"I was told that I could enrol for the Foundation course which would teach me the basics in Physics, Chemistry and Mathematics. I had to write an entrance test to qualify for the Foundation course too."
Shubham cleared the entrance test and, in August 2007, joined the two-year programme (even as he continued with his Class XI and XII) to study Mathematics and Physics, the fees for which were waived by Anand Kumar.
"I was good at Chemistry, so I did not take any coaching for it," Shubham says.
After his Class XII board examination, he appeared for the JEE -- the IIT entrance exam -- in 2009 but failed to qualify by five marks.
"The cut off for the IITs was 178 and I had scored 173. I could have taken admission in lesser known engineering colleges, but my aim was to get into one of the IITs" he says.
Post the results, Shubham had already lost a year, but he wasn't willing to give up.
He worked harder and appeared for the Super 30 entrance test.
"I didn't want to go back home empty-handed. I somehow convinced my parents and uncle to give me one more year to prepare and promised that I would pay off all their debts as soon as I completed my engineering."
'Joining Super 30 changed my life'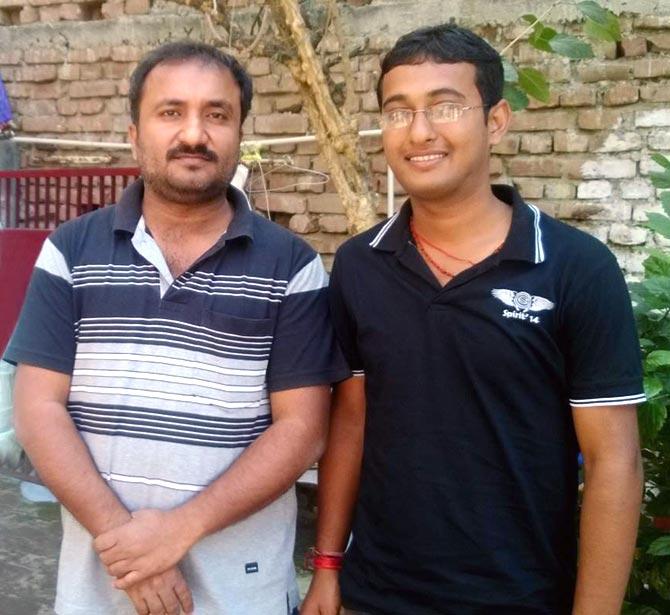 In July 2009, Shubham topped the Super 30 entrance exam.
Qualifying for the 10-month programme ensured that his living and tuition costs would be taken care of, which he says was both a "huge relief" and a "life changing moment" for him and his family.
More than the academic mentoring, it was the positive atmosphere and the presence of Anand Kumar that mattered to students like Shubham.
"Anand Sir ensured that we focussed on the exam instead of worrying about our families and finances."
Shubham cleared the JEE in 2010 and joined IIT-Bhu (Banaras Hindu University) in Varanasi where he pursued electronics engineering.
First encounter@IIT
Back home, Shubham's parents had mixed reactions about sending him to a new city for four years.
"Although my parents were happy, my mother began to cry thinking that I would be living so far away from them. She packed me a lot of ready-to-eat food just like they do in the movies," he smiles.
His greatest challenge, he says, was to not give in to peer pressure and hold his dignity.
There were lessons to be learnt and not necessarily at the IIT. It began on his first day at campus.
"My father had come to drop me to the college hostel. It was a few kilometres away and he decided we would walk instead of spending money on a rickshaw. We were walking with my heavy luggage and, as we reached the gate of the college, it started raining heavily.
They took shelter nearby and some other students from the IIT joined them. Because of the wind, mangoes fell from a nearby tree and Shubham's father immediately nudged him to go and pick some.
"For us, it was nothing new. Even I felt like picking up those mangoes and eating them. But I saw some of the students smiling and looking at us. I did not know how to react and gave up on the idea."
As soon as they entered the hostel, one of the boys asked Shubham's father to collect his luggage.
"My father immediately followed his orders and got the luggage inside. I was very angry and scolded my father. I then introduced him to the boy -- who later turned out to be a batchmate and a good friend -- and he immediately apologised. That was just the beginning of struggles I faced."
New batchmates and new life
It took Shubham, who came from a small town and had been educated in the Hindi medium, a while to get used to life in the city and to his new batchmates.
"Some of the kids who came from good financial backgrounds would hesitate to start a conversation," he says.
There were others who had heard about his success at Super 30 and appreciated his hard work.
"I made some good friends," he smiles.
Expenses mount
"After the results were announced, Anand Sir would take us students to various events where we were felicitated. He would appeal to the audience to donate whatever they could and distribute the money among us for our further education.
"Even chief minister Nitish Kumarji promised Super 30 students a scholarship of Rs 50,000 each. We never got the full amount. We got about Rs 15,000, all of which took care of our first semester fees," he recalls.
In 2010, Shubham's father was reinstated as a clerk on a temporary basis in the Jan Kalyan scheme.
Their financial condition improved and Shubham could focus on his studies without worrying excessively his tuition costs.
Help started pouring from other quarters too.
"After seeing my success, my uncles and aunts also helped me financially without expecting anything in return," he says.
And life takes a U-Turn
At IIT-Bhu, Shubham learnt about taking initiative, team management and improving his networking skills.
"I would participate in and also be part of various event organising committees, which helped me improve my communication skills," Shubham says.
"In those four years, I never went to a movie theatre; in fact, I haven't been to one till date."
He would spend his time networking with seniors and juniors and writing poems and short stories in Urdu and Hindi.
After completing his engineering, Shubham was placed as a senior technical manager at HCL Technologies, Noida.
"Today, I have an Android phone and I write programmes for Android," he says proudly.
"When people ask me, if my dreams have come true, I tell them that, so far, only my necessities have been met. For people like us, who come from poor backgrounds, education is a necessity -- the window that enables us to dream."
SHUBHAM'S LIFE LESSONS
Find a passion that you believe in.
Never let your constraints come in the way of fulfilling your passion.
Prioritise your goals and remind yourself each day that, come what may, you have to get up and chase them.
A lesson in humility
"There was a time," says Shubham, "when I was so overcome by my own success that I had begun to bask in my self worth. I believed I was the best in the batch."
Anand Kumar shattered Shubham's myth. "He reminded me that everyone was equal and it is important to stay grounded. He taught me not to judge a person by his financial background but by his/her character and values."
He was, he says, fortunate to have a mentor like Kumar who trained them to prioritise and focus on improving their academic performance day after day.
Shubham tries to visit Kumar every year. He interacts with the Super 30 students, "I share my experiences with them. I hope it inspires them to study hard and work towards a better future."
Photographs: Courtesy Shubham Kumar Gautam