He wants you to join him in his transformation journey.
Tarun Gill may have had a day job as a marketing professional, but at heart he was a fitness enthusiast to the core, since most of his conversations over chai breaks in office revolved around the topic.
And, it was one such conversation that changed the course of his life.
"During a freewheeling conversation, my manager jokingly suggested that I quit my job, pursue my passion for fitness and make a career out of it.
"I don't know if it was a serious suggestion or if it was a back-handed compliment. Nevertheless, I couldn't let go of the idea," reminisces Tarun.
The days that followed this decision were difficult, says Tarun.
"Work was never the same. It began to suffocate me.
"So I quit, but didn't know what I would do next, because I observed that in India if I wanted to make a career in fitness, I needed to either be a trainer or be an owner of a gym.
"I wasn't either of those. Yet, I knew fitness was my calling."
After two failed attempts to make it big in the fitness industry, he still wasn't ready to give up even though he was unsure of what his next move would be.
When he shared this dilemma with his wife, she had a simple solution.
"She said, 'Why don't you just share your thoughts and knowledge about fitness?'"
And, a few hours later, she shot his first YouTube video which was about 20 minutes long.
"I didn't have any agenda on my mind. It was a candid video."
This, then became a regular ritual. He began to share his take on exercises, diet, nutrition supplements, and everything else fitness.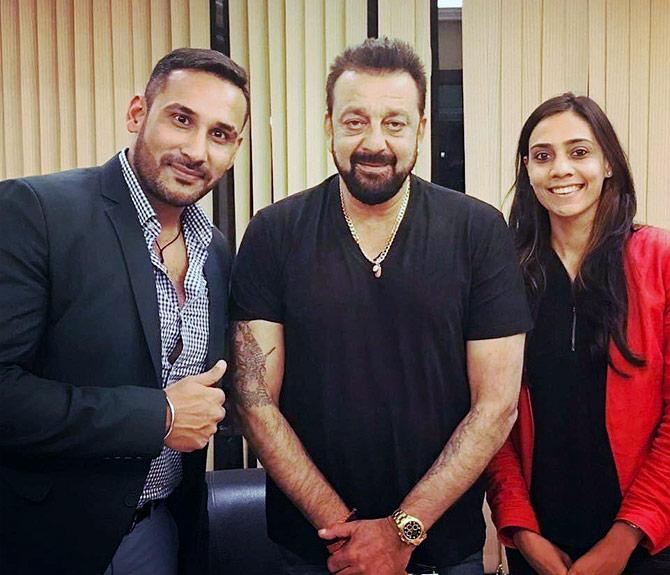 In a matter of months, his Youtube channel -- Tarun Gill Fitness -- began garnering a lot of organic interest.
Today, Tarun is a well-known fitness influencer, his YouTube Channel is touching 5,00,000 subscribers and he has now ventured into starting his brand of fitness and health supplements which he exclusively e-tails through his Shopify store.
Tarun says, "In the beginning my online venture was laden with challenges.
"My biggest problem was to set up my online store and make the entire process seamless and automate the processes. With no one to guide me, I relied on third party service providers.
"There were never-ending delays and I wasn't able to cater to the business demand."
"There were slip-ups at every level. The challenges were growing bigger."
And, running out of options, Tarun decided to experiment with the Shopify platform.
"It was commendable how the Shopify personal account manager was able to guide me at every step and make necessary changes to my online store.
"The problems transformed into growth opportunities. And, today my online business venture is gaining a strong foothold in the market."
Traversing a journey that was ridden with uncertainty
Tarun was a national level squash player and wanted to be a journalist.
But when 9/11 brought about a global slowdown, he felt that an MBA would help him get a good job.
So he enrolled at the MBA in marketing at the University of British Columbia.
While interning at Goldman Sachs, he realised the intensity of the trouble brewing in the global financial markets.
He returned home to India for Christmas holidays and gave in to family pressure to stay back here.
He started his career in India working for GE, followed by stints at GenPact, IBM and other majors in marketing communications roles.
His first brush with the realities of the fitness industry came in 2012 when he created a premium listing platform for gym and trainer discovery.
"The idea didn't work out because nobody wanted to pay. Back then, neither the trainers nor the gym owners were open to innovative ideas," he says,
So in 2014, Tarun founded FitFlea, a startup that aimed to provide clients the best fitness experience in the comfort of their homes.
However, he had to part ways with the startup because of the difference of opinion with the investors.
"I felt let down when I had to give up on my startup which was beginning to scale and doing well on the revenue generation front."
Tarun says, "From not having an idea what to do to now selling my own brand of products on the Shopify store, my passion for fitness has culminated into a very interesting life journey."
It was after these two failed attempts that Tarun tasted success, when his YouTube videos began to garner attention and saw subscriptions hit the four million mark, nine months after he first started his career as YouTube fitness influencer.
Soon he was able to draw revenue through ads.
Tarun began his journey as a fitness YouTuber in October 2015.
He says, "When I began my journey, I often had people telling me I should write click-bait headlines, use better thumbnails etc. to drive more views.
"But I put my trust in good content to drive viewership.
"And if today I am reaching half a million subscribers on YouTube, I would say content has been my greatest strength.
"My content has been honest, candid, informative, and very real. In my videos, I do not shy away from talking about the dark side of the fitness industry, such as the use of steroids."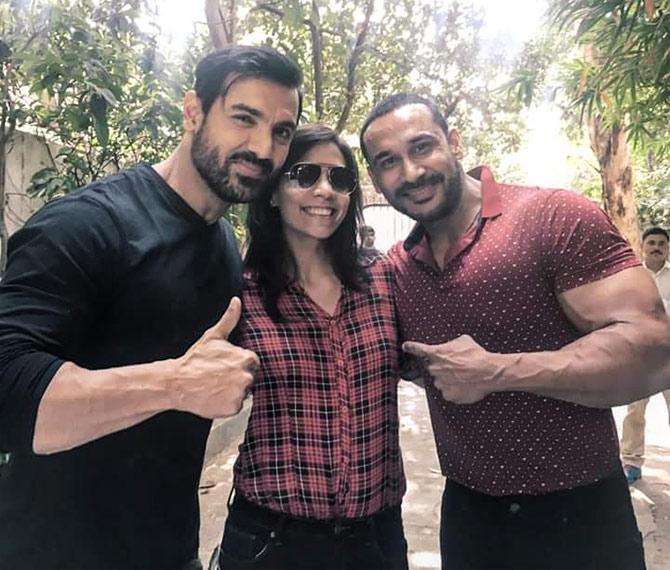 Leveraging his success story to help others
Having made a mark in the fitness industry, Tarun felt the need to give back to society and founded an initiative -- TG Connect -- an event-based platform to recognise passionate and committed fitness enthusiasts from lower socio-economic backgrounds.
"If you think about an Indian celebrity who is considered a fitness icon, the first name that pops up is John Abraham. So I wanted him to champion TG Connect.
"But then again, I didn't have any contacts in the film fraternity.
"All I had was his contact number. Mustering courage, I sent a message to the number asking if he could talk about TG Connect in a short video." And to Tarun's surprise, John agreed.
Tarun successfully launched the programme in 20 cities across India, and got renowned fitness celebrities like American IFBB professional bodybuilder and personal trainer Kai Greene, bodybuilder Varinder Singh Ghuman, actor Vidyut Jamwal, Randeep Hooda and actor and Mr. India 2015 Thakur Anoop Singh to be a part of the multi-city events.
Why trust is the biggest asset during a crisis
Tarun credits Aditya Ghosh, President and Whole Time Director, IndiGo Airlines, as the "person who helped me chase my dreams".
Early in his fitness career, even though his YouTube video channel was becoming popular, things were still lagging on the revenue front.
"So my family gave me three months to either get my career in fitness to work for me or get back to regular corporate life.
"Around that time, I got a mail from Aditya Ghosh asking me to help him in his fitness journey. And soon, I began helping him.
"But, I continued to be stressed about the revenue front and that's something he recognised."
When Tarun shared his story, Aditya gave Tarun a blank cheque and asked him to encash it whenever the need arose.
Tarun says, "When he gave me the cheque, he told me that it was not just about the money. It signified that he had faith and trust in my abilities. And, this gesture uplifted my spirits.
"In a matter of months, my life turned around. I launched TG Connect in 2016, did 20 events across India." The TG Connect Conclave was supported by IndiGo Airlines.
In December 2016, IndiGo collaborated with Tarun Gill to launch FitToFly, a year-long programme that created awareness around fitness and a healthy lifestyle.
All this helped increase his brand reach and gave him a fertile ground to launch his eponymous health and food supplements brand in February 2017.
"It just goes on to show how one person's belief in your ability is what you need."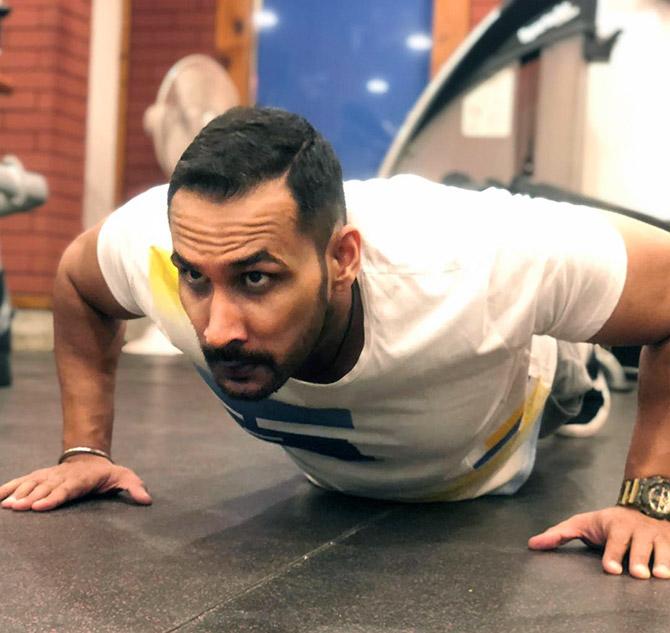 Driving revenue growth by staying in sync with customer needs
Today, the health and fitness supplements business from Tarun Gill Fitness is growing exponentially and driving up revenue.
"Being in the fitness industry for a while, I realised I needed to diversify my income generation channels."
"Teaming up with a trusted manufacturer, I launched a cost-effective whey protein powder for ₹ 99. A sachet that would last three servings. That was an instant hit with the customers."
That was the beginning, after which he began to expand his product portfolio to cater to the market needs. Today, the health and fitness product portfolio from Tarun Gill Fitness includes 30 products.
Tarun claims that he is able to offer competitive prices because he manufactures them and retails them on his own platform and thus saves on intermittent taxes, as well as commissions that are offered to resellers or retail agents.
Tarun reached out to Shopify to launch his online store for his supplements.
A Shopify Gold customer, Tarun says, "With the subscription, I was able to come up with a clean and lean outlook and interface.
"If you look at some of the most successful e-commerce platforms, one of the key boosters of growth is their clutter-free product-centric look. There's nothing fancy.
"I was keen on having a similar look and feel for my website." Tarun had initially outsourced the website development to a third-party. However, there were never-ending delays.
"What didn't see fruition in months, I was able to complete in a turn-around time of just two weeks."
Earlier, Tarun Gill Fitness was operating on Woo Commerce platform where Tarun had to manually work on each step of the e-tailing process.
For instance, details such as warehouse inventory, order placed, order dispatched were maintained manually on an excel sheet.
Once the package was ready for shipment, Tarun had to connect with the courier partners to get it shipped and had to track the delivery himself. This meant it took a lot of effort to complete even one order.
Shopify was able to completely automate every step of the process.
Today, once the inventory comes into the warehouse, the details of the SKU get automatically updated on the website.
And, once an order is placed, the automated process ensures that both the customers and relevant partners are kept in the loop.
For instance, once the order is ready for dispatch, the courier partners are intimated automatically and so are the customers.
"The Shopify store makes the entire e-tailing process efficient, transparent, and seamless for all the relevant stakeholders by automating the processes, thereby minimising chances of human error. This naturally leads to better customer experience and thereby more business."
"From doing about 25 orders to about 200 today, Tarun Gill Fitness has been able to drive business simply by onboarding the right platform," explains Tarun.
The Shopify Gold subscription also enabled Tarun to customise his payment options.
He says, "In case of a cash-on-delivery (COD) option, if the product is returned, there is a cost factor that I have to bear as the business owner -- the cost to send the product and the cost to get it back.
"And, on an average my parcels weight about 5 kg. That means, if a product is returned I bleed at least Rs 500. And, sometimes they were damaged on return, incurring further losses."
Naturally, he wanted his buyers to opt for prepaid orders.
Today, in addition to his YouTube channel and Shopify store, Tarun has added another revenue stream -- the Tarun Gill Academy, an online platform that offers courses on becoming a fitness trainer, how to monetise YouTube etc.
Tarun says, "I am a person who goes with the flow. I often do not have any researched strategy. I just follow my heart.
"While it has worked sometimes, at other times it hasn't. But I have no regrets.
"Through my startup, Tarun Gill Fitness, I met many interesting people who helped me shape my career in the fitness industry.
"From Bollywood personalities to industrialists, this has taken me places. In essence, it has helped me become the person who I always wanted to be."