Haryana's Nishtha Dudeja was crowned Miss Deaf Asia 2018.
She's the first Indian to win a title at the Miss and Mister Deaf World -Europe - Asia Beauty Pageant.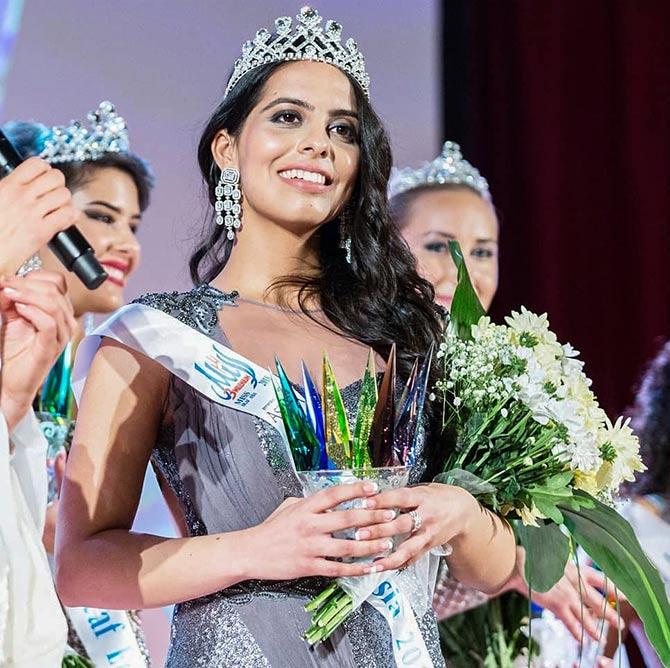 IMAGE: Nishtha Dudeja's crowning moment. 'What a moment! It was overwhelming,' she said after winning the title. 'It is certainly something I will cherish forever! For the first time, India won any crown at Miss and Mister Deaf World pageant. I'm glad that I won this crown for India.' Photographs: Courtesy Nishtha Dudeja/Instagram
Born in Haryana's Panipat, Nishtha Dudeja was born deaf.
A commerce graduate from Venkateshwara College, Delhi University, she is currently pursuing a MA in economics from Mumbai's Mithibai College.
A former judo player, she has represented India in international tennis competitions including the World Deaf Tennis Championship 2015 and Deaflympics 2013 and 2017.
Earlier this year, she won the title of Miss Deaf India.
Click here to read her heartfelt letter to her parents soon after she won the title of Miss Deaf India, earlier this year.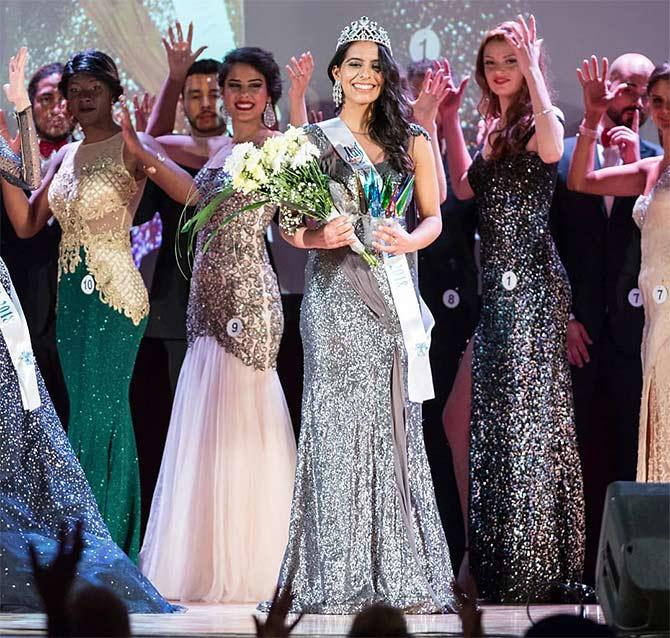 IMAGE: 'This crown is a precious gift from God which I will cherish for my entire life,' writes Nishtha.
A crusader of equal opportunities for all, she is of the opinion that differently abled people don't need sympathy or pity.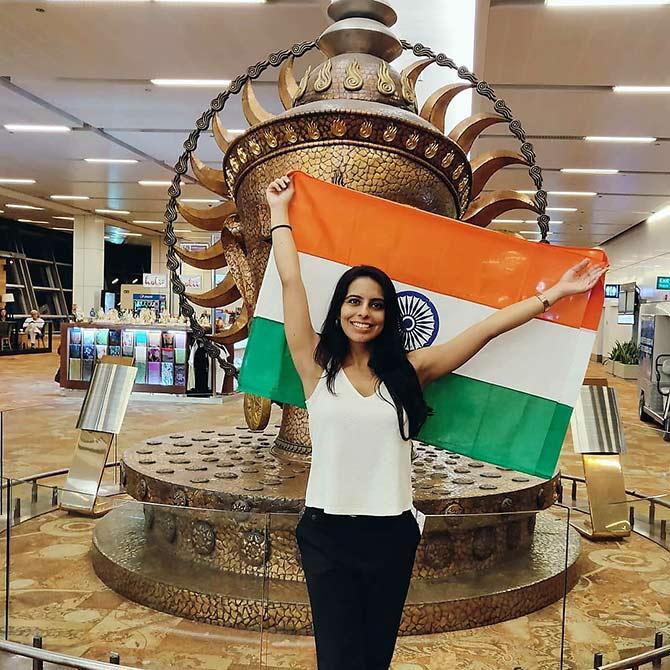 IMAGE: This pic was taken when she left India to compete in the pageant.
'Thank you INDIA. Your love and affection has brought me to this stage of getting Miss Deaf Asia 2018 crown,' she wrote on Twitter soon after her win.
'I am so grateful to the people of my beautiful country for their blessings. I dedicate this crown to my family.
'On this occasion, I want to convey that the differently abled people don't need sympathy or pity. All they need are opportunities to prove themselves.'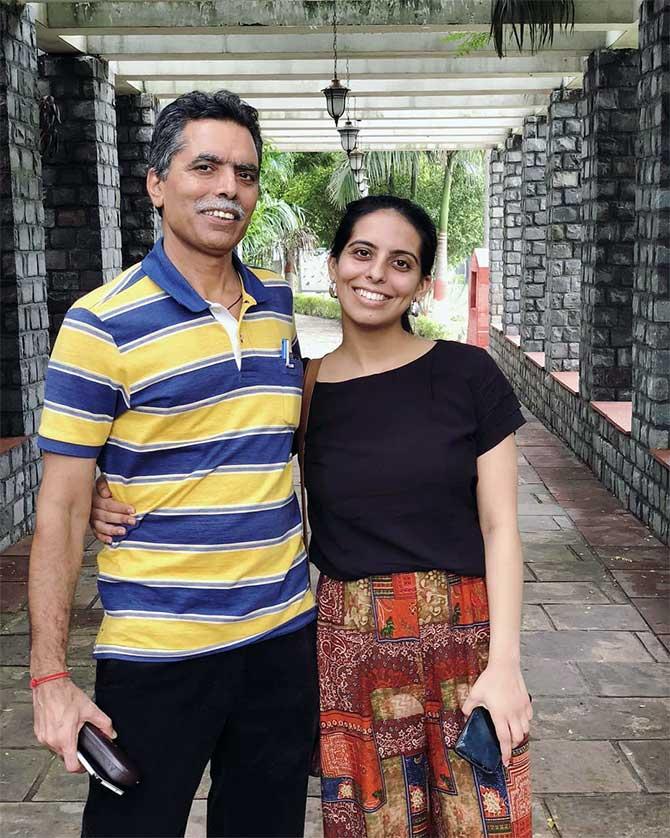 IMAGE: Nishtha with her father. According to her, 'Behind every independent woman is an open-minded father who trusted her and not the society. Like father like daughter.'
'It's been 23 years that you have cherished me since day 1 and I hope that it stays forever,' she writes.
'Thank you for guiding me, supporting me and being my best buddies. Thanks for bringing me into this life. I will make it worth our times.'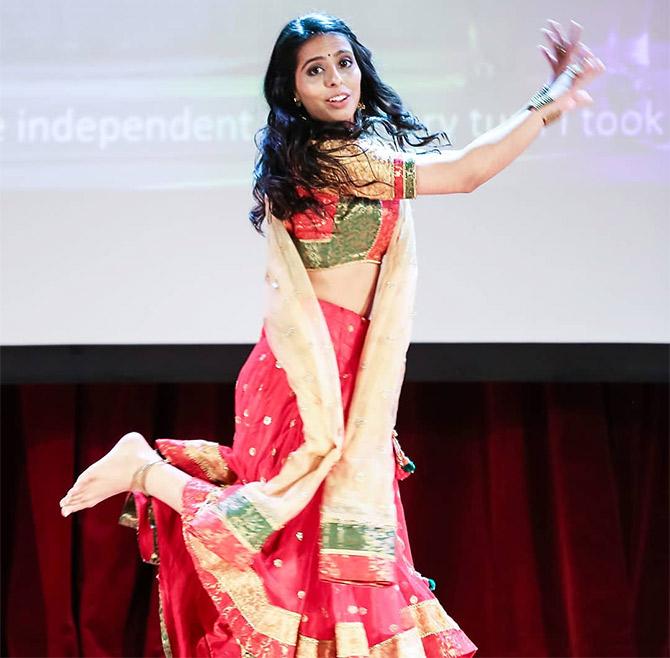 IMAGE: A pic of her performing at the pageant.
'Since childhood, I was very shy dancing even in front of my family,' she says.
'But Miss Deaf World has definitely pushed me out of my comfort zone.
'I enjoyed a lot, dancing in front of camera and hundreds of people. One item ticked off my wish list!'
IMAGE: Nishtha bid good bye to tennis in 2018.
'I will miss the struggle and hustle I had during this beautiful and enriching journey of 10+ years in tennis.
'Mostly, I'm going to miss sleeping at 1:30-2 am, waking up at 4:15 am and doing fitness at 5:30 am in the open park even in winter.
'Thank you so much Rajeev Dhingra Sir for transforming me into the person I'm today, encouraging me, motivating me to fight with adverse circumstances, to keep busy in a constructive way. You never pitied on me and you treated me at par with other normal players. I'm forever grateful to you for your devotion, dedication and commitment to make me a better sportsperson.'