How often have you wondered what sets a chef's food apart from your home-cooked meals?
Or what are the cooking secrets of top chefs?
In an interview with Ranveer Brar, Anita Aikara/Rediff.com gets the celebrity chef to reveal some of his simple cooking secrets.
'Food has many more angles than just the art of cooking,' reveals Chef Ranveer Brar.
"The art of cooking is really important,' he adds. 'But then the science behind food is equally important.'
Quiz him about his secret to cooking, and his answer will leave you stumped.
"The only secret of understanding cooking is to understand the application of heat on an ingredient."
Before you begin to wrap your head around the science of heat, he quickly explains himself.
"You just need to understand how heat reacts to a potato versus a meat, and the multiply that by 2000 times ingredients you use.
"Understand and visualise what is going on inside the food when it is being cooked, so that you can manipulate it, turn it around and create a completely new dish," he explains.
Like most home, Ranveer's family too have a secret that they have been following for years -- one that sets their food stand apart from the rest.
"We have never used iodised salt while cooking. We have always used khada namak and crush it before use," the chef says letting out his family cooking secret.
"The amount and the kind of salt used in food makes a huge difference."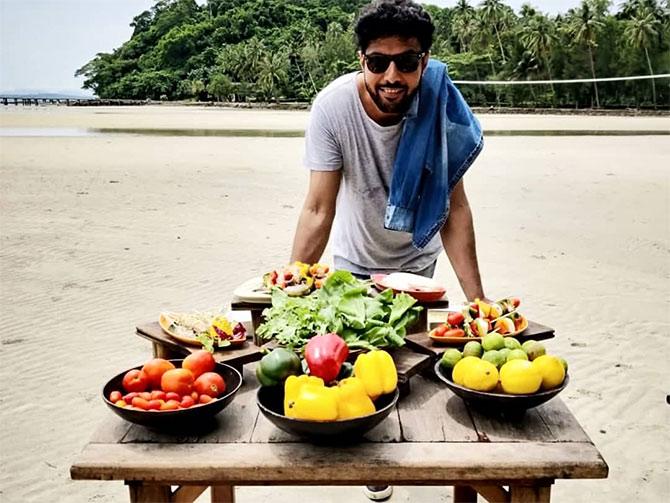 While salt has a special place in his kitchen, there are three other ingredients that Ranveer refuses to cook without.
"I'm very Punjabi at heart," he says. "There are three things that I cannot cook without... ginger, coriander and onions.
"At home, when I am cooking for friends, I lookout for these three ingredients. As long as I have them, I am confident that I can create a multitude of dishes."
Staying fit despite being surrounded by food all the time can be quite tricky. But for Ranveer, it is child's play.
"It is the stress," he says jokingly. "I feel the first important exercise a chef needs to learn is to take your neck from the left to the right and learning to say NO.
"One must also learn how to enjoy food. You need to be sure if you are eating to stuff yourself or to enjoy food.
"Because enjoying food can happen in just two spoons. It is sensorial.
"Just asking yourself what is the objective of eating -- enjoying food or filling your stomach -- can help."
Sharing some valuable food secrets for the monsoon, Ranveer says, "You got to spice your food a little more.
"Spices are antibiotic and antiseptic in nature.
"They can take away all the germs that come with the rains, and hence all our monsoon food is tangy and spicy."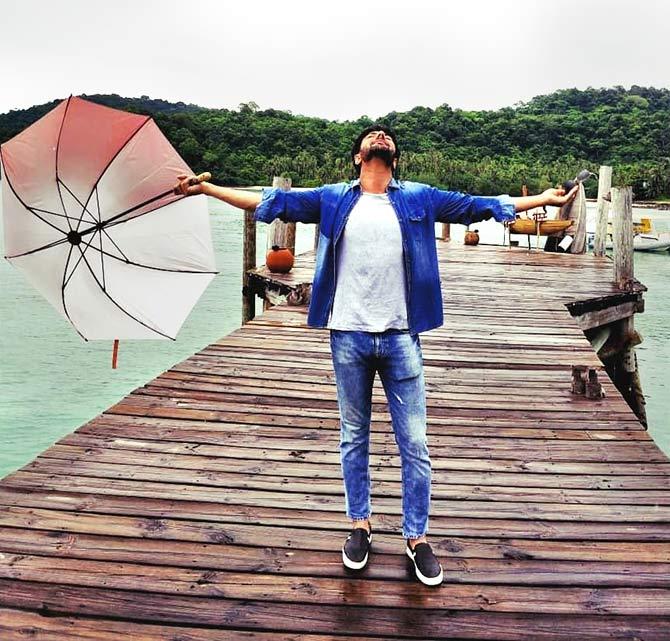 Another tip would be to start using small muslin bags of rice in your spice bottles.
"The rice soaks in the moisture and avoids your spices from getting ruined," he adds.
Currently the chef is busy with the promotions of Sony BBC Earth's anthology Secret Behind Food.
Explaining the concept, he says, "It's an anthology of three shows including Supermarket Secrets, Food Factory Supersized and The Food Detectives, which premier on Sony BBC Earth on July 23.

"All these shows have been shot abroad and are non-Indian. The subject of these shows, and the way they have been brought together are really close to my heart.
"The Food Detectives has a scientist and journalist coming together and breaking down food myths. The second show is about supermarkets and how they functions. The third show, Food Factory Supersized, it has scientific outlook on preservation and canning.
"They take viewers beyond the usual 'let me show you how to cook' on television paradigm."