Australian Masterchef runner-up Sarah Todd can't get over India. Rediff.com's Anita Aikara finds out why!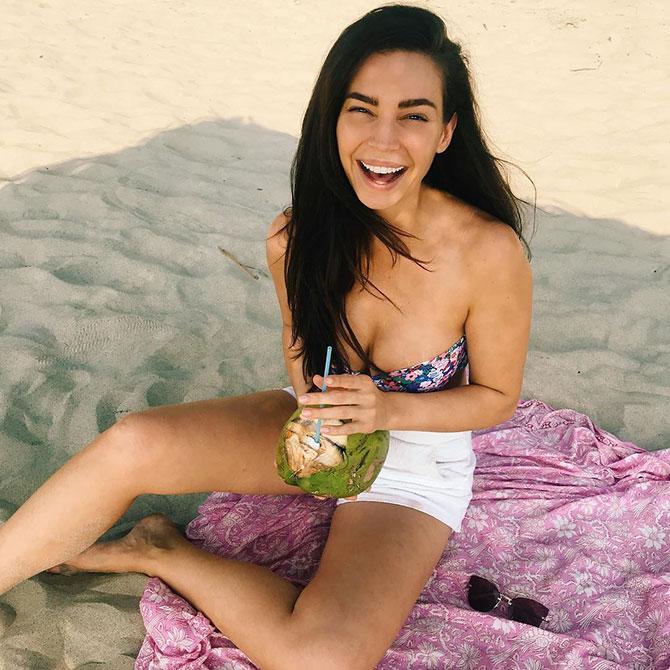 All photographs: Kind courtesy Sarah Todd/Instagram
Australian Masterchef 2014 contestant Sarah Todd was in India recently to attend Lakme Fashion Week (LFW), which took place in Mumbai.
She walked the ramp for designer Karishma Shahani Khan, who revealed her latest collection on Day Three of LFW.
However this was not Sarah's first visit to India. The model-turned-celebrity chef, who opened a casual fine-dinning restaurant on Small Vagator Beach in Goa, makes several trips to the country.
She had initially planned on opening an India restaurant in Australia, but ended up opening an Australian restaurant in India.
"Because I have fallen in love with India," she laughs.
India has inspired her in more than one way. "I love the colours, vibrancy, energy and of course, the food here," she reveals. "The people here are amazing."
Her journey with food began early, but it took shape when she had a son. She'd would return home from work and spend time thinking about the elaborate meals she could cook for him.
Sarah is crazy about Indian food and her latest obsession is Rajasthan's Laal Maas.
"It is my latest favourite Indian dish," she says. "I had it on my last trip to Rajasthan and still rave about the flavours of the dish."
As a cook, she loves experimenting with flavours and has been drawing inspiration from the Australian cuisine with a hint of Asian influence.
"My favourite Indian ingredients are spices," says Sarah who has been using them generously in all the food she cooks.
"They are so fresh and add such an amazing aroma and taste to dishes. I don't think I can do without them now."
As part of her Indian journey, Sarah has been collaborating with ethical and sustainable farmers in India to source ingredients which are organic and pesticide free.
"The biggest food trend of 2018 is about good quality produce.
"It is about knowing where your food comes from and knowing what your farmers are doing and how they are treating the produce.
"People have started taking the basic ingredients and cooking them simply," she adds.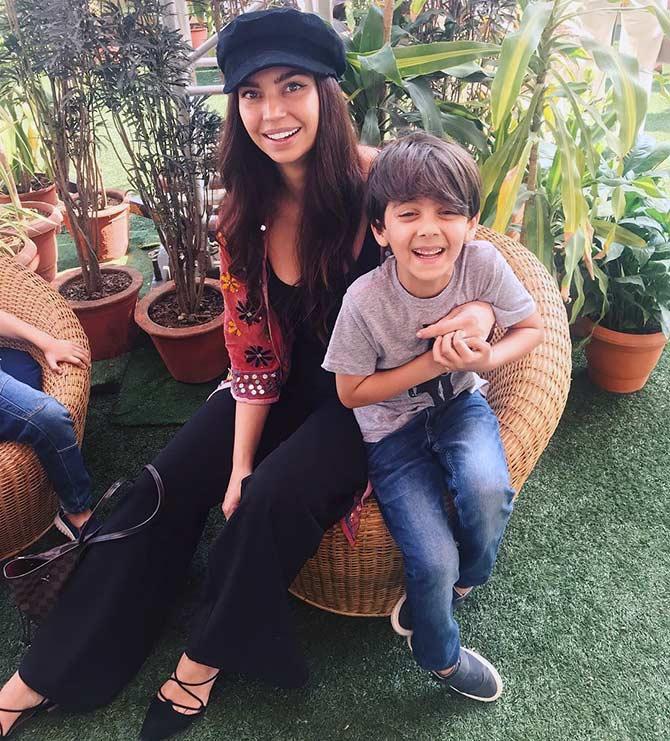 Sarah with her son at the Lakme Fashion Week Summer/Resort 2018, which was held at Jio Gardens, Bandra Kurla Complex, Mumbai.
Sarah, who was discovered as a model at the age of 15, walked the LFW ramp for the first time and enjoyed herself thoroughly.
Delighted to make a comeback on the ramp after years, she made sure that her son, Phoenix was seated in the front rows to watch her walk.
"It was the first time that I walked the ramp at an Indian fashion show.
"The energy of the place was simply amazing and I absolutely loved what I was wearing. It was a great experience for me.
"I think it is great for him (her son) to see women, including his mother, walk the ramp," she adds with a smile.
Video by Afsar Dayatar/Rediff.com
When Sarah is not modelling or cooking, she loves to spend time with her son.
"I think these days women are working all the time. So, in any industry being a working mother is difficult.
"Women don't have the luxury of being stay-at-home moms anymore," says the chef.
Throwing light on an Indian outfit she adores, Sarah reveals that says nothing can beat the joy of wearing a sari. "It is so beautiful."
---
Take a look at some of Sarah's gastronomical adventures in India.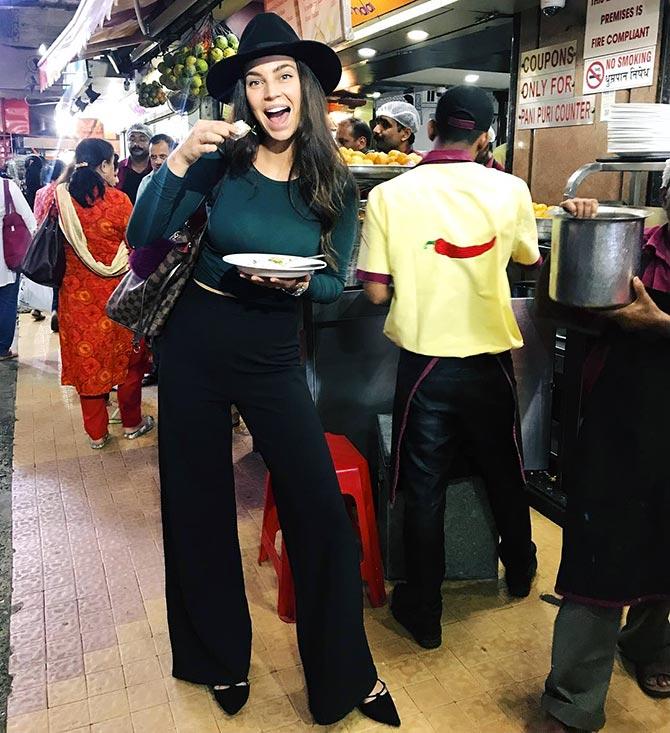 '10 pani puris in!' Sarah captioned this pic that was taken at Mumbai's popular Elco Panipuri Centre in Bandra.
'I tried so many different types, delicious,' she added.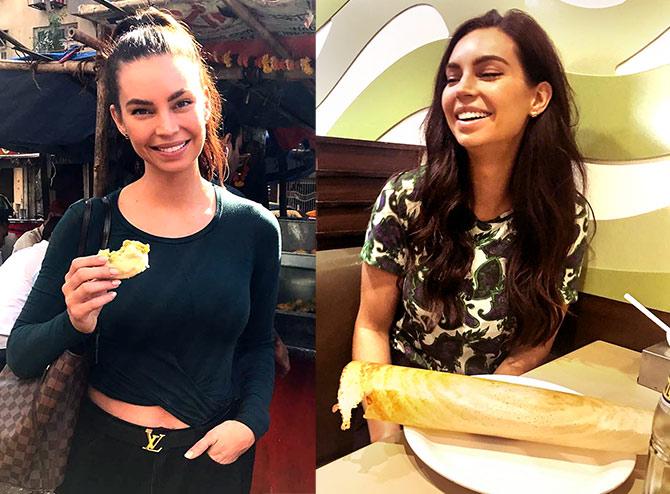 During her trip to Mumbai, she also tasted vada pav and dosa.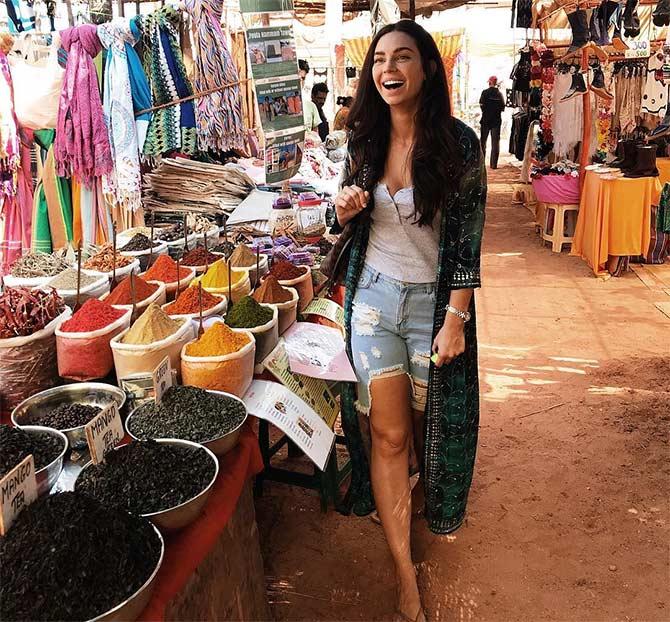 The Australian MasterChef loves Indian spices and here she's seen buying some at Goa's Anjuna Flea Market.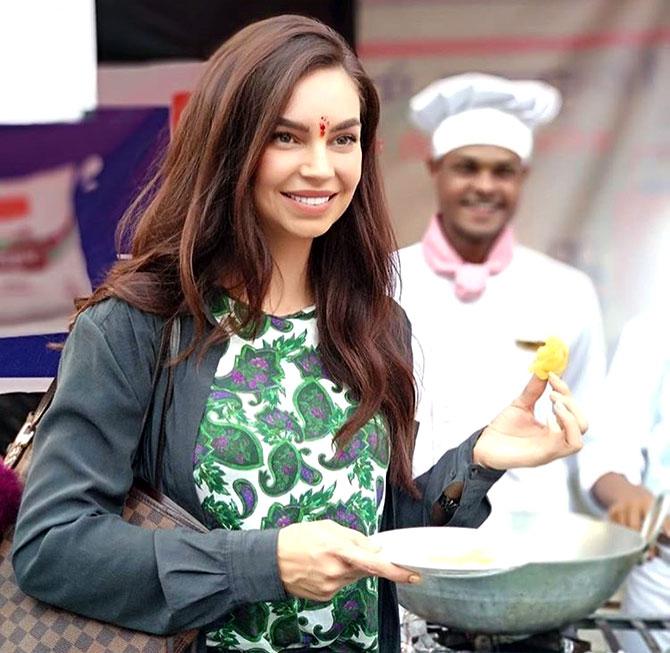 Sarah was also clicked scoffing down some delicious orange jalebis in Nagpur. She was there to attend the World Orange Festival.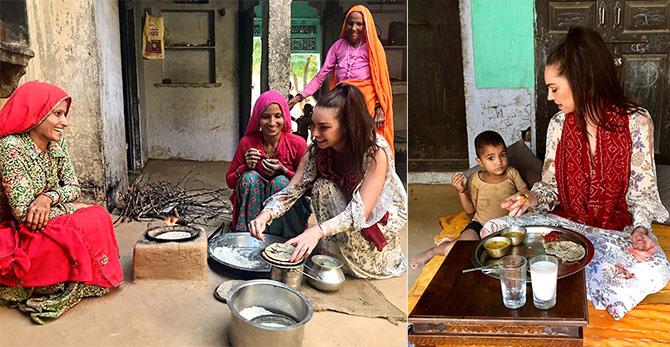 At Rajasthan she first tried making baajre ki roti and then found the 'cutest lunch companion' who helped her polished off all the baajre ki roti.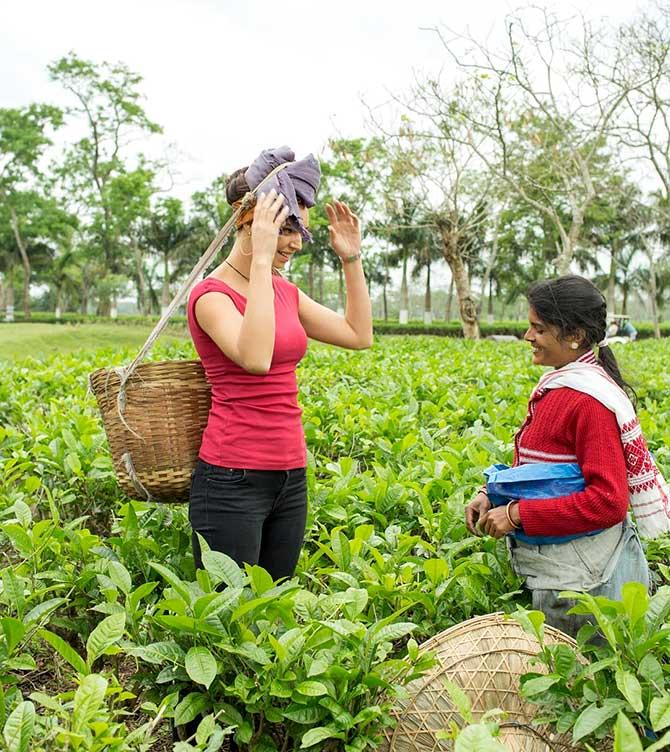 'I must say spending time in India is making me fall a little harder for this insanely diverse land!
'Flashback to another one of my best days in #India trying my hand at tea plucking!! #Assam.'