Bollywood is taking a close look at the hair loss syndrome, a problem that terrified Syed Firdaus Ashraf when he was a teen.
Here's the solution he has religiously followed for decades.
Illustration: Dominic Xavier/Rediff.com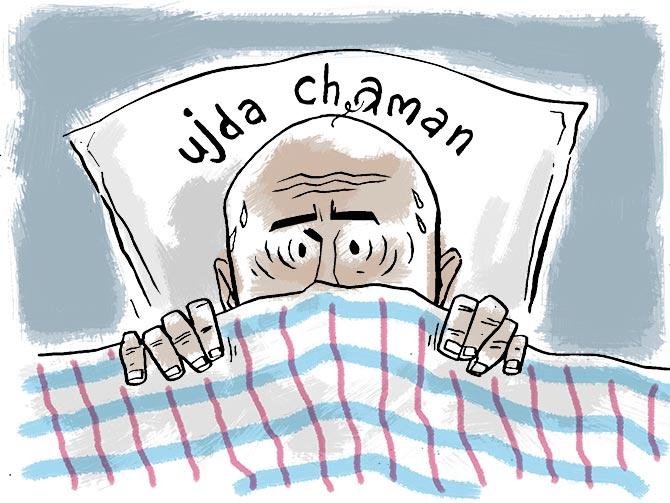 The most horrifying nightmare I had a teenager was the big egg. No, not on my marksheet. On my head.
Every time I saw a man his mid-thirties grappling with a receding hairline or an emerging shiny bald patch, I was petrified that I too would sport an ujda chaman (bald head) as I grew older.
The fact that I had a family history of receding hair made me feel even more desperate.
Unfortunately, there was no hair specialist I could consult in the socialist India of the late eighties.
Help came from a close friend who gave me seven commandments on how not to lose hair.
Now that Bollywood has chosen to focus on the topic that terrifies all men -- Ujda Chaman (starring Sunny Singh and Karishma Sharma releases on November 1) and Bala (Ayushmann Khurrana, Yami Gautam and Bhumi Pednekar; release date, November 7) -- I am sharing these tips, which I have religiously followed, with you.
1. Never comb your hair
This may sound silly, but think about it.
Men tend to keep a comb in their pocket and comb their hair often. My friend told me that combing your hair constantly weakens its roots, making hair fall imminent.
I haven't combed my hair for 30 years.
If you think it looks untidy, do take a look at Boris Johnson, the prime minister of the United Kingdom.
2. Avoid cosmetic products
Don't use shampoo, gels or other cosmetic hair products.
The reason? Chemicals!
Using these products is an offensive act against your hair. The chemicals in them can destroy its natural growth.
You might love the fact that your hair feels soft or it smells good or that you can style it as you wish, but remember that this comes at a cost.
Due to the use of these chemicals, you will lose your hair as your age.
3. Use soap instead!
Yes, soap contains chemicals too, but I believe it is the lesser of the two evils.
And you can limit the exposure to chemicals by washing your hair only when needed.
Also, remember that soap is a modern invention for mass use.
Before the Industrial Revolution, soap was not available for mass use. If your ancestors remained hygienic without using soap, why can't you?
4. Love riding a motorcycle? Then you don't love your hair
What's the connection, you might wonder.
The use of a helmet is compulsory, but it generates a lot of heat. So protect your hair with a handkerchief before you don your helmet.
And if you are riding pillion, the breeze that blows against your face also stresses the roots of your hair.
So, when you ride a motorcycle, remember to protect your hair with a handkerchief or a scarf.
5. Leaning out of the train
It's the same funda. The breeze ruffling your hair feels good and there's that additional zing of bravado.
Not only can this result in loss of life and limb, it can also result in loss of hair due to the weakening of your hair roots.
So, avoid hanging out of the train door. Period.
6. Use a cap while swimming
It's a must!
The water in swimming pools is loaded with chemicals that are harmful to both your skin and hair.
7. Avoid Dubai
I have no idea if this is true, but I've noticed that anyone who lives in Dubai for a long time goes bald.
I know at least six such people who've lost their hair after moving to Dubai.
In fact, if you google 'Dubai water', the results will be dominated by 'Dubai water hair loss', 'Dubai water hair thinning' and 'Dubai water hair fall'.
Though there is no scientific reason for my premise, do read this article (external link) to understand more.
Syed Firdaus Ashraf sports a full head of salt-and-pepper hair at the age of 47 and swears by these steps. However, the friend who recommended these measures is completely bald today.