In the third of the series, Suren Kochchar offers six pointers to help women achieve financial goals.
An International Women's Day Special.
Illustration: Dominic Xavier/Rediff.com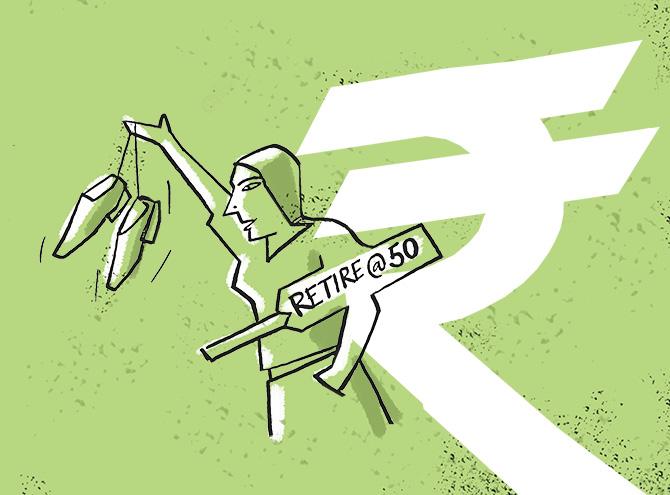 Part I: The single woman's investment guide
Part II: Investing for women: Choosing between risk and safety
Retiring rich and healthy is a bliss and that too when one achieves that at 50! Well, it does not come easy as it requires commitment with bottomless effort and dedication. To shape this wonderful future, you need to take certain financial vows.
Here are some pointers that can help you achieve this goal.
1. Desire management
Don't mix your desires with needs; if you do that you will need to have a desire management approach.
What costs more are always the desires! No harm in cherishing and fulfilling your desires, but a desire management framework is always helpful in keeping a check on expenditures and investments if one wants to retire at 50!
2. Stay healthy with healthier thoughts
Happy people live happily and they attract happy people around them. It is always important to be around people who have positive thoughts!
Also, have your half-yearly/yearly medical check-ups. As you target retirement at 50, you are opening your arms wide to a healthy and happy retirement life to live ahead.
3. Debt traps are dangerous
Do you really need multiple credit cards in your wallet and that, too, each one at its peak limit with revolving credit?
Do you really need to build multiple loans and spend your energies on servicing the monthly instalments? Can you plan better, avoiding these spontaneous purchases?
Don't leave your focus as these debt traps will only delay your final goal.
4. Start investing early
It is always good to explore the investment world at an early point in life and, needless to say, start with an investment plan in equities.
Without any delays, create your own equity systematic investment portfolio with mutual funds and then create your own systematic pension plan through a systematic withdrawal plan at 50.
Understand the power of compounding -- the earlier you start investing the better corpus you retire with. Remember to increase your SIP value with the gradual increase in your income levels.
5. Be well insured
Of course, you may have bought insurance for your tax efficiencies, but the question is: are you insured enough for mortality cover and health needs?
It is a human folly to assume that we are all immortal and that our health will always be the best. Hence, plan your insurance budget as life is highly uncertain and eventualities rush in when you expect them the least.
6. Create an experience and skill budget
A great life awaits you. What's life without a speck of adventure and travel! It will be great to add an experience and skill budget that would help you upgrade your intellect, skills and invest in hobbies.
What's more, you don't need a personal loan for such accomplishments; you have already budgeted for it.
Now with these vows, you are good to retire at 50.
Suren Kochhar is Senior President, Head of Sales and Marketing, YES Asset Management (India) Limited. The opinions expressed in this article are the author's own and do not reflect the view of YES Asset Management (India) Limited.
Next in the series: Five simple steps to your financial freedom