'During the course of these two years, as new people have joined, we have no mental picture to associate with them and hence, have little connection with them.'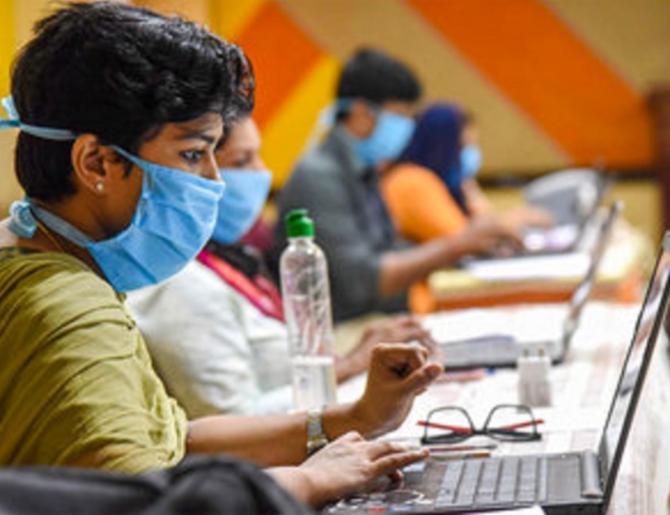 Another uneasy year gone in a heartbeat. A year when the goalpost kept shifting.
When we swung from hope to despair many times over, and came to settle somewhere in between.
As the January of 2021 dawned on us with the promise of a Covid vaccine, a partial return to office appeared a possibility.
And 'hybrid' became the dominant concept in any conversation around office life.
But just when organisations across sectors started putting in place mechanisms to get people back to the workplace after nearly a year of remote operations, the devastating Delta variant put paid to all such plans. And the pendulum swung back to despair as scenes of horror and grief unfolded before us.
Back in January, a year after India reported its first Covid-positive case and when most companies were still in a work-from-home (WFH) mode, Krishan G Insan had already returned to office. With good reason.
As a senior manager with Oil India Ltd in Assam, Insan's is an essential services sector.
He'd go to the office day in and day out, but hold meetings with colleagues virtually as far as possible for the sake of safety.
Back then, he had told this correspondent: "A vaccine is very much awaited."
Today, 11 months later, with Delta behind us and with over one billion Indians vaccinated, and those in public sector organisations like his fully so, he says people have once again mustered the confidence to meet in person and network "while following all Covid protocols".
Having recently returned from the G20 leadership programme in South Korea, which had 22 global invitees from 15 nationalities, he is confident that business travel will start in earnest in 2022.
"The Dubai Expo has already given us a glimpse of this," he says, hoping that Omicron, the new coronavirus variant of concern, doesn't turn things for the worse.
Meanwhile, he has observed that organisations have started a few in-person trainings for youngsters to help them by providing a better learning environment.
Training freshers and familiarising them with the culture of the organisation in a remote working scenario has, in fact, been a challenge several companies have encountered.
"We were quick to jump the gun and shortsighted to think that WFH would be the future," says Kumar Aditya, who works with a fintech firm in Gurugram.
"WFH will only work ceteris paribus (all other things being equal)," he says, explaining, "When we went into a remote working model, we were well familiar with our colleagues and had a certain comfort level with them. During the course of these two years, as new people have joined, we have no mental picture to associate with them and hence, have little connection with them."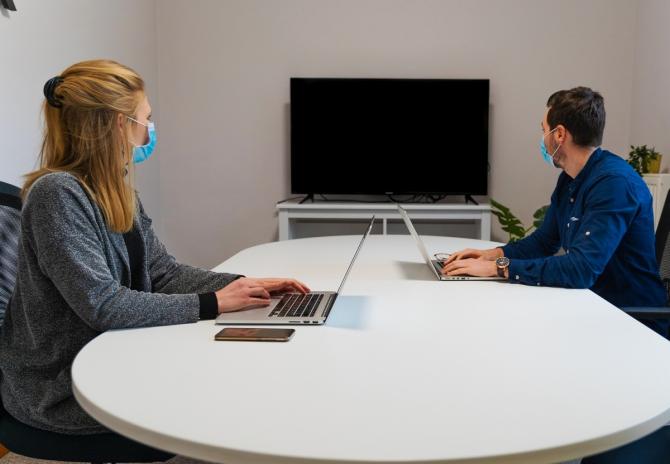 Training newcomers takes far more time and energy in a virtual model, he says.
There is a reason why IT companies, which were the first to announce long-term remote working plans, have been among the first to say they are expecting their employees under a certain age to be working from the office again.
Of course, the Omicron variant has now made them rethink this decision as well.
"Juniors learn a good deal simply by observing their seniors. That learning by association has suffered," says Aditya.
"In one day of face-to-face meetings you can explain stuff you'd otherwise take weeks and a series of exhausting virtual conferences to convey. It's not a surprise that the push to reopen offices has come largely from the mid-management, the operation leaders, rather than the top management or the bottom rung."
Nothing like before
Hybrid office is becoming more and more common.
In-person training for freshers have resumed.
Many feeling the fatigue of long-term remote working.
Companies are battling high attrition rates; many employees are opting for radical career changes.
Omicron fear is looming large on return to office.
Those new to the workforce also felt the loss of experiencing an office environment.
Garima Mehta (name changed on request), who started working with a Mumbai-based MNC early this year, says a lot of her energy would be consumed in guessing whether she was on the right track, or whether her immediate supervisor appreciated her work.
As her office opened to allow employees in twice a week, she realised how easily this void got filled, and how accessible and friendly her colleagues were.
"It took one in-person meeting to break that barrier," she says.
Into the second year of the pandemic, many are feeling the fatigue of long-term remote working, as lines between home and office stay blurred.
"Deep work, which is possible in an office environment where everyone is following a certain schedule, has been impacted," says Aditya.
"More so, for those living with people whose timelines don't match theirs."
That said, there are also those who simply do not want to return to office.
Working from their homes in smaller towns, they are saving hugely on rent, entertainment and eating out -- the biggest drain on the pocket in a metro.
Radical career changes and high attrition rates, which companies are struggling to arrest, have also been a pandemic fallout.
As has the realisation that the working population knows how to get the job done, Covid's unprecedented challenges notwithstanding.
"We had the same turnover this year as we did pre-pandemic despite not having a single face-to-face meeting since companies didn't want to meet in person," says the CEO of a firm that is in the chemicals business.
"The pandemic has taught people to be more resourceful. Even dealers who weren't tech savvy got on Zoom calls; we, too, made all our pitches online. And as some jobs, like those of receptionists or a few administrative roles, became obsolete, people upskilled or changed their skill sets," says the company head who does not wish to be named.
In 2020, when everything shifted to remote working -- which, by the way, was far more stressful, time consuming and fraught with distractions -- his company strengthened its IT systems, "which ensured we had no hiccups this year, even during the second wave of the pandemic."
The CEO, who went back to working from office in July 2020, has, however, noticed that as things have got better, pandemic-wise, traffic on the roads has got worse.
His journey to work and back now takes him an extra 15-20 minutes as a result of this. "It makes one think that in some ways, we've learnt nothing from the pandemic. And that's unfortunate."
Dr Samir Parikh, director, department of mental health and behavioural sciences, Fortis Healthcare, Delhi, hopes that's not the case.
"These two years have been a lesson in human adaptability. We had no preparation, no training and no anticipation of this event," he says, drawing up a list: "Vaccines came in record time; young people became good Samaritans; social media was truly used for social purposes; the way children handled the pandemic, switching to online classes while confined to home, is a learning in itself; an Olympics was held, preparing, living, playing in a bubble; people worked from home with resilience; India Inc rolled up its sleeves and focused its energy on reviving the economy..."
Life, he says, has given us a teaching moment. "Now the question is: Are we going to be good students?"
Feature Presentation: Rajesh Alva/Rediff.com