Continuing with the same behaviour while things around you change is a sure recipe for failure, warns HR expert Anoop Kamat.
Successful leaders demonstrate agility and adaptability.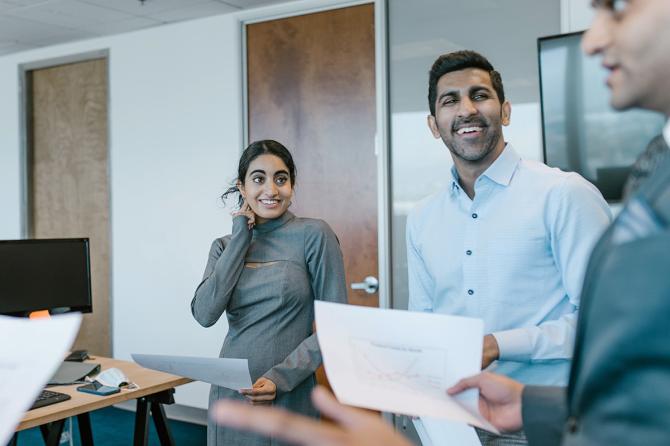 What impact will COVID-19 have on our professional working lives?
While the pandemic is still ongoing, this is one of many questions on people's minds as we adapt how we live and work in the face of what has become the 'new normal' over the past two years.
Under such circumstances, achieving success in our careers may seem like more of an uphill battle.
I have attempted to list a few straightforward steps that can help working professionals succeed in an increasingly volatile and disruptive world.
I have also outlined questions that you can ask yourself to pause and self-reflect.
1. Accept the reality
As we learn to live with the pandemic, everything around us is changing rapidly.
In the face of COVID-19, many business leaders were in denial over the long-term consequences the pandemic would pose.
In contrast, successful leaders understood that the pandemic was here to stay.
Successful individuals accept the reality of their situation and work to adapt to the new order.
Key Question 1: Do you find it challenging to come to accept situations that may affect you and you cannot change?
2. Adapt to the changing world
As COVID-19 forced us to work from home and caused school closures, most of our daily routines changed overnight, and many of our support systems vanished.
Most of us were left having to juggle multiple responsibilities at home, including managing our jobs and children's schooling.
While people tend to be resistant to change, the early adopters took the changes in their stride and quickly adapted to the new normal.
Case-in-point: A large hypermarket in India saw a significant drop in footfalls across its various retail outlets.
The hypermarket decided to set up sales counters in large communities by taking an out-the-box approach to ensure that households had easy access to essentials.
This not only helped them stay relevant, but it also earned them respect from their customers.
The key lesson? Continuing with the same behaviour while things around you change is a sure recipe for failure. Successful leaders, in contrast, will demonstrate agility and adaptability.
Key Question 2: Can you adapt to remain relevant as the world around you changes?
3. Prioritise what you want to achieve and what can wait
'Choose your battles wisely' is, to date, one of the best pieces of advice I have ever received.
As our work habits have fundamentally changed, and with so much having shifted on the ground, what we may have been achievable pre-COVID may not be manageable now.
As a result, it is more important than ever to prioritise our deliverables and not overburden ourselves.
Always be realistic rather than over-optimistic.
Everyone having a clear focus will be critical for organisations aiming to catch up on their business deliverables in the coming years.
Key Question 3: Can you prioritise what is urgent and vital among the different expectations from your role?
4. Promote agility to instill confidence
As organisations analyse the impact of COVID-19, they will be searching for ways to bounce back from the global slowdown.
From faster response time to dealing with ambiguities and empowering teams to take decisions, instilling agility will be critical to their success.
Key Question 4: Did you capitalise on any opportunity that presented itself suddenly in the last year?
5. Engage like never before
With many of us still working from home, teams have limited opportunities to meet and connect in person.
While digital platforms facilitate remote communications, they cannot fully replace face-to-face interaction to ensure collaboration on essential matters.
As organisations begin to develop and implement their 'return to work' guidelines, they will be focused on building stronger teams and engagement, focusing on communications, strategy, and operations.
It will be everyone's responsibility on the return to work to build stronger bonds of trust, hope, perseverance, and resilience so that teams can start to rebuild their organisations in the post-COVID world.
Key Question 5: Have you ensured your colleagues/ team members felt heard, valued, and engaged in these difficult times?
6. Build capability to succeed
As businesses evolve to maintain relevance or risk fading into oblivion, employees will face a similar predicament.
The only way out of this constant conundrum of evolution and disruptions is to accept learning and development as a lifelong process.
The World Economic Forum warns that 35% of skills considered essential today will change within five years.
In the last eighteen months, we have seen organiSations quickly adapting to digitisation.
What better example of this than our schools going online as students beautifully transitioned into a virtual classroom.
While we didn't believe this could be possible, thanks to the efforts of teachers, students adapted to their new learning environment and made the best use of the communication platforms at their disposal.
By upskilling, we remain agile and able to adapt to the fast-changing world around us.
Key Question 6: When was the last time you learned some new skill and applied it at work?
7. Innovate to transform
We usually associate innovation with inventions or breakthroughs.
In reality, innovation is about implementing ideas, incremental improvements, and repurposing what already exists.
The current situation poses challenges requiring us to think differently, and linear thinking may not yield expected outcomes.
We all need to ask the big question, 'how open are we to experimenting, collaborating, partnering, and piloting new ideas to create a positive impact?'
Key Question 7: Did you take an innovative approach to solve a problem lately?
8. Empathise genuinely
According to author Damian Barr, when speaking on the impact of the lockdown on people, he said, 'We are not all in the same boat. We are all in the same storm. Some are on superyachts. Some have just the one oar.'
This is the reality. The pandemic has inflicted varied challenges on each of us.
While some might recover in a couple of days, COVID-19 has wrought irreversible losses and deep pain for some.
In the corporate world, where competition is fierce, everyone is measured on outcomes.
However, where does this leave us when it comes to empathising with one another?
Individuals who go beyond professional expectations and are genuinely concerned about their team will be more successful leaders.
Key Question 8: Do you actively listen in your team discussions and connect with team members to genuinely understand their concerns and lend a helping hand if required?
9. Celebrate/recognise even smaller achievements/successes
Sometimes, we may find it challenging to find the time to pause, look back, and thank those who have supported us in our fast-paced world.
Many of us are still managing day-to-day to keep on top of everything amidst juggling multiple priorities from home throughout the pandemic.
How aware are we of the contributions and hardships many of us are experiencing while still delivering on our professional responsibilities?
We must take the time to recognise and thank those who, despite the difficulties, are still showing up each day.
Giving thanks is a great way to motivate colleagues and helps ensure high-level job satisfaction and long-term retention.
Key Question 9: When was the last time you took time to appreciate someone (a colleague or an external partner) who made a difference to you?
10. Ownership to deliver
Often, we need an excuse to justify why we have not achieved what is expected of us professionally.
The pandemic shocked the system, but you would come across some individuals who linked their non-performance to the pandemic.
There were those, in contrast, who stayed committed to achieving their objectives despite the circumstances.
Ownership is all about accountability, taking initiatives, solving problems, and acting as a role model.
Such individuals are intrinsically driven and stay committed to their goals, and outcomes become secondary for those who take ownership.
Key Question 10: Have you lately ensured you remain committed to deliverables irrespective of the setbacks and challenges?
While there will never be a standard set of skills that helps address all work-related challenges -- the above tips provide a systematic approach to stay relevant.
These, when followed consistently, will help you to succeed, even amid deep uncertainty.
Anoop Kamat is head of human resources, India at Takeda, a pharmaceutical firm.