'The best way forward is a gradual re-opening of schools with choice of online, offline or hybrid learning for students.'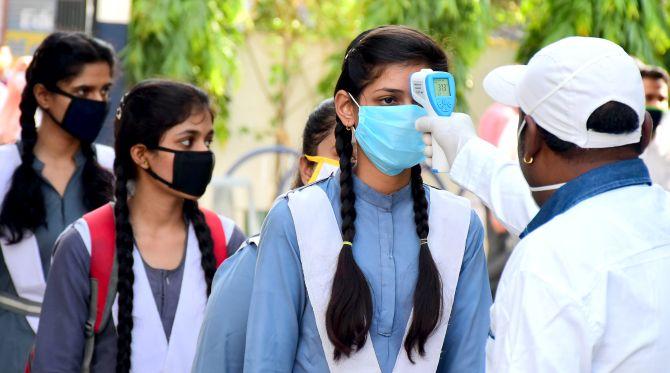 The coronavirus pandemic has brought the education system across the country to a standstill. Many states which had announced exams cancelled them because of the danger posed to the students and staff.
While the government is thinking about restarting schools and colleges again, no dates have been announced yet. The new academic year looks hazy, to say the least.
Even as confusion remains over how educational institutions will function in a changed world with new social distancing norms, LEAD School has presented guidelines to the human resources development ministry on how schools can reopen, for its consideration.
It has also released a handbook with instructions on what precautions schools should take to start classes again.
The handbook offers suggestions to schools in running essential activities ranging from school transport, classroom seating, offline-online learning, academic year planning and outdoor activities.
It also focuses on health and hygiene and responsibilities of school, teachers, parents and students in the post-lockdown era when social distancing norms will be strictly enforced.
LEAD School, which was started in 2012, runs an online school with over 300,000 students enrolled.
"If there is online learning but it is not integrated with offline learning, students will struggle to see continuity and coherence in everything they are learning," Sumeet Mehta, below, co-founder and CEO, LEAD School, tells Rediff.com's A Ganesh Nadar.
What exactly do you mean by online-offline learning?
An integrated online-offline strategy means that student learning will happen through a combination of learning at home ('online') and learning at school ('offline').
When students come to school, their teachers teach them from the same curriculum and lesson plans and when they stay at home, they can continue from where the teacher left off at school.
The student experiences zero loss or interruption in learning, irrespective of whether school building is open or not.
The benefit of an integrated online-offline strategy is high student achievement without any loss in learning coverage or syllabus.
In the absence of an integrated online-offline strategy, students will miss out on learning when the school is interrupted.
Also, if there is online learning but it is not integrated with offline learning, students will struggle to see continuity and coherence in everything they are learning.
The basic requirement for an integrated online-offline strategy is a technological system that coordinates the online with the offline.
Achieving this is very difficult without technology.
However, the technology doesn't have to be complicated.
A simple cloud-based system can ensure that all stakeholders access the same material irrespective of where they are located.
With connectivity issues in many parts of the country, how much can you depend on online teaching?
Undoubtedly there are connectivity issues in many parts of India, but our system is not very bandwidth heavy.
Additionally, the classes are also available on demand, along with the digital books and chat for doubt solving.
All put together, I am confident that children in these areas will benefit quite a lot from this programme.
With alternate day school, or double shifts, teachers will have to work twice as hard, will they be compensated for this?
In the double shift approach, the costs as well as the efforts from the teachers will be higher.
Hence, it is prudent for schools to run on alternate days with tasks clearly demarcated for offline days and online days.
If schools have an integrated online-offline strategy in place, they will be able to manage alternate day school seamlessly without any hiccups.
Maintaining physical distance in class is possible, but what about playing fields, how do schools make them safe?
Schools will be forced to cut the number of games and physical activity classes per week as they focus on completing the syllabus and staying safe.
All contact sports will have to be discouraged.
All students should wear masks and wash their hands before and after the games class.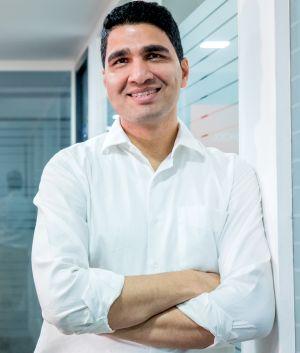 Classes will have to be split into smaller groups unless the school has a large facility.
PE teachers and other staff should constantly monitor whether students are maintaining social distancing norms.
All equipment should be cleaned by using a disinfectant so that it is safe for other students to use.
Some examples of sports and physical activities that meet the above recommendations include yoga, pranayama, aerobics, athletics, chess and thinking games.
Some sports which cannot be allowed include football, volleyball, cricket, etc.
The additional cleaning of classrooms and usage of protective gear could also lead to increase in expenditure, and hence school fees?
Enforcing safety protocols in schools which includes fewer students in a class, increasing teaching and non-teaching staff, investing in cleaning material, sanitisers and personal protective equipment (masks, gloves etc.) will result in increased spending.
Due to the current economic and social climate, schools may not be in a position to force parents to pay school fees, resulting in reduced income.
Increase in expenditure and quality safety expectations from parents and reduced income will mean schools will have to find innovative and prudent ways to manage their costs.
Social distancing norms can be followed by schools with their own buses, what about students who use public transport?
The central, state and local governments have proposed strict guidelines on the operation of the public transport. Everybody operating or using public transport will need to adhere to these guidelines.
What about screening of staff and students every day?
Screening is going to be a part of the operating procedure and should be strictly followed.
Do you advise students and staff to wear masks and gloves at all times?
On usage of masks and gloves, the latest government guidelines should be followed.
According to your plan students will be evaluated throughout the year, so the final exams will not be given too much weightage?
In principle, we don't subscribe to giving too much weight to any particular exam. Periodic learning milestone-based testing helps us quickly assess for mastery of a concept or skill and remediate potential learning gaps to close the loop at its source.
This year, too, we will follow the same principle of testing and remediating.
What is the status of your proposal to the HRD ministry?
We have submitted the recommendations to the authorities, including central and state governments. We are certain that many of these recommendations will form the core of the guidelines for schools to operate in the coming academic year.
Do you think it is a good idea to start schools when the number of infected people is rising all over the country?
The key word here is 'choose'. I believe that parents should have the choice.
Those who want to send their children to school should have the choice to do so.
And those who want their children to study from home, should have the choice of high quality online learning.
Parents must demand that their schools provide a high quality online learning experience so that if they decide to not send their children to school, they are not disadvantaged.
The best way forward is a gradual re-opening of schools with choice of online, offline or hybrid learning for students.
Your proposals seem urban oriented. What about the schools and colleges in the countryside, how do you see them coping with the new reality?
This proposal is really safety-oriented. Most of the 300,000 children who are enrolled in LEAD School@Home programme reside in smaller towns of India.
The recommendations we have made are synthesised after researching the ground realities and after consulting the school owners and principals who run the affordable schools.