'Frankly, no one is prepared for Begin Again or whatever this is called.'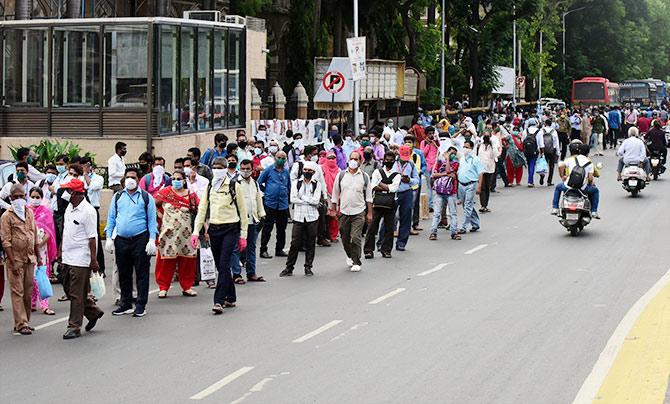 On Monday, June 8, millions of Indians resumed work after spending nearly 80 days at home.
Even as shops, malls, restaurants and other workplaces opened, with 30 to 40 per cent staff, several working professionals struggled to reach their offices on Day One.
Since local trains are not operational in Mumbai, Sindhu Nair, 35*, a bank employee, spent four hours, in a privately hired vehicle, for her 60 km commute to work.
"There were six of us. We hired a private vehicle and a driver. I left home at 8 am and reached office at noon. In the evening, we started at 6 pm and reached home at 9.30 pm," she tells Divya Nair/Rediff.com.
In Mumbai, Bengaluru and Chennai, some offices, which have resumed with minimum staff, made arrangements to ferry employees.
"My office resumed with 40 per cent staff and had arranged transport. The driver came to pick me up at 7.30 am. In the cab, only two people were allowed. We were asked to wear masks and apply sanitisers before entering. The driver sanitised the door handles and glass and sprayed some disinfectant after we left," says Anjali, 28, who works as a consultant at an international IT firm in Bengaluru.
While Anjali agrees that her commute was safe and comfortable, Swati Patil*, whose office is in Ghansoli, Navi Mumbai, stood over 45 minutes in a queue before she could get into a bus from Dombivli, a township in neighbouring Thane district.
"It is so hot outside. The masks get sweaty. And people were standing so close to each other. It wasn't possible to practice social distancing," says Swati.
"Inside the bus, people were standing very close to each other. There were no thermal checks. Some weren't wearing masks, just a see-through dupatta to cover their mouths. I don't know if the bus was sanitised either," she adds.
"I was really scared about my safety and health while travelling. I just wanted to head home, but I didn't have a choice," she says.
"Since I couldn't work out of home, I was marked absent for 40 days, after they deducted all my leave. If I don't resume work, they may replace me. I am 44, who will hire me?" she assks.
"When I reached office, I called up my husband and cried," says Swati who works in administration.
Apart from long queues and fewer modes of transport, some employees, who traveled by road, realised that the prices were hiked as well.
"Before the lockdown, a shared rickshaw ride (with three people sitting behind the driver) from Panvel to Vashi would cost Rs 100 per person. On Monday, I paid Rs 300 for a shared ride," says Rohini, a Mumbai-based marketing assistant at a pharmaceutical firm.
"What was the point of the lockdown if we had to scramble like mice to get onto a bus? I felt bad for the women who stood in queues and were crushed by men while they got into one. I missed three buses before I could finally get into the fourth one. Frankly, no one is prepared for Begin Again or whatever this is called," says Bapu Salaskar, 42, who works as a sales executive at a textile firm in Mumbai.
"In a city like Mumbai where lakhs of people rely on local trains to reach their workplaces, it is impossible to expect them to resume work with no proper alternative in place," points out Bapu.
"I stay in Khadavli (Thane) which is nearly 75 km from Mumbai. I spend four hours on a regular day to commute to work. With no local trains, I walk two km to reach a point from where we get a shared rickshaw to Thane. I am spending at least seven hours on the road, besides paying extra from my pocket," he adds.
"In April my salary was cut by 50 per cent. My job involves a lot of travel. If I don't go to work, my wife, who takes tuitions at home, fears that we won't be able to pay our rent and bills," he adds.
While those working in essential services like hospitals, laboratories, pharmacies, housekeeping, security and banks don't have the alternative to work out of home, large organisations have offered flexible working hours and rotational shifts to employees to make the comeback easier.
Suresh Kandaswamy, who works as an assistant producer at a television production company in Chennai, has been asked to travel to work thrice a week.
"I have been working from home since April after the lockdown was announced. In May, the system I was working on at home crashed. I haven't been able to fix it, so I am glad I could get to work," says Suresh.
"I have to reach office only before 11 am, but I will have to work extra hours on the days I travel to work. Since I stay just 20 minutes away from office, my timings are 11 am to 10 pm. I will be working alternate days till the situation is under control. There are six people in my team and we are working on rotational shifts."
Even as several professionals battled the odds, risked their safety and made it to office on time, several others chose not to risk travelling.
Vinayak Raut*, 39, who leads a team of eight employees, says he was disappointed when he got to his office at the Bandra-Kurla Complex, north west Mumbai, on Monday.
"Only two of my team mates reached office by 10 am. We had scheduled two back-to-back meetings with international clients at 11 am. The meetings were cancelled and we had to reschedule some international calls and virtual presentations," says Vinayak.
"Two of my team mates who live in containment zones conveniently dropped the idea of travelling to work at the last minute. One of them sent an e-mail stating his mother was unwell and that he couldn't travel leaving her alone," he adds.
"I had woken up at 6 am, skipped breakfast and spent two hours travelling to work, for nothing. I had a tough time managing my emotions at work," he says.
While most professionals chose to travel to work because they feared losing their jobs, others felt it was their duty to resume.
"I teach math and science to Class 10 and 12 students. A few of my students were struggling to keep up with online classes, because of constant power cuts and connectivity issues. So I chose to reopen the coaching institute for a few hours in the day," says Nikhil Warrier, who coaches teens for competitive exams.
"When I picked up one of the students on my way, even with the mask on, I could see his gleaming eyes and I realised the risk was worth it."
*Some names have been changed to protect their identities.
---
Dear Readers, have you resumed work after the lockdown?
How would you describe the experience of going back to work after spending two months at home?
Did you face difficulties travelling? Or was it a smooth run for you?
What precautions did you take to ensure safety at work or while travelling?
How is your office dealing with the situation? What are the new rules and guidelines at work?
Tell us how you got to work after the lockdown and how you are coping with it. Send us your pictures and videos to getahead@rediff.co.in (subject: Resuming work after lockdown) along with your NAME, AGE, LOCATION and a photograph of you. We'll feature the best responses on Rediff.com.