Beauty technicians and hairstylists in PPEs.
Constant disinfection of instruments such as scissors and combs.
Disposable neck-wraps and fresh towels.
That's what beauty may look like now, reports Amrita Singh.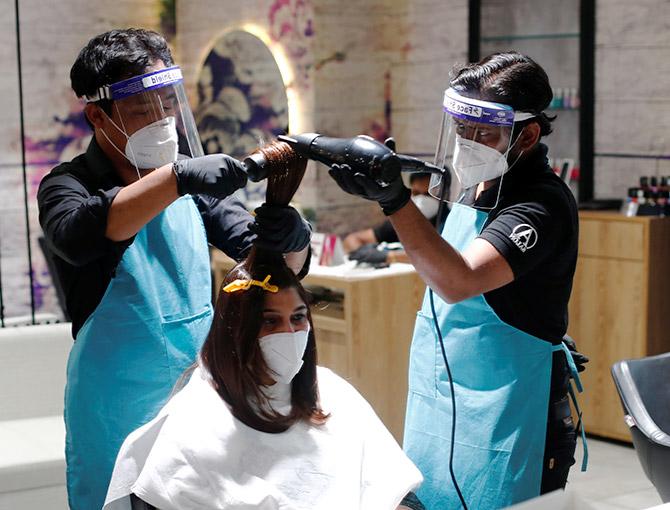 As soon as Haryana allowed beauty salons to open a few weeks ago, Sarthak Soni, 23, made an appointment for a haircut at Gurugram's luxury Levo Spalon at Hotel Ibis.
As Soni prepared to enter the salon in what he considered was full armour -- mask and gloves -- he was gently hosed down with a body-friendly disinfectant.
Next, he was made to wear shoe-covers.
The sight of beauty technicians and hairstylists in PPEs (personal protective equipment), constant disinfection of instruments such as scissors and combs and disposable neck-wraps and fresh towels impressed and further reassured Soni.
Hairdressers love to flaunt their coloured hair and daring haircuts but are now forced to kit up fully. And customers who make regular trips to the salon to keep their flawless skin flawless have to literally mask their good looks.
Everything seems less glamorous in the world of beauty now.
Still, covering up in this way seems like a small price to pay for both the clientele and the employees.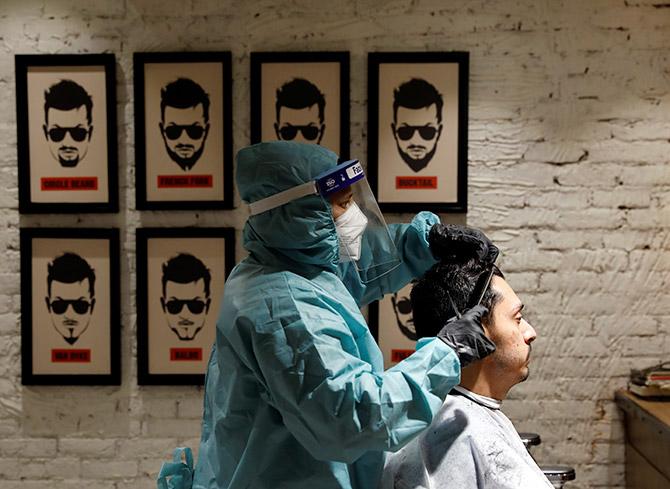 The lockdown left an estimated one crore employees in the beauty business unemployed and millions of women and men ungroomed and unpampered.
The Beauty & Wellness Sector Skill Council (B&WSSC), a not-for-profit under the ministry of skill development and entrepreneurship, came up with a set of guidelines in late April to help the beauty services business get back on its feet.
The guidelines cover sanitation practices pre- and post-service along with dos and don'ts during the service.
They got into details: skin therapists need to disinfect all instruments used and dispose of linen, gowns and towels in front of the client, while hair stylists need to disinfect hair clippers with 70 per cent alcohol-based solutions.
These guidelines were vetted by experts such as Sayan Nath, senior resident in the department of anaesthesiology and critical care at All India Institute of Medical Sciences, New Delhi, and the ministry of health and family welfare.
The 27-page document outlines guidelines for managing operations (such as regular disinfection of the premises) and those for clients, skin therapists, hair stylists, make-up artists and even fitness and yoga experts.
To ensure that both big and small salons follow these guidelines, it also has a certification process that will train, test and then certify salon personnel.
"As of today, 300,000 personnel specialising in different fields such as hair, skin, nails and makeup are certified," says Monica Bahl, CEO, B&WSSC.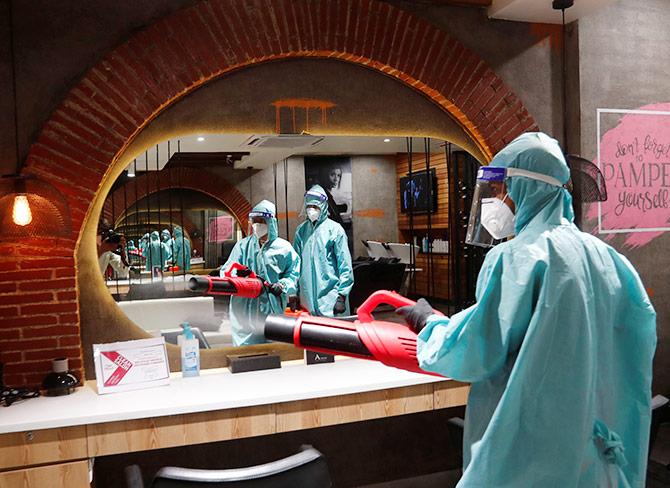 Enrich Salons, a chain of salons and one of those that have received certification, devised their own guidelines and measures in addition to those laid down by B&WSSC.
"Our 2,100 employees working across cities such as Bengaluru, Mumbai and Ahmedabad were certified within 48 hours," claims Bhupesh Dinger, director, Enrich Salons.
Infrastructural changes such as using moveable plexiglass for social distancing between customers are in the works too, as soon as suppliers deliver the products, says Dinger.
Most salons do not permit walk-ins to avoid crowding and ask that customers make appointments.
Customers are being cautious, too, by either getting 'safer' services such as pedicures or calling beauticians home.
Others are busying themselves with DIY tutorials, avoiding the visit to the familiar parlour for as long as they can.
The use of PPE, disposables and gloves has become standard for both salons and at-home service providers.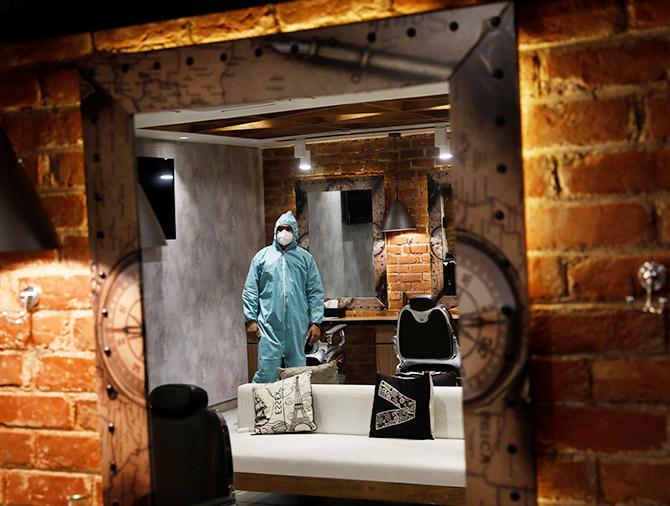 Urban Company, which offers a range of home services that include electricians and plumbers, says it has trained its beauticians for seven to 10 days according to WHO guidelines.
All are required to download the government's Aarogya Setu app and take daily temperature checks.
Compensation packages that will take care of health basics are in place too, encouraging beauticians to be transparent about their health.
"There is no point stigmatising the coronavirus as it is here to stay," says Mukund Kulashekaran, senior vice president, business, Urban Company.
For services such as facial hair threading, which involves the beautician gripping the thread by the teeth, Urban Company has taught its employees an alternative technique -- putting the thread around the neck.
For facials, they are required to wear gloves.
Despite being able to provide their at-home salon services only in 10 cities such as Bengaluru, Gurugram and Hyderabad, all of which also allow beauty parlours to operate, Urban Company has experienced a surge in demand for services such as threading, waxing and haircuts.
The limited availability of salon services across the country has led to an increase in demand for DIY grooming products.
One such is Saheli's Thread It, a tool that helps one remove facial hair with thread without depending on another person.
There are also beauty kits for body polishing, complete waxing kits, professional bleaching kits, for both women and men, available on sites such as Amazon.in and Nykaa.com.
Along with the influx of products, beauty influencers and celebrity hairstylists have also devised tutorials for those desperate for a haircut or who want to try out different beauty treatments.
Hairstylist and businessman Jawed Habib, for instance, has been posting entertaining and informative videos on YouTube for DIY men's and women's haircuts.
Kulashekaran and Dinger say that the current demand, both at salons and at home, is limited to basic services such as threading, waxing, pedicures and haircuts.
The pampering will have to wait.