He is 54, but looks far better than he did when he was a supermodel in his 20s and 30s.
Cooler still is his vibe.
Vaihayasi Pande Daniel catches up with Milind Soman, fitness icon and businessman.
Videos: Hitesh Harisinghani/Rediff.com.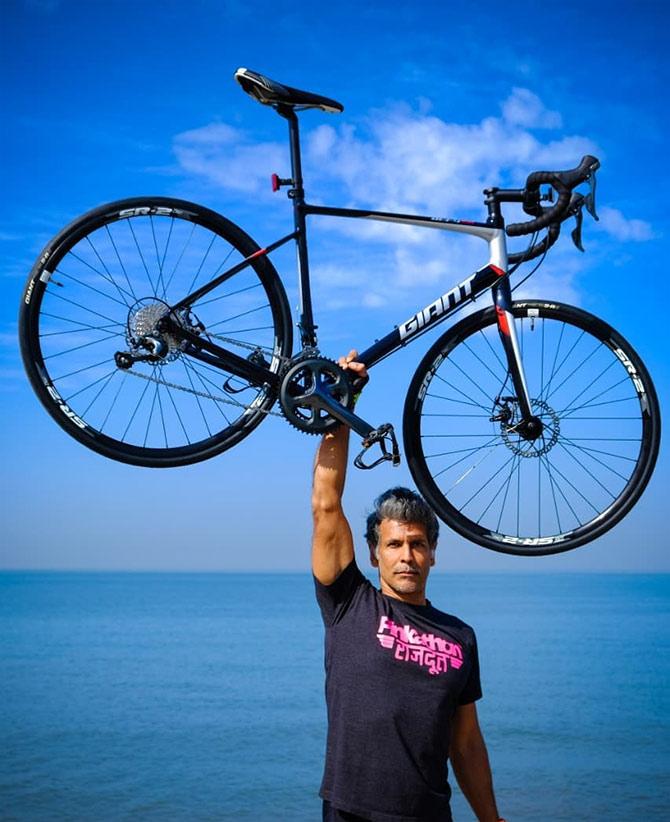 His tall reflection in the glass door heralds his brisk arrival at the Speaking Minds office in Santa Cruz east, north west Mumbai.
He walks in, rather late for the interview, in a grey hoodie, blue cut-offs and an orange rubber watch, his chappals slapping the ground.
Milind Soman, 54, stands gracefully before you.
There is so much to read about this model, actor, fitness pundit, maverick. Including his recent Penguin-published autobiography Made in India (co-authored by Roopa Pai). About the middle-class boy from Shivaji Park, central Mumbai, who made it to the world stage, as he is oft described.
And zillions of stunning pictures of perfect man flesh to check out -- billboards of that sensual picture of Milind, Madhu & The Python, stand out sharply in one's memory.
What strikes you on first meeting is not just his youth, but more the youthful outlook. The limitless bandwidth to look at life positively and challengingly and meet each day with a kind of no-fuss, easy-going approach, that doesn't take away from his sense of purpose.
Actually you can read a lot from those chappals, they sort of reflect his credo.
Milind laughs a lot. Jokes plenty too.
He's a fun guy.
Laid-back. Self-deprecating. Unpretentious. No affectations. Frank.
Doesn't take himself too seriously. Or anything really.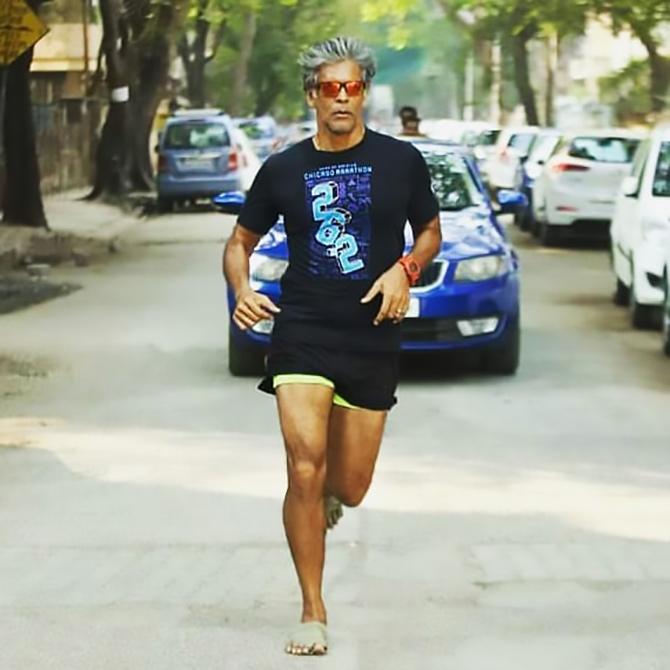 But that doesn't mean the Milind Soman motor isn't running. It hums.
He has a curious mind; it's easy to see. That's apparent in the way he listens and the questions he asks.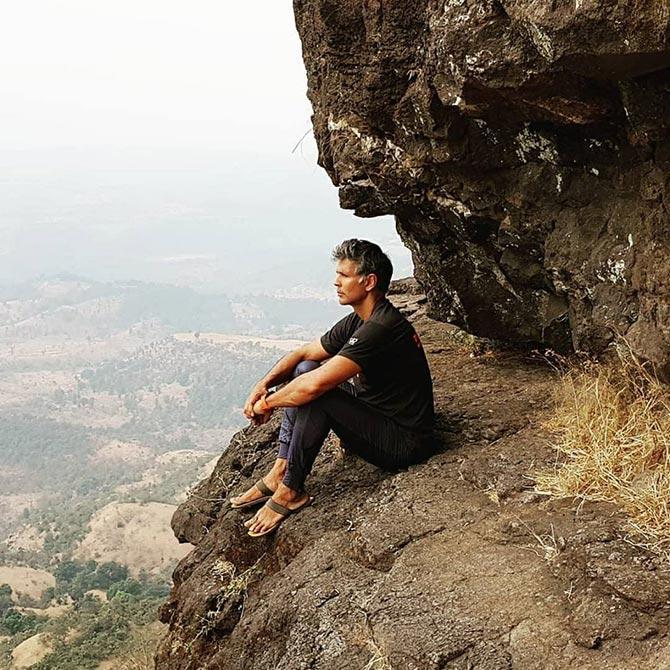 Milind keeps busy with a dozen ideas and ventures, all ten fingers in a selection of dazzlingly varied pies from she-marathons to event management and motivational speaking.
He is no mono-dimensional man.
His career graph has had no particular pattern of movement and in fact its line goes right off the page, as he entered and gained proficiency in field after field, starting fresh graphs on other pages -- swimming at a national level, a diploma in electrical engineering, modelling even on London and Paris runways, fashion, films, television, fitness, @Milindrunning.
And though his fame probably reached its peak when he started working in London and Paris, in 1993, as a supermodel, Milind has spent much of his 54 years balancing celebrity with his desire to stay grounded and be the person he wants to be.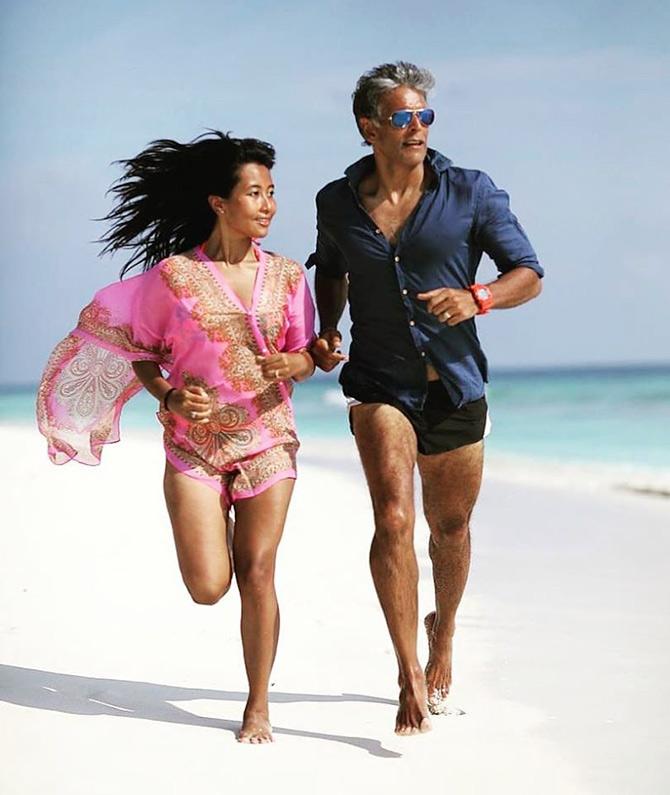 Certain themes have a strong presence in his life which he touches on in his book -- perpetually being the outlier (the Maharashtrian boy growing up in the UK, the Glasgow-UK-born youth growing up in Mumbai), how Mumbai has always been home, how age has never mattered to him, his love of challenges that led him to successfully attempt the Ironman and Ultraman contests after turning 50.
Milind, the ideal subject of a video interview, speaks about the old-young dynamic. And what about him is young and what is old (old-fashioned) and what is getting younger.
He feels particularly that one's priorities change starkly, as you add on the years.
Listen to him:
Milind says he was never ambitious and found it difficult to relate to those giving him advice that he must have a life plan.
As he grew older he discovered that ambition, at least for him, was not important.
But he believes young people need to make that journey to understanding that on their own:
He acknowledges the special role sports played in his life and how it taught him so much. But he feels that each person must find their own interest – like he had for swimming -- because only a passion can teach you so much.
Here is his view, invaluable to young people discovering their potential:
His years of backbreaking work, as he struggled to make a career in swimming, taught him why sport and fitness are so vital in life.
But more important, he remembers, were the swimming failures -- he leaned on them to learn further and gain incremental success.
Milind on why everyone needs to struggle and why Struggle is Privilege:
When Milind was nearly 28 an international modelling agency signed him on and he got a chance to work in Europe and he really get a feel of global fashion.
The ramps of London and Paris gave him an understanding of the art of fashion. An understanding that is often missing in the Indian fashion scene.
Hear what Milind has to say on that:
The title of Milind's book -- Made in India -- is a reference to the runaway popular song he collaborated with singer Alisha Chinai on.
But it is also a statement of his cultural identification. He identifies with India and feels himself reflected in what India stands for:
The former model believes he inherited many of his ideas and attitudes from his rockstar biochemistry professor mom.
Milind on his inspirational mother, Usha Soman:
He has some unconventional ideas on marriage and relationships.
And he says he isn't religious. Here's why:
When Milind married Ankita Konwar, above, in 2018, he gained a millennial wife -- she is 28.
Living with a millennial, he says with a laugh, is a wonderful, enlightening experience: "I know better than to try and tell a millennial anything."
Listen on:
Does Milind recommend modelling as a career?
Supposing your friend/daughter/son/nephew/niece was interested in modelling, what is Milind's advice to them?
"For me, I don't really believe that exercise per se is important."
More on his fitness philosophy and his three-minute workout:
We are sitting in the office of another one of his newer projects, Speaking Minds.
Some years ago, Milind -- who declares in his book that he is fairly introverted, something of a loner -- realised that on the road to becoming a professional swimmer, then a model, then an actor, and now a fitness icon, he had accumulated a lot of learnings that he could share.
That was how he became -- donning yet another hat --- motivational speaker.
Certainly, just a few minutes into this interview, you discover that the Milind Brand of pep talk and advice on life is intriguing and compelling.
A sample:
Milind's profile on Whataspp has just one word as its descriptor -- Ultreia.
He explains to us what it means.
Coincidentally it seems to sum up many of his views on life.