'A trip to the banks of the Hooghly without which there wouldn't be a Calcutta/Kolkata is one for the bucket list,' says Kishore Singh.
Illustration: Uttam Ghosh/Rediff.com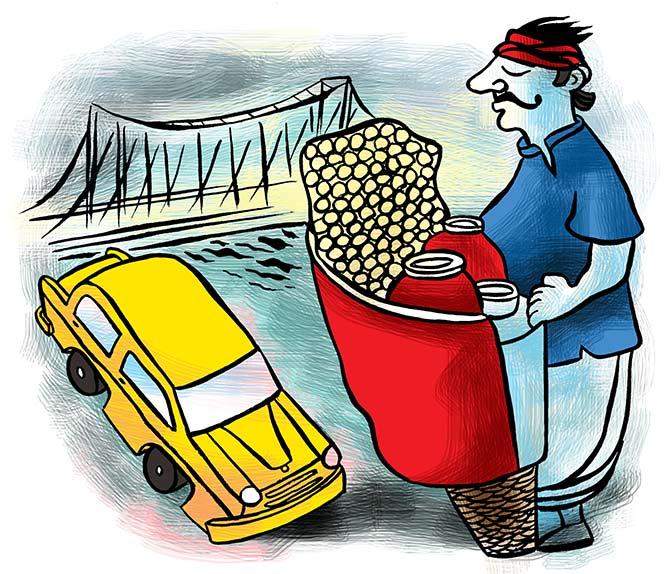 I knew Kolkata, when it was still Calcutta, or at least the parts that mattered most, reasonably well -- though that was ages ago. Intermittent work trips over the decades made no allowance for nostalgia.
No jaunts to New Market, pre- or post the fire, or to Nahoum for plum cake and stick-jaws; no scrounging for second-hand books on Free School Street, or seeking out antiques at the Russell Exchange; no trying on handcrafted shoes at the Chinese shoe shops on Park Street; no guilty pleasures in a 'family room' in a Chinese dive with a girlfriend.
Recent trips have unearthed the same old city in different ways. The trams are (almost) gone, but Uber hasn't yet obliterated the yellow Ambassadors.
The phuchkawalas still ply their trade on the road, but the streets are cleaner than before -- the work of ploggers?
You still can't get into the snobbier clubs in jeans or sockless shoes, but those old favourites -- Trincas, Mocambo, Peter Cat -- are still around, with waiters in 'bearer' outfits reminiscent of the Raj.
Service across all establishments is -- shall we say -- leisurely. In one coffee shop in the post-lunch lull, it took an hour-and-a-half to be served omelettes.
The pavement kiosks continue to thrive, cocking a snook at the glitzier malls, though the cobbled pavements are torture to walk on. The chaotic traffic and blowing of horns must qualify it as the noisiest city in the country.
Here are some cribs. It's easier to get kebabs in Kolkata than mangsho and luchi; paneer is more mainstay than shukto. Bengali biryani might be fine, but most places serve oily rolls in the name of kathis.
At a branch of a well-known Bengali diner where, having ordered malai-chingri because the daab-chingri would take 20 minutes, we were informed a half-hour later that there was no more malai-chingri, so we would have our daab-chingri after all.
Our order of beverages failed to materialise because one of the managers on duty courteously informed us, "I'm from the New Market branch". By the end of the meal, the chingris -- daab or malai -- hadn't made an appearance. Kolkata, you owe me a dish of prawns.
The most astounding change, though, is the lights. Streetlamp poles throughout the city are wrapped in blue lights, vastly different from when blackouts used to be rampant.
Restaurant entrances are festooned with fairylights. I was familiar with the festivities leading to Boro din -- Christmas -- but Park Street and its environs are now illuminated with the most dazzling array of coloured lights that were put up for Durga Puja and will remain in place till New Year's.
In a world where technology has made showstoppers of streetscapes, at best the lights look tinselly and kitschy, but that's part of the charm.
My current tryst with Kolkata isn't over -- yet -- so I might still make it to Calcutta Club, provided I remember to pack a collared shirt and formal pants.
Or spend a Sunday pottering around the auction houses and antique stores where you can still come across meat platters for Anglo-Indian food, or chamber pots for washing up at the sink from when there was no running water in homes.
And a trip to the banks of the Hooghly without which there wouldn't be a Calcutta/Kolkata, with or without lights, is one for the bucket list.