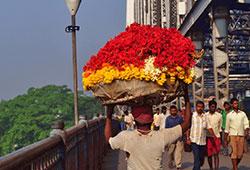 The charm of Kolkata is still alive says Sumit Ganguli.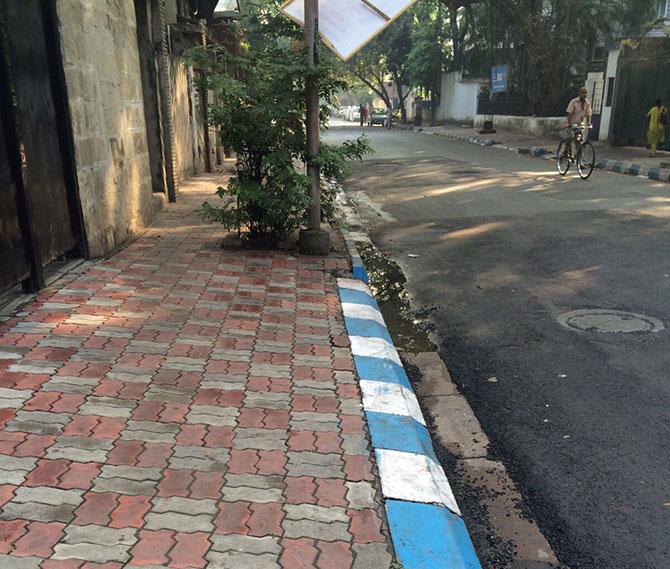 I kept looking for the dugout portion on the pavements, the naked wires and the puddle of water.
There were none.
Was Kolkata changing?
I was obsessed with the curved three-sided, interesting bow tie pasta-styled pavers on the sidewalks, in muted terracotta colours.
I had put in good 10+ miles each day, walking all over South Kolkata for 3 - 4 days obsessing on the pavements.
They were all neatly placed, from Ballygunge Park to Southern Avenue and then at Minto Park and Moira Street via Gurusaday Road.
I was skeptically encouraged with the metaphor of the pavements.
I used to live in Kolkata till 1990 and then moved to the US.
I get to go to India 3-4 times a year for the last 20 years, but as an IT person, I have been limiting my visits to Bangalore, New Delhi, Chennai and Mumbai. I did make the occasional couple of day trips to Kolkata but had not immersed myself in the city, since a long time ago.
This October, armed with my octogenarian parents on wheelchairs, and with a lot of help from the highly efficient and friendly staff at Indigo Air, I landed at Kolkata to take in our building's Pujo (the annual festival of West Bengal) and also experience Kolkata during the holidays.
Singhi Park, Ekdalia, Ballygunge Cultural Club, Tarun Sangha, Samaj Sebi, Old Ballygunge had showcased their idols with Ma Durga and her children, adorned in traditional or stylised finery and housed in beautiful makeshift structures, called pandals -- all of them were an absolute visual and experiential fiesta.
Every puja pandal I visited, goaded me to scream and tell the world -- forget about the carnivals in Rio De Janeiro and New Orleans; the Run of the Bulls in Pamplona, Spain; the March of the Dead in Mexico.
Come and see the riot of colours, the absolute fusion of devotion, piety, art, culture and absolute propriety of the large group of people visiting the pandals.
It was my loss that I could not visit North Kolkata pujos, but Kolkata really laid out its nostalgic best during the Durga Pujas.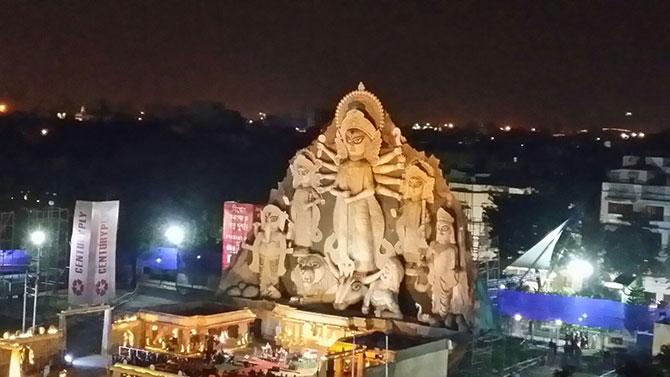 We did hear about the stampede at the Deshapriya Park. But I was lucky enough, thanks to some acquaintances and Arijit Dutta, owner of Priya Cinema, that we were given a grand view of Deshapriya Park's Ma Durga's sculpture, from the Priya Cinema balcony.
It was an absolute symbiosis of awe-inspiring size, earth tone colours and beauty.
We often see the gigantic Shiva statues in Bangalore, Chennai and Delhi, where it is really about the size, and the focus is on the height. The size literally dwarfs the beauty and aesthetics of the idol.
Not so with Deshapriya Park's Thakur (Goddess Durga). It is an honest loss that a large cross section of the visitors were deprived of this object of beauty and reverence.
At Rio or at New Orleans, the carnivals see the joie de vivre limited to few cross sections of the city and it always borders on risqué and hedonism.
Kolkata is unique, the entire city has a sense of devotion and calm in the morning and slowly the city warms up to an almost secular celebration of festivities, mainstream art appreciation and camaraderie, music and drama. It is really very unique to Kolkata.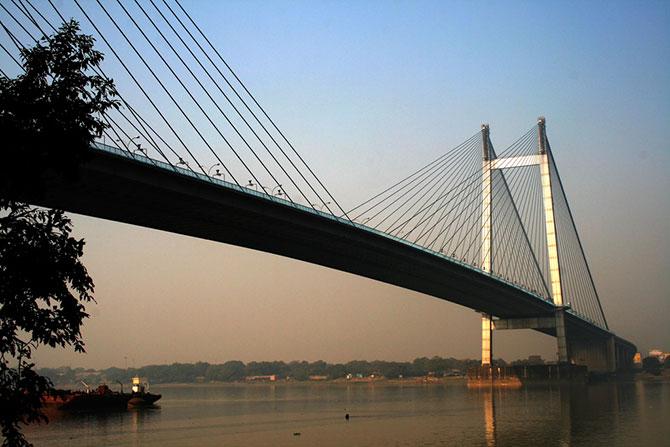 Photograph: Saugata Datta/ Creative Commons
The roads were clean, the ubiquitous blue and white iconic colours painted on the flyovers and bridges emblazoned the coming of age of Kolkata.
I fell in love with Kolkata again, while running through the well-manicured grounds of the Lake and the clean trash compactors of Southern Avenue. And I had lost my way near Purna Das Road, Southern Avenue and Hindustan Park...
While I shocked some of the restaurateurs by going in for dinner at 6 pm during the holidays, when they were seeing off some of their lunch customers, I was taken aback by the number of high-end restaurants, 13 Parbon, Sholo Ana Bangali, Bijoli Grill, Sudeepa's Ranna Ghar, Kasturi, etc.
In the mornings, I often walked from Ballygunge Park to ISKON temple near Moira Street via Gurusaday Road and walked back, much to my parents utter chagrin, and the terracotta neatly placed pavers were my constant companions.
The roads were clean, the road cleaning crew were quite regular and weather had dialed in to showcase Kolkata at its best.
I watched the highly hyped Raj Kahini, which did nothing for me, and I found it to be rather gratuitous. The plot was too simplistic and the acting was absolutely over the top.
But seeing Breitling, Kama, Michael Kors at a shining and gleaming Quest Mall was really surreal for me.
The highlight of my shopping experience in Kolkata would be to go to the air-conditioned market at Theatre Road in the late 1980s, and we would drool over low end goods from Singapore and Bangkok, and then seeing the high end stores at a mall that could stand against the best in Singapore and New York, was still a little too much.
A nice, little too much.
And interspersed with all this, was the awe-inspiring morning namaz, the very visible Muslim population.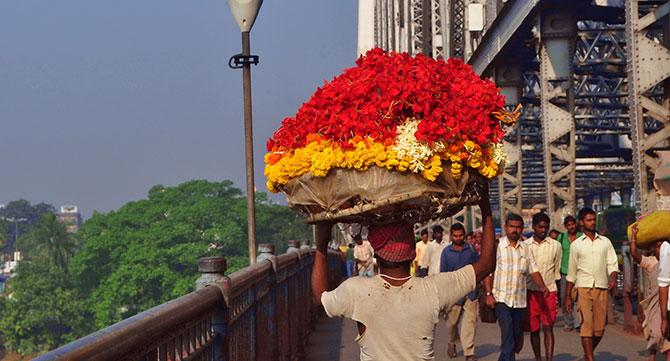 Photograph: Abhijit Kar Gupta/ Creative Commons
The calm insouciance of different communities, going on with their daily chores and being a vibrant part of a city that was, and that in my opinion, is on the rise.
And there were those high-rises in New Town, though many of them seemed unoccupied.
But once we ventured beyond New Town, we very quickly encountered narrow roads and the lush green of Bengal's countryside. The ambience was very 'mophosil', pastoral, and the inhabitants use 'khobordar' almost as a salutation.
I did follow the maxim, Pujoy chai notun juto, but did not go to Bata; bought a nice pair of sandals for my cousin from Khadims.
I maneuvered through the stalls of Gariahat and bought a Modi jacket and Addi's Panjabi for my Baba and Dada and then spent time looking through sheer art in silk and cotton saris and kept Whatsapping the shortlisted saris to my sister-in-law.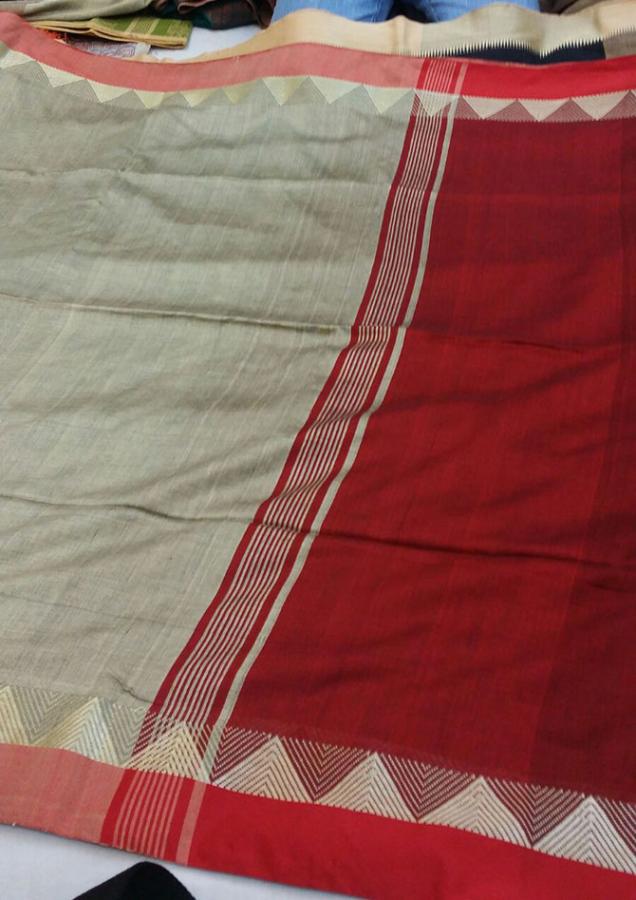 If only we could get the New York hipsters to discover the sari and draw them into our handlooms.
I also ventured inside the Gariahat market through its labyrinthine maze of small stores and was convinced by a small stall that a gamcha (a red hand woven cotton cloth that makes do for a towel in many homes in Kolkata) was more comfortable than a Turkish towel.
Took in a tennis game at CCFC club. Where do these beautiful smart men and women come from?
It was an entirely different world. Smart, chic, highly articulate and very well put together men and women. They were so endearing and so hospitable.
If one scratched the surface, the "gossips and the inner cats" may have come out, but it was Pujas after all. The evening was spent at a nice restaurant, Ta'aam listening to oldies being belted out by a very accommodating Daniel.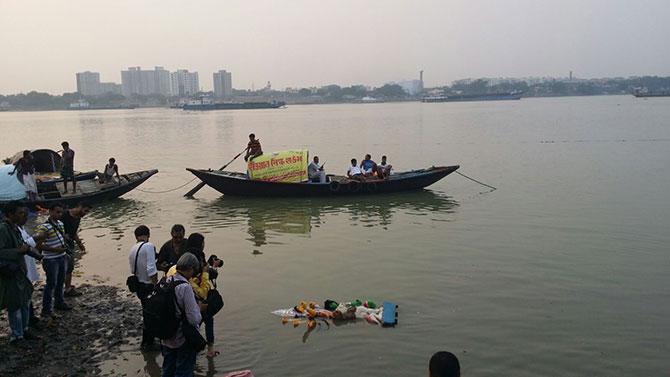 Finally Bisarjan, the smaller pujos did the bisarjan (immersion of the Goddess) on Thursday. There was the Muslim festival Muharram that got juxtaposed on Saturday, hence no bisarjans till Sunday.
There were a lot of political theories articulated and aired, but that will be for another time. But the whole process was clean, clinical and efficient, overseen by policemen guiding us over the public address system.
We went to Gangardhar (the bank of River Ganges) near Outram Ghat and the porters quickly unloaded the Goddess' idol and we were able to get the immersion done in 15 minutes.
But while munching over Chine badam (peanuts) and drinking lemon tea from highly personable vendors, I was a bit concerned about the environmental effects and the polluting of Ganges.
Could we not do this a bit differently and use isolated tanks for immersion, instead of the Ganga? A shout out to the environmentalists and the city counselors.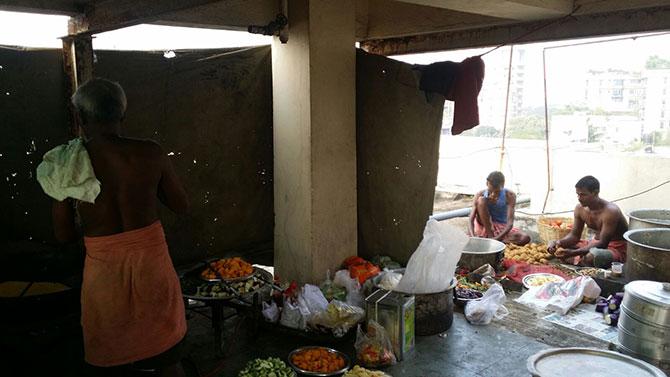 Mrs. Dutta, found it very irritating, when I mistakenly complimented the Paneer Makhni that was served as bhog, it was supposed to have been Chilli Paneer and less sweet.
I did not have the heart to tell her, that I am not very discerning when I see, bare chested, anemic 'bhiens', cooks slave over a make shift wooden fire and dish out fairly delectable Khichuri, Begun Bhaja, Chorchudi and of course Aam Satta's aachar.
But I could empathise with her and the others. 7 days of honeymoon visit does not a summer make.
It does not help alleviate the frustration that people feel with the garbage that often gets collected in front of the buildings, the perennial water that gets collected with a little bit of rain, the oft repeated work stoppages, the abject apathy of the local council members and the fact that Kolkata is quite behind some of the other cities in job creation and in attracting foreign investments.
But I came back elated, excited and engulfed with hopes for Kolkata, the city paved with terracotta pavers and taking some cogent steps towards further progress.
A promise, Asche bochor abar hobe (we shall do this again in the coming year).
Photographs: Sumit Ganguli
Sumit Ganguli is the CEO of GAVS Technologies and a General Partner with Basil Partners.You can follow him on Twitter at @SumitGanguli or reach him at ganguli.sumit@gmail.com