July 23, 2008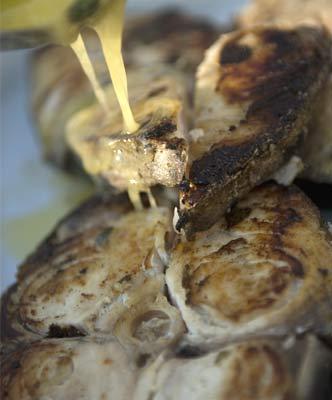 Fish is a delicious, healthy way to bring protein into your diet -- it's light on the system and low on fat.
Fish made into heavy gravy dishes reduces the health benefits of fish, not to mention the taste. So if you're looking for a recipe that's not only simple but also highlights the flavour of fish, instead of drowning it out, try your hand at this one.  
In our continuing series of recipes taken from Italian Khana, an Italian cookbook for the Indian kitchen, Ritu Dalmia, celebrated chef and owner of Diva, one of Delhi's finest Italian restaurants, reveals her best tips and shows you how to cook an authentic Italian dish in 30 minutes or less.
Ritu will also answer reader queries, so scroll down to the bottom of the page to address your questions to her.
Read these features?
Funky college bags for trendsetters
Quiz: What's your inflation quotient?
The top food myths busted
The one-stop scholarship shop
All you need to know about the SAT
---
Today's Recipe:
Pesce alla Griglia (Simple grilled fish)
I am yet to meet an Italian who does not eat fish. Italians do their fish very well, cooking it simply rather than drowning it with sauces and seasonings. During festive times like Christmas, it is fish and not meat that takes precedence on the table. This recipe comes from a girl I knew called Elena. She used to live in Genoa, working two jobs, yet she always found a few minutes to grill fish and serve it to me with a big salad.
Ingredients
600 gm fillet of any firm white flesh fish, like sea bass or red snapper (or pomfret)
For marinade
50 ml extra virgin olive oil
2 tbsp lemon juice
1 pod garlic, minced
A few sprigs of rosemary or oregano
Salt and pepper to season
Method
Mix all the ingredients for the marinade in a mixing bowl and give it a good whisk. Add the cleaned fish fillet to the marinade, making sure it is well coated. Cover and keep in the fridge for a couple of hours to let the flavours soak into the fish. In case you are tired and hungry and want a quick bite, you can safely leave this step out.
Grill the fish on a medium flame in a non-stick pan, basting regularly with the marinade. Allow 2-3 minutes for each side, depending on the thickness of the fillet. Eat right away with a squeeze of lemon and a big salad.
Previous recipes
Excerpted from Italian Khana, India's first Italian cookbook for the Indian kitchen, with permission from the publishers, Random House India. Ritu will also answer reader queries, so please address your questions to her in the QnA box below.
Photograph: Sephi Bergerson