Srinivas Bhogle and Purnendu Maji identify the Most Valuable Players at World Cup 2019.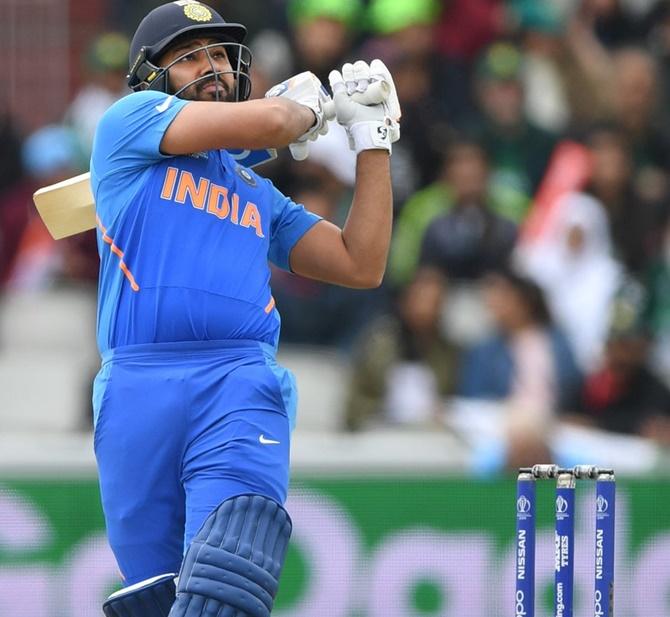 If it is any consolation, Rohit Sharma (MVPI: 767), with his stupendous batting that included five World Cup centuries at a strike rate of almost 100, is the most valuable player of the 2019 World Cup.
For India, it will always seem like a stolen World Cup. And in large measure because they failed to secure their vulnerabilities.
India thought they had the perfect Plan A, and, when that plan failed, there was no Plan B in the locker.
But this was a World Cup, with nine other teams competing and some stupendous individual performances.
Shakib Al Hasan was astounding, Mitchell Starc repeated his once-in-four-years routine of taking an avalanche of wickets, and Joe Root proved that real batting pedigree will always be a winner.
Looking down the table, England players dominate the ranks with Australian players not too far behind.
No Indian besides Rohit Sharma is in the top 10, and only Virat Kohli, Hardik Pandya and JaspritBumrah figure in the next 10.
We sense deep disappointment as we write this. Just changing a few variables, tweaking a few feathers, not trusting some players that much, and trusting some others a little more, might have brought the Cup back home.
Most Valuable Players in the 2019 World Cup
| Rank | Player | Team | Runs | Top Score | Four | Six | Strike Rate | Wickets | Economy Rate | MVPI |
| --- | --- | --- | --- | --- | --- | --- | --- | --- | --- | --- |
| 1 | Rohit Sharma | IND | 648 | 140 | 66 | 10 | 98.3 | 0 | - | 767 |
| 2 | Shakib Al Hasan | BAN | 482 | 121 | 44 | 2 | 90.6 | 9 | 5.2 | 746 |
| 3 | Mitchell Starc | AUS | 68 | 29 | 3 | 2 | 89.5 | 27 | 5.4 | 722 |
| 4 | Joe Root | ENG | 549 | 107 | 48 | 2 | 92.9 | 2 | 5.5 | 716 |
| 5 | David Warner | AUS | 647 | 166 | 66 | 8 | 89.4 | 0 | - | 706 |
| 6 | Aaron Finch | AUS | 507 | 153 | 47 | 18 | 102 | 1 | 6.7 | 670 |
| 7 | Ben Stokes | ENG | 381 | 89 | 33 | 9 | 95 | 7 | 4.7 | 644 |
| 8 | Jonny Bairstow | ENG | 496 | 111 | 60 | 11 | 95.8 | 0 | - | 615 |
| 9 | Kane Williamson | NZ | 548 | 148 | 48 | 3 | 76.3 | 2 | 4.3 | 589 |
| 10 | Alex Carey | AUS | 375 | 85 | 46 | 2 | 104.2 | 0 | - | 563 |
| 11 | Jason Roy | ENG | 426 | 153 | 48 | 12 | 117 | 0 | - | 554 |
| 12 | Jofra Archer | ENG | 13 | 7 | 1 | 0 | 61.9 | 19 | 4.6 | 529 |
| 13 | Virat Kohli | IND | 443 | 82 | 38 | 2 | 94.1 | 0 | - | 524 |
| 14 | Babar Azam | PAK | 474 | 101 | 50 | 2 | 87.8 | 0 | - | 523 |
| 15 | James Neesham | NZ | 213 | 97 | 13 | 5 | 79.2 | 12 | 5.2 | 510 |
| 16 | Hardik Pandya | IND | 226 | 48 | 21 | 4 | 112.4 | 10 | 5.7 | 510 |
| 17 | JaspritBumrah | IND | 1 | 1 | 0 | 0 | 100 | 18 | 4.4 | 505 |
| 18 | Eoin Morgan | ENG | 362 | 148 | 26 | 22 | 116 | 0 | - | 497 |
| 19 | Trent Boult | NZ | 9 | 4 | 1 | 0 | 52.9 | 17 | 4.6 | 492 |
| 20 | Mushfiqur Rahim | BAN | 366 | 102 | 30 | 3 | 93.6 | 0 | - | 484 |
| 21 | Chris Woakes | ENG | 132 | 40 | 9 | 3 | 91 | 13 | 5.4 | 479 |
| 22 | Lockie Ferguson | NZ | 4 | 4 | 1 | 0 | 66.7 | 18 | 4.9 | 467 |
| 23 | Mohammad Amir | PAK | 11 | 8 | 1 | 0 | 78.6 | 17 | 4.9 | 465 |
| 24 | Faf du Plessis | SA | 387 | 100 | 36 | 4 | 89.6 | 0 | - | 464 |
| 25 | Jos Buttler | ENG | 253 | 103 | 16 | 8 | 130.4 | 0 | - | 454 |
| 26 | Mark Wood | ENG | 11 | 10 | 2 | 0 | 91.7 | 17 | 5.2 | 446 |
| 27 | Pat Cummins | AUS | 51 | 23 | 3 | 0 | 75 | 14 | 5 | 432 |
| 28 | Steven Smith | AUS | 379 | 85 | 33 | 2 | 85.9 | 1 | 8 | 431 |
| 29 | Chris Morris | SA | 74 | 42 | 4 | 3 | 121.3 | 13 | 5.4 | 415 |
| 30 | Nicholas Pooran | WI | 342 | 118 | 31 | 9 | 101.8 | 0 | - | 409 |
| 31 | Shaheen Afridi | PAK | 1 | 1 | 0 | 0 | 16.7 | 16 | 5 | 399 |
| 32 | Andile Phehlukwayo | SA | 133 | 46 | 16 | 2 | 85.3 | 11 | 5.4 | 389 |
| 33 | KusalPerera | SL | 273 | 78 | 32 | 1 | 111 | 0 | - | 376 |
| 34 | Quinton de Kock | SA | 305 | 68 | 34 | 4 | 86.9 | 0 | - | 375 |
| 35 | C de Grandhomme | NZ | 174 | 64 | 16 | 4 | 108.1 | 5 | 4.6 | 372 |
| 36 | Mohammad Nabi | AFG | 107 | 52 | 5 | 2 | 64.1 | 10 | 4.7 | 368 |
| 37 | Jason Holder | WI | 137 | 51 | 12 | 6 | 97.2 | 8 | 5.4 | 366 |
| 38 | Sheldon Cottrell | WI | 33 | 15 | 3 | 1 | 70.2 | 12 | 5.7 | 362 |
| 39 | Usman Khawaja | AUS | 316 | 89 | 30 | 1 | 88.3 | 0 | - | 359 |
| 40 | Kagiso Rabada | SA | 58 | 31 | 4 | 2 | 82.9 | 11 | 5.1 | 353 |
| 41 | R van der Dussen | SA | 311 | 95 | 14 | 10 | 90.4 | 0 | - | 350 |
| 42 | Matt Henry | NZ | 14 | 7 | 1 | 0 | 60.9 | 13 | 5 | 349 |
| 43 | Wahab Riaz | PAK | 88 | 45 | 5 | 6 | 127.5 | 11 | 6 | 347 |
| 44 | Mohammed Shami | IND | 2 | 1 | 0 | 0 | 33.3 | 14 | 5.5 | 347 |
| 45 | Chris Gayle | WI | 242 | 87 | 26 | 12 | 92.7 | 2 | 4.5 | 339 |
| 46 | Carlos Brathwaite | WI | 154 | 101 | 13 | 8 | 106.2 | 9 | 7.3 | 339 |
| 47 | KL Rahul | IND | 361 | 111 | 31 | 5 | 77.5 | 0 | - | 339 |
| 48 | MS Dhoni | IND | 273 | 56 | 20 | 5 | 87.8 | 0 | - | 337 |
| 49 | Gulbadin Naib | AFG | 194 | 47 | 20 | 2 | 79.8 | 9 | 6.4 | 336 |
| 50 | Mustafizur Rahman | BAN | 1 | 1 | 0 | 0 | 14.3 | 17 | 6.7 | 330 |
| 51 | Mohammad Hafeez | PAK | 253 | 84 | 22 | 5 | 88.8 | 2 | 5.9 | 315 |
| 52 | Ross Taylor | NZ | 335 | 82 | 29 | 2 | 77.2 | 0 | - | 308 |
| 53 | Adil Rashid | ENG | 45 | 25 | 4 | 1 | 118.4 | 11 | 5.8 | 301 |
| 54 | Imran Tahir | SA | 11 | 10 | 0 | 0 | 68.8 | 11 | 4.9 | 300 |
| 55 | Imam-Ul-Haq | PAK | 305 | 100 | 31 | 1 | 76.3 | 0 | - | 287 |
| 56 | Liam Plunkett | ENG | 52 | 27 | 6 | 1 | 167.7 | 8 | 5 | 283 |
| 57 | Imad Wasim | PAK | 162 | 49 | 20 | 1 | 118.2 | 2 | 4.8 | 272 |
| 58 | Najibullah Zadran | AFG | 230 | 51 | 25 | 4 | 88.8 | 0 | - | 267 |
| 59 | Martin Guptill | NZ | 167 | 73 | 20 | 3 | 82.3 | 0 | - | 267 |
| 60 | Soumya Sarkar | BAN | 137 | 42 | 22 | 0 | 97.2 | 4 | 6.5 | 266 |
Figures updated before the World Cup final