In this exclusive excerpt from his autobiography, A Century Is Not Enough, Sourav Ganguly makes some startling revelations.

IMAGE: Kolkata Knight Riders Captain Sourav Ganguly and team co-owner Shah Rukh Khan before the first IPL. Photograph: Manav Manglani/Reuters
The Indian Premier League-4 auction was coming up. And as they say, there was a nip in the air. The media were speculating about my future with the Kolkata Knight Riders. Meanwhile, I had a visitor in my old office at Park Street.
Venky Mysore, KKR's newly appointed CEO, had sent a KKR representative to meet me. He came to the point rather quickly. He seemed a little embarrassed as he said, "Sourav, this season we can't keep you as a player. But we would be very happy if you take up the job of mentoring KKR."
I said I needed to think about the offer. I knew my answer, but still took some time to give my official response.
I could have called up the owner directly. But I resisted.
I had known Shah Rukh Khan for a long time and enjoyed a friendship with him. But it was not rocket science that the offer must have had his approval.
* * *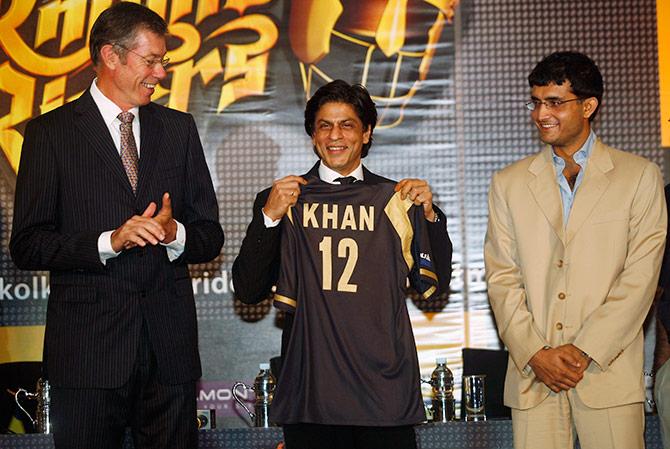 IMAGE: The four-captain strategy adopted by then KKR coach John Buchanan, left, during season 2 of the IPL flummoxed Ganguly, seen here with SRK. Photograph: Jayanta Shaw/Reuters
By the time we came back for season two, I had already announced my retirement from first-class cricket. I remember players assembling in Kolkata in March.
Our coach John Buchanan was already there. He called me for a meeting one day at the iconic Oberoi Grand. This was where I first got a hint that I might be losing my captaincy.
I did not know whether the owners had any idea about this but they had entrusted the entire responsibility to the coach who had clearly made up his mind.
In running a national team it was unthinkable that a coach would decide the captain's fate. Even someone as powerful as (Greg) Chappell needed the approval of the selectors. Again, IPL was different.
I was taken aback by John's decision. When I asked John who he was appointing as captain, the answer came as a bit of a shock. He said there would be four different captains.
I have never heard such a thing in cricket. John kept on saying all the captains would have a fair role. I just looked at him in stunned silence.
It was utterly confusing for me. In all these years of observing and playing cricket I had known the captain to be the most important player in winning battles. Here this man was saying its complete opposite.
I was told by one of the overseas players that John believed cricket should go the football way, where a manager was the supremo, where he had all the powers and dictated the captain. I begged to disagree, but that meant very little to anyone.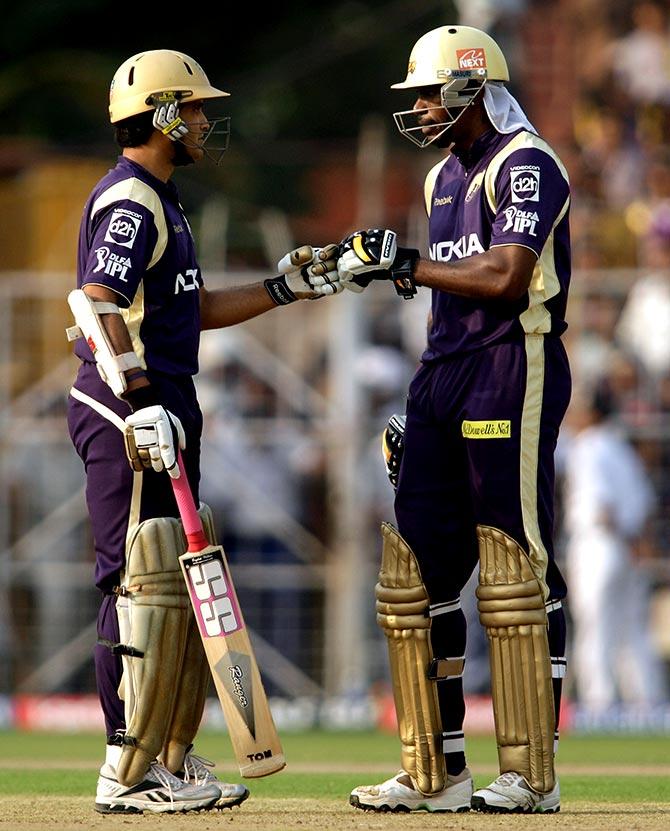 IMAGE: Fellow KKR player Chris Gayle was as confused by the four-captain strategy as Dada was. Photograph: Graham Crouch-IPL 2010/IPL via Getty Images
Eventually Brendon McCullum was appointed the official skipper for the season. But he was not alone and could only captain through a partnership with three other gentlemen.
The three other captains for off-the-field captaincy were Matthew Mort, Andy Bichel and John himself.
They would sit in three different parts of the stadium. One behind the sight screen. One went to point. The third sat near the pavilion. They had four walkie-talkies and constantly shared inputs among themselves.
The on-field captain, McCullum, had to look at one of them and take directions for running the team.
I was shocked. I had not understood the operations, but was very keen on understanding them. I wanted to see how McCullum would use this flow of information.
Mind you, on the field, apart from him, there were two other 'administrative' captains in Brad Hodge and the wicket-keeper. In this format the 'keeper was very important as he set the field and sent hand signals to the bowlers.
I was standing at mid-off and following McCullum. For the first time in my life I saw a captain look over the sight screen to receive signals and then look towards Brad Hodge to get instructions.
We had different signals for different deliveries.
It was also the first time I saw a bowler looking for instructions before sending down each delivery.
Ashok Dinda, our pace bowling spearhead, would go back to the top of his bowling mark, wait for a fraction of a second to get a signal and only then start his run. I found this almost unbelievable.
That night I went out for dinner with fellow KKR player Chris Gayle. Gayle too was as worried and confused as I was.
What is going on, he asked me. I expressed helplessness and said I truly didn't know. What you see is what is going on.
Gayle laughed out loud in his characteristic fashion and said, "Then I think we are headed for disaster."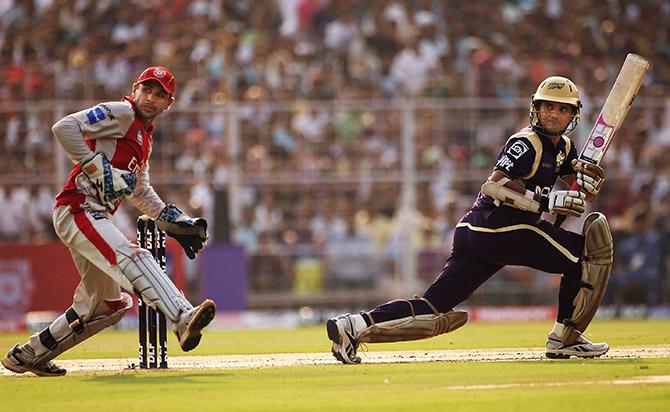 IMAGE: During a game at the Eden Gardens in IPL 2010, Dada wields the bat to great effect as wicket-keeper Manvinder Bisla of the Kings XI Punjab can only look on. Photograph: Daniel Berehulak-IPL 2010/IPL via Getty Images
I felt sorry for Brendon. Such an outstanding T20 cricketer became a victim in this chaos. He didn't even decide the batting order.
During one match he had won the toss and I asked him, what number are you and me going at? Are we opening? He answered, "I don't know." He had to wait for John to give him the batting order.
Not surprisingly, our performance in the tournament was awful. I performed badly as my mind was all messed up.
I have always believed that players are made or destroyed by leadership. KKR's performance in the second season was the worst in its IPL history.
As we kept losing matches, panic set in among the team members. The supply line was very poor as we did not have a solid reserve bench.
IPL was different from the national team in so many ways. Here the auction was all important. You could even afford to lose a few matches, but a bad auction meant you were hobbled for three successive years. The damage was much bigger.

IMAGE: At another 2010 IPL game at the Eden Gardens, Dada tosses the coin as Mumbai Indians Captain Dwayne Bravo watches on. Photograph: Matthew Lewis-IPL 2010/IPL via Getty Images
Confidence is the most important cologne that you can have in a cricket dressing room. We were inducted into a new world of cricket. Not even one player in that team including Brendon had clarity of what was happening.
So one night I told Brendon, "Listen, it is slipping away. We have to do something as a team." But we couldn't reverse the downslide as by then the asking rate for staging a reverse in the tournament had climbed too high.
John was sacked following our disastrous performance. He was not even asked to come back to India and submit his report to the management.
He grumbled and said a few unpalatable things in the media, but who was going to listen to that? He was in charge and the team had failed completely.
Buchanan saga over, we now moved on to season three. A new coach was picked -- Dav Whatmore. Once again I was brought back as the captain.
I told myself, look at the extremes:
First year: Captain
Second year: Just an ordinary member
Third year: Captain
As always, I failed to understand how I could be so bad and so good within a period of only twelve months. But then in franchise cricket you only do as you are told.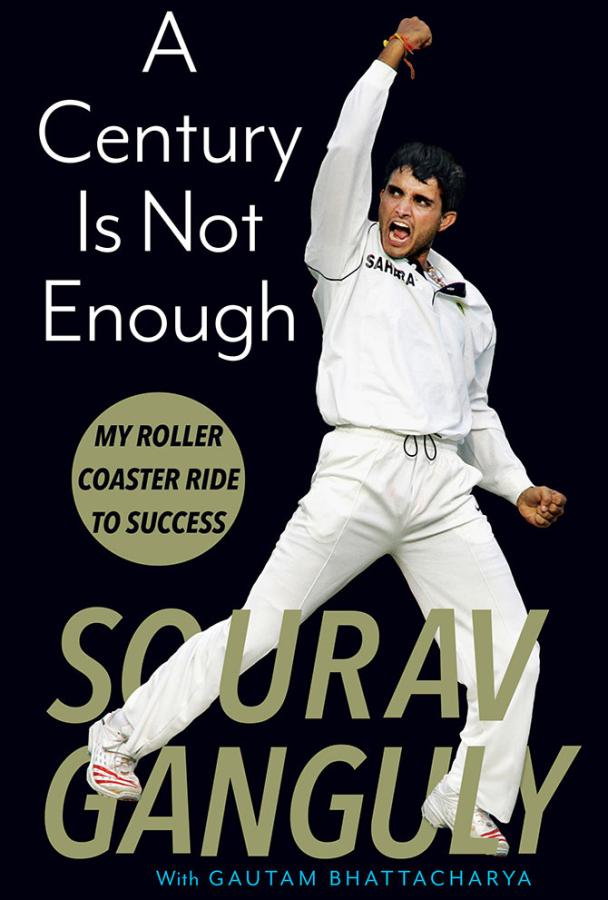 IMAGE: Sourav Ganguly's autobiography.
Our fortunes did not change much in season three. As I said earlier, once you picked a team at the auction you had to stick with it for three years. The damage thus lingered on.
My own performance in season three was the best. The team also performed better than it had in the previous two seasons. But we weren't good enough to qualify.
I knew the team was now up for a change and rightly so as the previous unit had not delivered. Our performance was below par and KKR needed a shaking up.
With fresh auctions coming up the management needed to acquire the right kind of players and not repeat the mistakes that were made earlier.
I was all for it. But I did not realise that I would not even be retained as a player.
Personally I had a great year notwithstanding the dismal team performance. I was the highest scorer for my team having scored 493 runs with an average of 37.58. The strike rate was 117. Sachin had won the Orange Cap with 618 runs and I was fourth in the overall run-getters list. The numbers spoke for themselves, but yet again they were overlooked.
I had requested Venky to allow me some days to think. Finally I got back to him saying that as an athlete I knew that my time would be up sooner or later. But I still saw some batting years left in me. So mentoring was not an option that I would consider at this stage.
Venky did not seem very convinced. I realised from his body language that they would go in at the auction without me in their plans.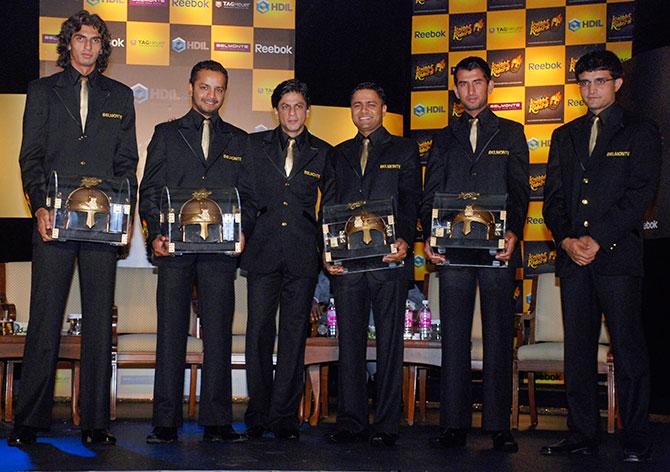 IMAGE: Some of the members of the first KKR team: From left, Ishant Sharma, Murali Kartik, Akash Chopra and Cheteshwar Pujara with Dada and SRK. Photograph: Manav Manglani/Reuters
Coming back to Shah Rukh, I had interacted a lot with him during my time with KKR. By the third season his involvement was even deeper.
The team's series of poor performances had hurt him deeply. I could understand his plight too. Being such a super successful performer it was difficult to take repeated failures in a product that bore his signature.
I used to be in constant touch with him and in season three more than once took his opinion while deciding upon the final eleven -- something I had never done while picking an Indian eleven. But as I said, the IPL was managed and played in a completely different way.
I was later asked by the media what would have happened if the same KKR team had been owned by any other superstar? I replied that non-performance was an issue no one would have tolerated.
So I thought the decision to leave me out from captaincy was quite justified. But how could they leave me out from the side as a batsman? To me, that was unjustified.
I was also asked many times if someone had poisoned Shah Rukh's ears against me. My answer has been the same, I don't think so.
There was a theory doing the rounds that my chest-thumping in a particular match against the Deccan Chargers at Eden Gardens had angered the KKR management.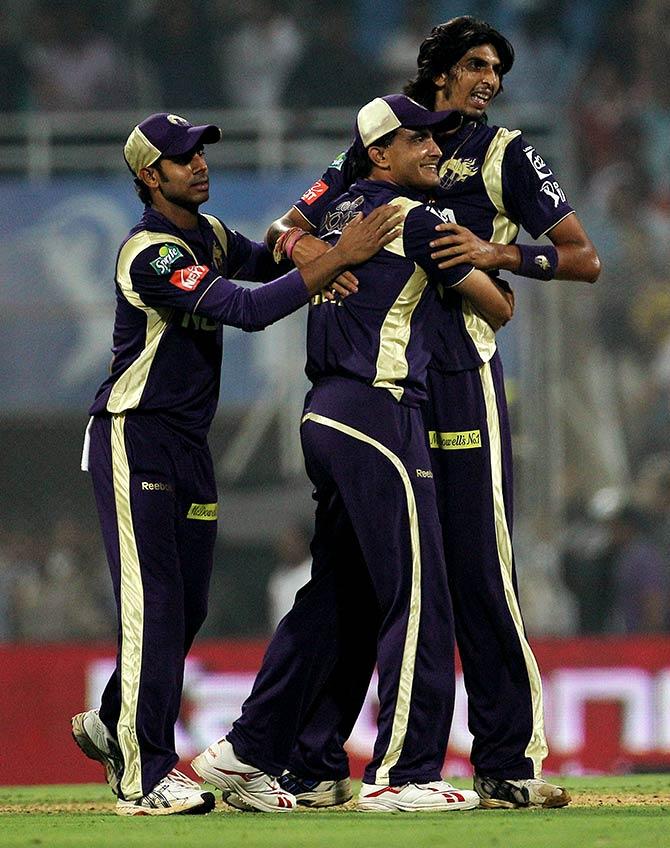 IMAGE: Manoj Tiwary, Dada and Ishant Sharma celebrate victory in an IPL 2010 game. Photograph: Hamish Blair-IPL 2010/IPL via Getty Images
Now to give you the background. I usually do not watch TV or read the paper on the day of the match. But that day before leaving for the ground, I had switched on the TV. What I saw was a banner headline, 'Time for Ganguly to Retire'.
Some said it was part of an organised campaign. Some media friends felt it was politically designed. I still don't know who the mastermind was.
That day I scored 88 runs and we won the match against the Deccan Chargers. I was full of raw emotion -- the anger of the afternoon news still simmered in me. That's what led to my actions.
My reaction that day was directed towards whoever had put up the banner. It came from passion and love for the game. The high of success, nothing more.
It certainly was not directed at Shah Rukh or any other member of the management.
Eventually KKR's decision not to retain me did not come in the way of my personal friendship with Shah Rukh. They were well within their rights to do so.
When we met subsequently we were as normal as ever.
Excerpted from A Century Is Not Enough: My Roller Coaster Ride To Success by Sourav Ganguly with Gautam Bhattacharya, with the kind permission of the publishers, Juggernaut.