Purnendu Maji and Srinivas Bhogle list the 50 Most Valuable Players after 46 IPL 2022 games.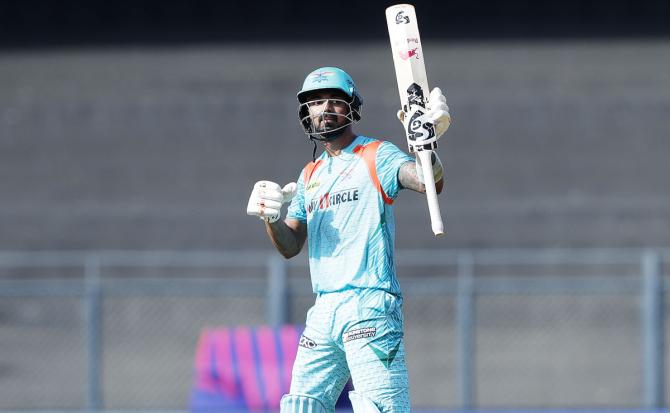 With a Most Valuable Player Index (MVPI) of 601, Jos Buttler is still on top of the MVPI list of IPL 2022.
K L Rahul (473) is his nearest challenger, but he'll find it hard to go ahead, chiefly because Rahul too, like Buttler, is only riding on his batting skills. Both are scoring a lot of runs at near 150 strike rates.
MVPI collapses a player's batting, bowling and fielding performance into a single 'run equivalent'.
To reach the top, batters must score a lot of runs with a high strike rate and bowlers must take a lot of wickets with a low economy rate.
In this year's MVPI formula, wea re rewarding bowlers a little more than usual because batting is relatively easier this time.
Andre Russell, an all-rounder, could therefore be the only threat to Buttler and Rahul if he explodes with the bat and adds to his tally of 10 wickets.
But you can never be completely sure of what Russell and his body might do next.
There are three Rajasthan Royals players (Buttler, Yuzvendra Chahal and Sanju Samson) in the top 10, including both the Aramco cap holders, but if you look at the top 20, then RR, KKR and LSG have three players each, while the leaders GT have four.
PBKS has two players in the top 20, MI, RCB have just one and CSK so far has none.
DC only has Kuldeep Yadav (375) in the top 20, with Rishabh Pant (279) at the 32nd spot.
Other captains in the top 50 are K L Rahul of LSG (rank 2; 473), Hardik Pandya of GT (5; 400), RR's Sanju Samson (9; 343), KKR's Shreyas Iyer (25; 292) and RCB's Faf du Plessis (43; 233).
CSK's former captain Ravindra Jadeja is in 42nd place with a MVPI of 234.
This analysis is based on 46 matches of the current IPL, and updated on the morning of May 2, 2022.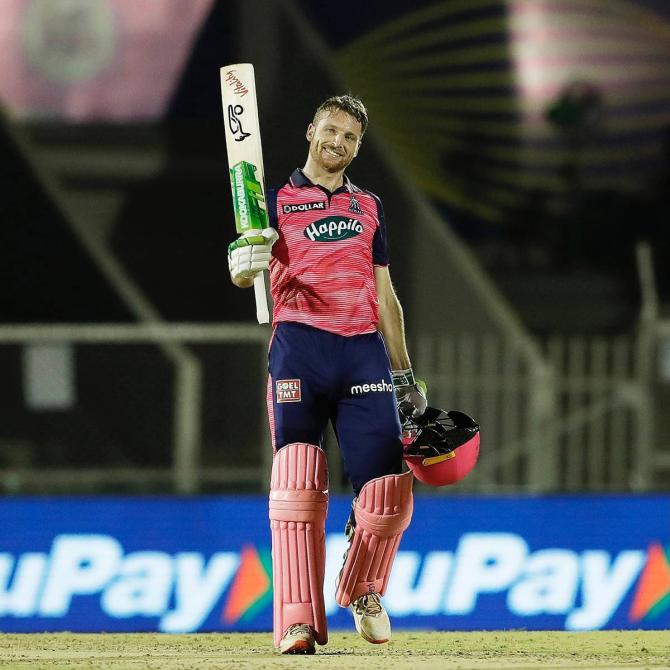 Best Performing Players in IPL 2022 after Game 46 ending 1.5.22
| Rank | Player | Team | From | Runs | Top Score | 4s | 6s | Strike Rate | Wickets | Economy Rate | Game | MVPI | PVI(US$) | PVI(INR) |
| --- | --- | --- | --- | --- | --- | --- | --- | --- | --- | --- | --- | --- | --- | --- |
| 1 | Jos Buttler | RR | ENG | 566 | 116 | 47 | 36 | 155.1 | 0 | - | 9 | 601 | 1426 | 106965 |
| 2 | KL Rahul | LSG | IND | 451 | 103 | 38 | 20 | 145 | 0 | - | 10 | 473 | 3423 | 256720 |
| 3 | Andre Russell | KKR | WI | 227 | 70 | 12 | 22 | 176 | 10 | 10.7 | 9 | 432 | 2381 | 178571 |
| 4 | Yuzvendra Chahal | RR | IND | 5 | 5 | 0 | 0 | 62.5 | 19 | 7.2 | 9 | 422 | 1320 | 99018 |
| 5 | Hardik Pandya | GT | IND | 308 | 87 | 32 | 8 | 135.7 | 4 | 7.6 | 8 | 400 | 3214 | 241071 |
| 6 | Umesh Yadav | KKR | IND | 55 | 21 | 4 | 4 | 141 | 14 | 7.3 | 9 | 382 | 449 | 33657 |
| 7 | Krunal Pandya | LSG | IND | 128 | 42 | 12 | 3 | 143.8 | 9 | 6.6 | 10 | 376 | 2090 | 156725 |
| 8 | Kuldeep Yadav | DC | IND | 40 | 16 | 3 | 2 | 125 | 17 | 8.2 | 9 | 375 | 457 | 34286 |
| 9 | Sanju Samson | RR | IND | 244 | 55 | 15 | 20 | 168.3 | 0 | - | 9 | 343 | 3499 | 262391 |
| 10 | Wanindu Hasaranga | RCB | SL | 37 | 18 | 4 | 1 | 97.4 | 15 | 8 | 10 | 342 | 2994 | 224520 |
| 11 | T Natarajan | SRH | IND | 0 | 0 | 0 | 0 | - | 17 | 8.7 | 9 | 331 | 1036 | 77687 |
| 12 | Liam Livingstone | PBKS | ENG | 263 | 64 | 19 | 20 | 178.9 | 2 | 11.2 | 9 | 328 | 3005 | 225392 |
| 13 | Rashid Khan | GT | AFG | 71 | 40 | 2 | 7 | 197.2 | 9 | 7.1 | 9 | 326 | 3944 | 295793 |
| 14 | Tilak Varma | MI | IND | 307 | 61 | 20 | 15 | 137.1 | 0 | 6.5 | 9 | 320 | 455 | 34152 |
| 15 | Umran Malik | SRH | IND | 1 | 1 | 0 | 0 | 100 | 15 | 8.4 | 9 | 310 | 1106 | 82949 |
| 16 | Mohammed Shami | GT | IND | 0 | 0 | 0 | 0 | - | 14 | 7.8 | 9 | 309 | 1734 | 130028 |
| 17 | Rahul Chahar | PBKS | IND | 50 | 22 | 5 | 3 | 119 | 12 | 7.6 | 9 | 309 | 1456 | 109223 |
| 18 | David Miller | GT | SA | 276 | 94 | 23 | 12 | 150.8 | 0 | - | 9 | 303 | 212 | 15912 |
| 19 | Sunil Narine | KKR | WI | 27 | 12 | 3 | 2 | 150 | 7 | 5.3 | 9 | 303 | 1697 | 127298 |
| 20 | Quinton deKock | LSG | SA | 294 | 80 | 32 | 8 | 134.2 | 0 | - | 10 | 302 | 2129 | 159650 |
| 21 | Dinesh Karthik | RCB | IND | 218 | 66 | 19 | 15 | 194.6 | 0 | - | 10 | 301 | 1740 | 130517 |
| 22 | R Ashwin | RR | IND | 77 | 28 | 7 | 4 | 148.1 | 8 | 7 | 9 | 301 | 2164 | 162316 |
| 23 | Axar Patel | DC | IND | 145 | 42 | 10 | 8 | 166.7 | 4 | 7.5 | 9 | 298 | 2589 | 194151 |
| 24 | Suryakumar Yadav | MI | IND | 290 | 68 | 23 | 15 | 147.2 | 0 | - | 7 | 297 | 2309 | 173160 |
| 25 | Shreyas Iyer | KKR | IND | 290 | 85 | 30 | 7 | 137.4 | 0 | 7 | 9 | 292 | 3596 | 269692 |
| 26 | Aiden Markram | SRH | SA | 263 | 68 | 18 | 12 | 149.4 | 1 | 10.6 | 9 | 292 | 763 | 57241 |
| 27 | Prithvi Shaw | DC | IND | 259 | 61 | 35 | 9 | 159.9 | 0 | - | 9 | 287 | 2240 | 167994 |
| 28 | Abhishek Sharma | SRH | IND | 324 | 75 | 36 | 9 | 134.4 | 0 | 15 | 9 | 285 | 165 | 12406 |
| 29 | Kagiso Rabada | PBKS | SA | 42 | 25 | 5 | 1 | 105 | 13 | 8.3 | 8 | 283 | 2802 | 210121 |
| 30 | Dwayne Bravo | CSK | WI | 10 | 8 | 1 | 0 | 125 | 14 | 8.7 | 8 | 280 | 1347 | 101020 |
| 31 | David Warner | DC | AUS | 264 | 66 | 33 | 9 | 156.2 | 0 | - | 7 | 279 | 1920 | 144009 |
| 32 | Rishabh Pant | DC | IND | 234 | 44 | 26 | 9 | 149 | 0 | - | 9 | 279 | 4916 | 368664 |
| 33 | Shimron Hetmyer | RR | WI | 233 | 59 | 14 | 17 | 159.6 | 0 | - | 9 | 277 | 2630 | 197267 |
| 34 | Rahul Tripathi | SRH | IND | 228 | 71 | 21 | 13 | 172.7 | 0 | - | 9 | 274 | 2659 | 199426 |
| 35 | Shubman Gill | GT | IND | 260 | 96 | 25 | 7 | 137.6 | 0 | - | 9 | 273 | 2512 | 188383 |
| 36 | Deepak Hooda | LSG | IND | 279 | 55 | 23 | 10 | 131.6 | 1 | 10.8 | 10 | 271 | 2021 | 151555 |
| 37 | Shikhar Dhawan | PBKS | IND | 307 | 88 | 30 | 8 | 126.3 | 0 | - | 9 | 266 | 2658 | 199382 |
| 38 | Shivam Dube | CSK | IND | 247 | 95 | 19 | 14 | 159.4 | 0 | 18 | 8 | 260 | 1319 | 98901 |
| 39 | Prasid Krishna | RR | IND | 6 | 4 | 0 | 0 | 50 | 11 | 7.8 | 9 | 253 | 3388 | 254094 |
| 40 | Harshal Patel | RCB | IND | 31 | 10 | 2 | 2 | 103.3 | 10 | 7.7 | 9 | 250 | 4095 | 307143 |
| 41 | Glenn Maxwell | RCB | AUS | 157 | 55 | 19 | 7 | 178.4 | 1 | 7.6 | 7 | 239 | 4383 | 328751 |
| 42 | Ravindra Jadeja | CSK | IND | 113 | 26 | 6 | 5 | 121.5 | 5 | 7.9 | 9 | 234 | 5861 | 439560 |
| 43 | Faf du Plessis | RCB | SA | 278 | 96 | 27 | 10 | 125.8 | 0 | - | 10 | 233 | 2861 | 214592 |
| 44 | Robin Uthappa | CSK | IND | 228 | 88 | 19 | 14 | 141.6 | 0 | - | 9 | 231 | 742 | 55659 |
| 45 | Bhuvneshwar Kumar | SRH | IND | 4 | 3 | 0 | 0 | 66.7 | 9 | 7.3 | 9 | 228 | 3195 | 239662 |
| 46 | Avesh Khan | LSG | IND | 9 | 7 | 0 | 2 | 128.6 | 11 | 8.3 | 8 | 226 | 4214 | 316056 |
| 47 | Nicholas Pooran | SRH | WI | 180 | 64 | 10 | 11 | 139.5 | 0 | - | 9 | 226 | 1593 | 119469 |
| 48 | Jason Holder | LSG | WI | 43 | 16 | 2 | 4 | 122.9 | 9 | 9 | 8 | 225 | 3704 | 277778 |
| 49 | Ambati Rayudu | CSK | IND | 246 | 78 | 22 | 14 | 129.5 | 0 | - | 9 | 223 | 2402 | 180173 |
| 50 | Khaleel Ahmed | DC | IND | 0 | 0 | 0 | 0 | 0 | 11 | 7.9 | 6 | 223 | 2018 | 151345 |
Feature Presentation: Mahipal Soni/Rediff.com