Purnendu Maji and Srinivas Bhogle list IPL 2020's 50 Most Valuable Players.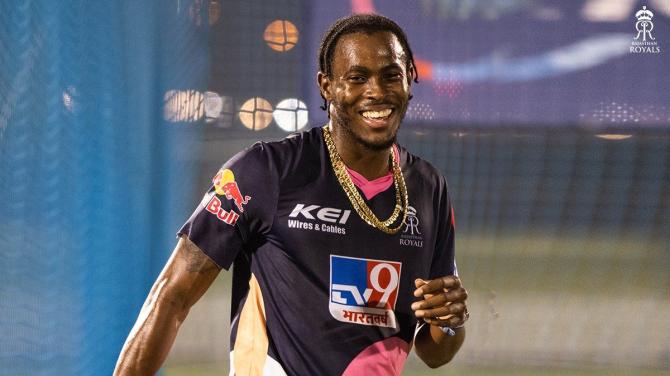 Just two wickets for Jasprit Bumrah, or one more wicket and some runs with the bat for Kagiso Rabada, would HAve been enough to unseat Jofra Archer from the MVPI pedestal.
It didn't happen.
Recall that the Most Valuable Player Index (MVPI) -- which collapses a player's batting, bowling and fielding performance into a 'run equivalent' -- rewards wicket-taking bowlers, with good economy rates, and high-scoring batsmen with the best strike rates.
Best Performing Players at IPL 2020 after the IPL 2020 Final on November 10, 2020
| Rank | Player | Team | From | MVPI | PVI(US$) | Runs | Top Score | 4s | 6s | Strike Rate | Wickets | Economy Rate | Match |
| --- | --- | --- | --- | --- | --- | --- | --- | --- | --- | --- | --- | --- | --- |
| 1 | Jofra Archer | RR | ENG | 666 | 1544 | 113 | 27 | 5 | 10 | 179.4 | 20 | 6.6 | 14 |
| 2 | Kagiso Rabada | DC | SA | 654 | 917 | 56 | 15 | 4 | 2 | 114.3 | 30 | 8.3 | 17 |
| 3 | Rashid Khan | SRH | AFG | 652 | 1972 | 35 | 14 | 3 | 2 | 116.7 | 20 | 5.4 | 16 |
| 4 | Jasprit Bumrah | MI | IND | 646 | 1548 | 5 | 5 | 0 | 0 | 166.7 | 27 | 6.7 | 15 |
| 5 | KL Rahul | KXI | IND | 621 | 2530 | 670 | 132 | 58 | 23 | 129.3 | 0 | - | 14 |
| 6 | Shikhar Dhawan | DC | IND | 616 | 1206 | 618 | 106 | 67 | 12 | 144.7 | 0 | - | 17 |
| 7 | Marcus Stoinis | DC | AUS | 579 | 1184 | 352 | 65 | 31 | 16 | 148.5 | 13 | 9.5 | 17 |
| 8 | Quinton de Kock | MI | SA | 566 | 707 | 503 | 78 | 46 | 22 | 140.5 | 0 | - | 16 |
| 9 | Rahul Tewatia | RR | IND | 549 | 781 | 255 | 53 | 13 | 17 | 139.3 | 10 | 7.1 | 14 |
| 10 | David Warner | SRH | AUS | 542 | 3295 | 548 | 85 | 52 | 14 | 134.6 | 0 | 12 | 16 |
| 11 | AB de Villiers | RCB | IND | 541 | 2905 | 454 | 73 | 33 | 23 | 158.7 | 0 | - | 15 |
| 12 | Trent Boult | MI | NZ | 524 | 872 | 0 | 0 | 0 | 0 | 0 | 25 | 8 | 15 |
| 13 | Suryakumar Yadav | MI | IND | 514 | 889 | 480 | 79 | 61 | 11 | 145 | 0 | - | 16 |
| 14 | Ishan Kishan | MI | IND | 505 | 1754 | 516 | 99 | 36 | 30 | 145.8 | 0 | - | 14 |
| 15 | Yuzvendra Chahal | RCB | IND | 489 | 1753 | 1 | 1 | 0 | 0 | 33.3 | 21 | 7.1 | 15 |
| 16 | Faf du Plessis | CSK | SA | 468 | 488 | 449 | 87 | 42 | 14 | 140.8 | 0 | - | 13 |
| 17 | Mayank Agarwal | KXI | IND | 466 | 307 | 424 | 106 | 44 | 15 | 156.5 | 0 | - | 11 |
| 18 | Nicholas Pooran | KXI | WI | 458 | 1310 | 353 | 77 | 23 | 25 | 169.7 | 0 | - | 14 |
| 19 | Sam Curran | CSK | ENG | 457 | 1719 | 186 | 52 | 12 | 12 | 131.9 | 13 | 8.2 | 14 |
| 20 | Axar Patel | DC | IND | 456 | 1566 | 117 | 42 | 6 | 8 | 137.6 | 9 | 6.4 | 15 |
| 21 | Anrich Nortje | DC | SA | 454 | 629 | 7 | 3 | 0 | 0 | 116.7 | 22 | 8.4 | 16 |
| 22 | Sanju Samson | RR | IND | 449 | 2545 | 375 | 85 | 21 | 26 | 158.9 | 0 | - | 14 |
| 23 | Kieron Pollard | MI | WI | 438 | 1761 | 268 | 60 | 15 | 22 | 191.4 | 4 | 9 | 16 |
| 24 | Pat Cummins | KKR | AUS | 435 | 5090 | 146 | 53 | 9 | 8 | 128.1 | 12 | 7.9 | 14 |
| 25 | Shreyas Iyer | DC | IND | 431 | 2320 | 519 | 88 | 40 | 16 | 123.3 | 0 | - | 17 |
| 26 | Varun Chakravarthy | KKR | IND | 428 | 1335 | 10 | 7 | 0 | 0 | 66.7 | 17 | 6.8 | 13 |
| 27 | Devdutt Padikkal | RCB | IND | 419 | 68 | 473 | 74 | 51 | 8 | 124.8 | 0 | - | 15 |
| 28 | Mohammed Shami | KXI | IND | 409 | 1677 | 2 | 2 | 0 | 0 | 66.7 | 20 | 8.6 | 14 |
| 29 | Eoin Morgan | KKR | ENG | 404 | 1856 | 418 | 68 | 32 | 24 | 138.4 | 0 | - | 14 |
| 30 | Ravindra Jadeja | CSK | AUS | 404 | 2475 | 232 | 50 | 22 | 11 | 171.9 | 6 | 8.8 | 14 |
| 31 | Manish Pandey | SRH | IND | 383 | 4103 | 425 | 83 | 35 | 18 | 127.6 | 0 | - | 16 |
| 32 | Washington Sundar | RCB | IND | 376 | 1216 | 111 | 30 | 10 | 2 | 116.8 | 8 | 6 | 15 |
| 33 | T Natarajan | SRH | IND | 369 | 155 | 3 | 3 | 0 | 0 | 60 | 16 | 8 | 16 |
| 34 | Virat Kohli | RCB | IND | 368 | 6599 | 466 | 90 | 23 | 11 | 121.4 | 0 | - | 15 |
| 35 | Chris Morris | RCB | SA | 365 | 3914 | 34 | 25 | 2 | 3 | 161.9 | 11 | 6.6 | 9 |
| 36 | Hardik Pandya | MI | IND | 351 | 4477 | 281 | 60 | 14 | 25 | 179 | 0 | - | 14 |
| 37 | Jonny Bairstow | SRH | ENG | 350 | 898 | 345 | 97 | 31 | 13 | 126.8 | 0 | - | 11 |
| 38 | Jos Buttler | RR | ENG | 349 | 1801 | 328 | 70 | 27 | 16 | 144.5 | 0 | - | 13 |
| 39 | Shubman Gill | KKR | IND | 349 | 737 | 440 | 70 | 44 | 9 | 118 | 0 | - | 14 |
| 40 | Sandeep Sharma | SRH | IND | 348 | 1232 | 12 | 9 | 1 | 0 | 80 | 14 | 7.2 | 13 |
| 41 | R Ashwin | DC | IND | 342 | 3175 | 37 | 14 | 3 | 1 | 108.8 | 13 | 7.7 | 15 |
| 42 | Rahul Chahar | MI | IND | 337 | 805 | 2 | 2 | 0 | 0 | 50 | 15 | 8.2 | 15 |
| 43 | Nitish Rana | KKR | IND | 326 | 1490 | 352 | 87 | 43 | 12 | 138.6 | 0 | 11.5 | 14 |
| 44 | Jason Holder | SRH | WI | 324 | 882 | 66 | 26 | 5 | 3 | 124.5 | 14 | 8.3 | 7 |
| 45 | Rishabh Pant | DC | IND | 323 | 3538 | 343 | 56 | 31 | 9 | 114 | 0 | - | 14 |
| 46 | Ravi Bishnoi | KXI | IND | 321 | 890 | 7 | 6 | 1 | 0 | 58.3 | 12 | 7.4 | 14 |
| 47 | Ambati Rayudu | CSK | IND | 316 | 995 | 359 | 71 | 30 | 12 | 127.3 | 0 | - | 12 |
| 48 | Ben Stokes | RR | ENG | 311 | 5742 | 285 | 107 | 36 | 7 | 142.5 | 2 | 10.3 | 8 |
| 49 | Rohit Sharma | MI | IND | 298 | 7191 | 332 | 80 | 27 | 19 | 127.7 | 0 | - | 12 |
| 50 | Kane Williamson | SRH | NZ | 297 | 1443 | 317 | 67 | 26 | 10 | 133.8 | 0 | 12 | 12 |
Feature Presentation: Aslam Hunani/Rediff.com