Srinivas Bhogle and Purnendu Maji present Rediff.com's Most Valuable Player Index of IPL 2023 after Game 33.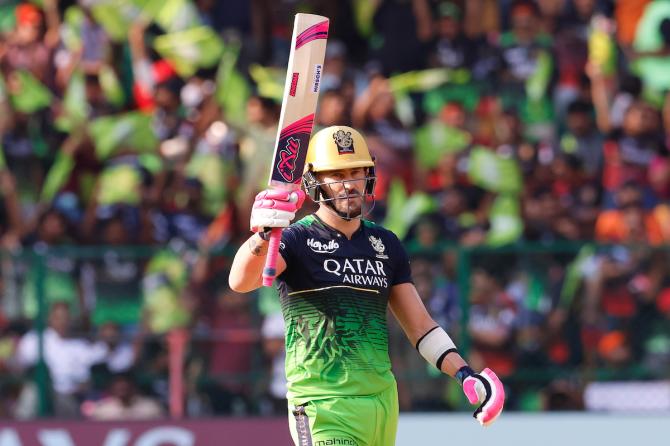 With 405 runs in just 7 matches, and at a staggering strike rate of over 165, it can't be a surprise that Faf du Plessis, the RCB captain, is currently IPL 2023's Most Valuable Player (MVP) by a long mile, with an Most Valuable Player Index (MVPI) of 455.
RCB has three more players in the top six: Glenn Maxwell is third with an MVPI of 321, Mohammed Siraj (317) is fourth, and Viral Kohli (311) is sixth.
But that's where the RCB caravan comes to a crunching halt.
One has to go down to the 46th place to find RCB's Harshal Patel with an MVPI of 169.
CSK, on the other hand, has valuable performers everywhere: Devon Conway (2, 324); Ruturaj Gaikwad (5, 314); Ravindra Jadeja (7,300), Ajinkya Rahane (9, 273), Shivam Dube (31, 223), Moeen Ali (41, 184) and Tushar Deshpande (46, 166), all conducted by the captain par excellence M S Dhoni.
The Most Valuable Player Index collapses a player's batting, bowling and fielding performance into a single 'run equivalent'.
To have the best MVPI value, batters must score a lot of runs with a high strike rate and bowlers must take a lot of wickets with a low economy rate.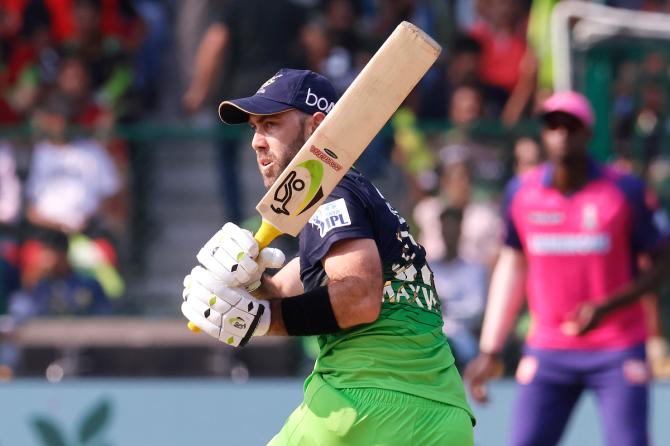 Our table also identifies players that offer best value for money, via the Paisa Vasool Index (PVI).
It is easy to see that CSK's Devon Conway offers incredible value: CSK needs to pay him a mere $188 for every 'run equivalent' that he contributes.
Contrast this with the $3,252 that CSK pays Ravindra Jadeja for every 'run equivalent'.
We will carry MVPI and PVI updates every Monday as we stay glued to cricket's ultimate entertaining carnival.
Best Performing Players In IPL 2023 (after Match 33 ending 23.4.23)
| Rank | Player | Team | From | Runs | Top Score | 4s | 6s | Strike Rate | Wickets | Economy Rate | Game | MVPI | PVI($) | PVI(INR) |
| --- | --- | --- | --- | --- | --- | --- | --- | --- | --- | --- | --- | --- | --- | --- |
| Rank | Player | Team | From | Runs | Top Score | 4s | 6s | Strike Rate | Wickets | Economy Rate | Game | MVPI | PVI(US$) | PVI(INR) |
| 1 | Faf du Plessis | RCB | SA | 405 | 84 | 33 | 25 | 165.3 | 0 | - | 7 | 455 | 938 | 76923 |
| 2 | Devon Conway | CSK | NZ | 314 | 83 | 33 | 12 | 143.4 | 0 | - | 7 | 324 | 188 | 15432 |
| 3 | Glenn Maxwell | RCB | AUS | 253 | 77 | 13 | 23 | 188.8 | 1 | 11.1 | 7 | 321 | 2090 | 171340 |
| 4 | Mohammed Siraj | RCB | IND | 1 | 1 | 0 | 0 | 100 | 13 | 7.1 | 7 | 317 | 1346 | 110410 |
| 5 | Ruturaj Gaikwad | CSK | IND | 270 | 92 | 14 | 17 | 147.5 | 0 | - | 7 | 314 | 1165 | 95541 |
| 6 | Virat Kohli | RCB | IND | 279 | 82 | 25 | 11 | 141.6 | 0 | - | 7 | 311 | 2941 | 241158 |
| 7 | Ravindra Jadeja | CSK | AUS | 57 | 25 | 1 | 5 | 146.2 | 10 | 7.3 | 7 | 300 | 3252 | 266667 |
| 8 | Jos Buttler | RR | ENG | 244 | 79 | 24 | 9 | 145.2 | 0 | - | 7 | 290 | 2103 | 172414 |
| 9 | Ajinkya Rahane | CSK | IND | 209 | 71 | 18 | 11 | 199 | 0 | - | 5 | 273 | 112 | 9158 |
| 10 | Rashid Khan | GT | AFG | 11 | 10 | 1 | 1 | 275 | 12 | 8.3 | 6 | 270 | 2904 | 238095 |
| 11 | Venkatesh Iyer | KKR | IND | 254 | 104 | 21 | 16 | 159.7 | 0 | - | 7 | 270 | 1807 | 148148 |
| 12 | R Ashwin | RR | IND | 56 | 30 | 4 | 3 | 143.6 | 9 | 7.1 | 7 | 270 | 1129 | 92593 |
| 13 | Sanju Samson | RR | IND | 181 | 60 | 13 | 6 | 158.8 | 0 | - | 7 | 269 | 3173 | 260223 |
| 14 | Yashasvi Jaiswal | RR | IND | 227 | 60 | 32 | 6 | 139.3 | 0 | - | 7 | 267 | 913 | 74906 |
| 15 | Rinku Singh | KKR | IND | 233 | 58 | 13 | 17 | 157.4 | 0 | - | 7 | 262 | 128 | 10496 |
| 16 | Sam Curran | PBKS | ENG | 142 | 55 | 11 | 8 | 137.9 | 5 | 8.9 | 7 | 262 | 4306 | 353053 |
| 17 | Kyle Mayers | LSG | WI | 243 | 73 | 19 | 16 | 150.9 | 0 | 7 | 7 | 259 | 118 | 9653 |
| 18 | Shimron Hetmyer | RR | WI | 188 | 56 | 7 | 15 | 166.4 | 0 | - | 7 | 258 | 2009 | 164729 |
| 19 | Arshdeep Singh | PBKS | IND | 0 | 0 | 0 | 0 | - | 13 | 8.2 | 7 | 255 | 956 | 78431 |
| 20 | Cameron Green | MI | AUS | 166 | 67 | 15 | 6 | 156.6 | 4 | 9.2 | 6 | 253 | 3615 | 296443 |
| 21 | Axar Patel | DC | IND | 148 | 54 | 11 | 9 | 148 | 4 | 7.4 | 6 | 252 | 1867 | 153061 |
| 22 | Marcus Stoinis | LSG | AUS | 144 | 65 | 10 | 9 | 145.5 | 4 | 6.9 | 7 | 251 | 2235 | 183267 |
| 23 | Nicholas Pooran | LSG | WI | 171 | 62 | 11 | 15 | 185.9 | 0 | - | 7 | 243 | 4015 | 329218 |
| 24 | Nitish Rana | KKR | IND | 181 | 75 | 16 | 11 | 140.3 | 2 | 4.3 | 7 | 242 | 2016 | 165289 |
| 25 | Yuzvendra Chahal | RR | IND | 0 | 0 | 0 | 0 | - | 12 | 8.1 | 7 | 242 | 1638 | 134298 |
| 26 | Shubman Gill | GT | IND | 228 | 67 | 25 | 5 | 138.2 | 0 | - | 6 | 239 | 1749 | 143455 |
| 27 | Mark Wood | LSG | ENG | 11 | 10 | 1 | 1 | 220 | 11 | 8.1 | 4 | 239 | 1913 | 156904 |
| 28 | David Warner | DC | AUS | 285 | 65 | 42 | 0 | 120.8 | 0 | - | 6 | 234 | 1396 | 114469 |
| 29 | Krunal Pandya | LSG | IND | 103 | 34 | 9 | 4 | 115.7 | 6 | 7.2 | 7 | 230 | 2187 | 179348 |
| 30 | Shikhar Dhawan | PBKS | IND | 233 | 99 | 29 | 8 | 146.5 | 0 | - | 4 | 228 | 2206 | 180921 |
| 31 | Shivam Dube | CSK | IND | 184 | 52 | 8 | 15 | 157.3 | 0 | - | 7 | 223 | 1094 | 89686 |
| 32 | Piyush Chawla | MI | IND | 5 | 5 | 0 | 0 | 83.3 | 9 | 6.9 | 6 | 218 | 120 | 9830 |
| 33 | Mohammed Shami | GT | IND | 0 | 0 | 0 | 0 | - | 10 | 8 | 6 | 208 | 1570 | 128777 |
| 34 | Ravi Bishnoi | LSG | IND | 6 | 3 | 0 | 0 | 150 | 8 | 7.8 | 7 | 207 | 1178 | 96618 |
| 35 | Varun Chakravarthy | KKR | IND | 1 | 1 | 0 | 0 | 11.1 | 10 | 8.3 | 7 | 206 | 2368 | 194175 |
| 36 | KL Rahul | LSG | IND | 262 | 74 | 27 | 3 | 113.9 | 0 | - | 7 | 197 | 5262 | 431472 |
| 37 | Trent Boult | RR | NZ | 0 | 0 | 0 | 0 | 0 | 9 | 8 | 6 | 192 | 2541 | 208333 |
| 38 | Ishan Kishan | MI | IND | 170 | 58 | 21 | 7 | 141.7 | 0 | - | 6 | 190 | 4195 | 343985 |
| 39 | Mayank Markande | SRH | IND | 2 | 2 | 0 | 0 | 100 | 8 | 6.3 | 4 | 189 | 180 | 14739 |
| 40 | Wriddhiman Saha | GT | IND | 137 | 47 | 19 | 3 | 138.4 | 0 | - | 6 | 186 | 534 | 43779 |
| 41 | Moeen Ali | CSK | ENG | 74 | 23 | 8 | 3 | 134.5 | 7 | 9.8 | 6 | 184 | 2651 | 217391 |
| 42 | Rohit Sharma | MI | IND | 179 | 65 | 20 | 10 | 142.1 | 0 | - | 6 | 175 | 4778 | 391837 |
| 43 | Prabhsimran Singh | PBKS | IND | 159 | 60 | 14 | 11 | 159 | 0 | - | 7 | 174 | 210 | 17241 |
| 44 | Aiden Markram | SRH | SA | 121 | 50 | 10 | 6 | 157.1 | 0 | 8.3 | 5 | 171 | 795 | 65163 |
| 45 | Harshal Patel | RCB | IND | 6 | 6 | 0 | 1 | 100 | 10 | 9.8 | 7 | 169 | 3879 | 318047 |
| 46 | Tushar Deshpande | CSK | IND | 0 | 0 | 0 | 0 | - | 12 | 11 | 7 | 166 | 73 | 6024 |
| 47 | Sandeep Sharma | RR | IND | 0 | 0 | 0 | 0 | - | 7 | 8.2 | 5 | 165 | 1109 | 90909 |
| 48 | Tim David | MI | AUS | 109 | 31 | 4 | 7 | 155.7 | 0 | - | 5 | 155 | 2782 | 228111 |
| 49 | Vijay Shankar | GT | IND | 129 | 63 | 10 | 6 | 161.3 | 0 | - | 4 | 153 | 478 | 39216 |
| 50 | Jitesh Sharma | PBKS | IND | 145 | 41 | 11 | 10 | 149.5 | 0 | - | 7 | 151 | 81 | 6623 |
Feature Presentation: Aslam Hunani/Rediff.com