To assist Chappell and Frazer, the RCA has roped in five local coaches, all ex-Ranji Trophy players who have since passed the Level 2 coaching exams conducted by the board: Sharad Joshi, Krishnakumar, Vijay Asawa, Harish Joshi and Kuldip Mathur.
Their presence is part of an academy within an academy concept. Though their main brief is to with the two Australian head coaches, translating their instructions and helping to monitor the sessions, they simultaneously learn the concepts, and the program as a whole.
"It is not enough, as we told Lalit Modi, for us to coach cricketers," Chappell points out. "If this program is to be a real success, we should be able to coach the coaches, train them in the techniques of structuring and following a program."
"We are all qualified coaches," Sharad Joshi says, "but what we are learning here is completely outside our experience, and extremely valuable. Chappell says his goal is that we should in time be able to take over this academy and run it ourselves. We are a long way from that point yet, there is plenty to learn, but it is all very exciting and for the first time in our lives, we have a sense of purpose, a definite goal, and the optimism that we will finally be able to achieve something."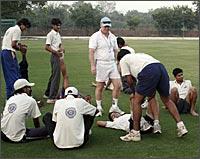 But surely much of what is being done is totally antithetical to the traditional mould of cricket coaching? "Of course it is," Krishnakumar, a Kerala native who had settled in Rajasthan since childhood, says. "If someone explains the program to you, you will think it has nothing to do with cricket.
"But we have now seen two groups, and we are working on the third. And even this early, we are extremely kicked about this; we have seen what the kids are like when they come here, and how much they learn and improve just in 10 days."
"We are actually re-learning the business of cricket coaching," Sharad Joshi chips in.
The Chappell style of coaching is centered around two core principles: firstly, that you need to free yourself from fear before you can think of succeeding in any endeavor and secondly, that the top athlete is one who can confront unexpected challenges, and find a way to succeed.
What could be more unexpected – and, for young boys in their teens, more challenging – than a cook-out? In this, the wards are split into two groups, and given the goal of cooking a meal, with no external help.
 "The boys get basic ingredients, and they get a recipe, and the challenge they face is to put it all together and make it work. Which, if you think about it, is what cricket is about too – there are the basic ingredients of bat and ball; there is a recipe in terms of format; you have to combine these ingredients and do better, within that framework and with the same ingredients, than the other bunch of guys.
"That is not to say that the team that cooks a great meal will play a great game of cricket. The point is that you learn to cope; and when you find yourself coping with unexpected situations and challenges, you gradually rid yourself of the fear of the unknown and the unexpected. You cannot teach that attitude in the nets, but once you acquire it, you are mentally far stronger, even within the cricket field. Our job is to help you rid yourself of your fears, to develop the confidence that you can face anything, any challenge. It will make you a better cricketer; it sure as hell will make you a more rounded human being, and that may be even more important."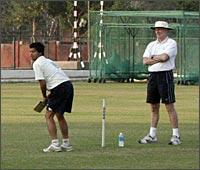 And then there are the training methods, that fly in the face of contemporary hi-tech. Lalit Modi has spent a fortune developing a state of the art gym, but Chappell clears his wards well clear of its doors, preferring to make them skip rope, run and sprint on the road ringing the stadium, and go through an obstacle course so tough, only one per cent of applicants survive it during the army recruitment process.
"Gyms are good for developing social muscles, the kind that look good on the beach, or in a T-shirt," scoffs Chappell. "What you need in cricket is not what we call the short muscles but the long muscles – the back, the thighs, calves, those muscle groups which bear the brunt of the burden.
"You can't develop those by running on a treadmill or lifting weights. What we focus on is developing functional strength, building athletes who can cope with any form of the game."
To aid in the development process, Chappell has trawled through the various other sports disciplines that have training facilities within the Sawai Man Singh Stadium -- boxing, wrestling, badminton, taekwondo, soccer, hockey… -- and roped in the best of those coaches to work with his wards.
"Each discipline has skill sets, strengths that are unique to them, but which adapt very well to the cricket field. By exposing the kids to all these disciplines, letting them work with those coaches, we give them a more rounded development. You can learn foot speed and balance from taekwondo; boxing is all about lightness of feet, of instantaneous transfer of power; wrestling is about a low center of gravity, of setting up a solid base. Each of these skills is very necessary to cricket, what we have done is bring in specialists to teach the kids the things they will find useful as they develop."
All of these are incidental, however, to the leitmotif of the Chappell method: the conquest of fear. The obstacle course is sufficient in itself to daunt the stoutest; it is however merely one in a series of exercises, puzzles and simulations the wards work on that are intended towards the same end.
Chappell and Frazer typically push the envelope further still. On the 10th – the last – day, each group is taken up a neighboring mountain, and then challenged to rappel down it.
"Imagine doing it, imagine standing on that mountain top, back to the ground, holding a rope in your hand, and finding the courage to let yourself go. Imagine the strength it takes to carry your bodyweight on your arms, to use your feet to thrust away from the mountain's face. The average man training to climb mountains gets to this point only halfway through his training; here, it is the first thing we make these kids do.
"Your instinct is to seek protection by clinging to the mountain; to rappel down the side, you have to go against that instinct, you have to push yourself away. In learning to do that, you discover reserves of courage in yourself you never knew you had."
Harish Joshi talks of the last group that went through this routine. "They were petrified, at first," he recalls. "Then one kid decided to give it a try; the competitive instinct kicked in, and the others were lining up for a shot. Safety features are all built in, of course, but it still takes courage – and when those boys got to the ground, you could see from the way they held themselves, the way they strutted, that they had changed, they had discovered something in themselves."
Prima facie, it seems like overkill – a coach who has worked with the Indian national team now mining for talent in a state that is not even in the domestic top tier. But Chappell has his own perspective, on the need to do what he is doing: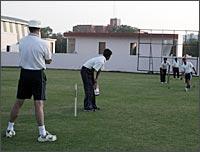 "The paradigm is changing. In the coming years, a lot of your stars are going to come from outlying towns, districts, even villages. These are the guys with the hunger, the reason to succeed. They are the ones who are willing to give up their creature comforts, to work hard, with single-minded focus, because they see the game as a means of escaping from their circumstances, in a way the well-off kid from a metro never will.
"It is not an accident that the best tennis players today are coming from the Eastern Bloc countries, because that is where the hunger is. The developed nations, like Britain and the US, have far better facilities, but look how many players from there are in the top ten? Hardly any – that list is dominated by hungry young kids from the Eastern Bloc, and from the developing nations. Or look at the talent that keeps coming out of the little villages of Brazil, though some of the European nations have far better facilities.
"Programs like the one we are running here are vital, because this is how Indian cricket will discover its next generation of stars."
This line of thinking is finding its share of adherents. There is one Australian business group that is in contact with Chappell with a view to replicating this model, for an international sports training facility. Two states in India have expressed interest in setting up similar camps, and as word of mouth spreads, representatives from other states have been trickling into Jaipur to evaluate what Camp Chappell is all about.
In the final analysis, though, programs such as this live or die on how the wards take to it. Chappell will not talk of his stint with the national team; he says he is per the terms of his contract forbidden from doing so. It is however no secret that during his stint with the national team, several of the players rebelled against his methods; that rebellion, fostered by inspired media stories, was largely instrumental in sparking his eventual exit.
By that yardstick, the Future Cricket Academy passes with colors flying.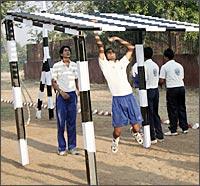 Sikander, aged 17, comes from a little village on the outskirts of Udaipur. He is a natural – graceful, athletic in a raw, unstructured fashion, with fast bowling his preferred discipline. Still breathless from doing a circuit of the obstacle course, he grins when asked how he is managing to stay alive and kicking.
"Socha nahin tha ki aisa hoga," he says. "We had thought we would bat and bowl in the nets, but this is great fun. The first two days, my body hurt all over, raat bhar neend nahin aata tha; now, I actually look forward to this part of the training, I can feel that I am getting stronger every day, and I am able to bowl easier, and for longer periods. Bahut mazaa aa raha hai."
But does he get it, the point of doing these exercises in preference to going to the gym and hitting the weights, surrounded on all sides by mirrors? "I come from a village, wahan yeh gym sab kahaan milega? I will have to come to town for that, and even then it is too expensive, I can't afford it. But there are trees everywhere, near my home. I can hang ropes on them and climb; there are rough roads and big pits and so I can make my own obstacle course. I used to be very jealous of the town kids, because they have all those facilities, but not now."
We spend the better part of an hour talking to the kids, and their comments are all variants on the theme: This is not what they expected; they are having the time of their lives; they are all fired up to do well in the camp, learn all they can, go off and practice on their own and come back better; they want to make the final cut of 22 which will form the basis of Rajasthan's U-19 program…
It is Aditya Sharma, a tall, strapping left hand batsman and right arm medium pace bowler, who puts the camp in its real perspective. Sharma is one of the privileged kids -- son of a retired top cop and a member of the Jaipur Cricket Club, he has been attending coaching camps and playing in age group cricket at the local level for a couple of years now.
"I don't know how to exactly describe this," he says. "I have spent hours in the nets, practicing all my shots. But somehow, when it came to playing in a match, I couldn't really get anything right. I saw the ball and I knew what shot I had to play, but most times, it never clicked.
"I've been here six days now and I haven't had one single net session; in fact, I haven't practiced batting like I used to. But when they make us bat, like we had to during the indoor session earlier today, the shots are suddenly flowing; I have confidence that I can hit anything, anywhere, and suddenly I am feeling much better about myself and my cricket."
Also read: Rajasthan's Generation Next - Part I
Photographs: Reuben N V