41/4 is the worst start in a Test from which India has gone on to win a match.
Rajneesh Gupta has all the numbers.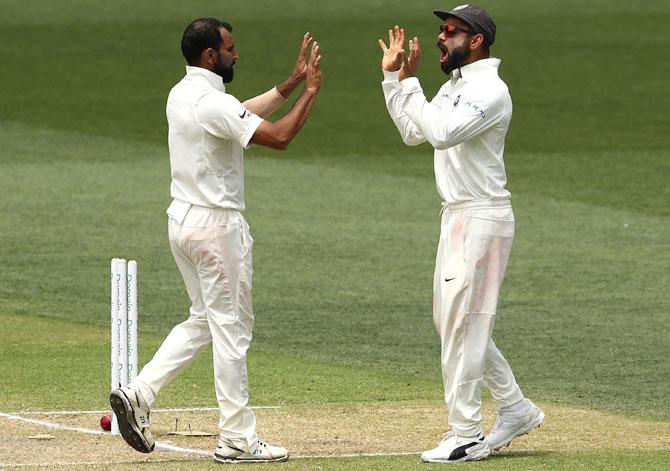 0 Number of times India have won the first Test of a series in Australia before Monday, December 10.
Out of 11 previous series in Australia, India had lost 9 and drawn 2.
6 Number of Tests won by India in Australia.
The other five came at Melbourne and Sydney in 1977-1978, at Melbourne in 1980-1981, at Adelaide in 2003-2004 and at Perth in 2007-2008.
11 Number of catches taken by Rishabh Pant in the Test -- 6 in the first innings and 5 in the second.
This equals the world record of most catches by a player in a single Test.
England's Jack Russell and South Africa's A B de Villiers also held 11 catches.
The previous Indian record was of 10 catches held by Wriddhiman Saha against South Africa in Cape Town earlier this year.
35 Number of batsmen caught in the match -- the most such dismissals in a Test match.
The South Africa-Australia Test at Cape Town earlier this year had 34 caughts.
41 The total at which India had lost their first four wickets on the first day. This is the worst start of the match from which India has gone on to win a Test.
1 Virat Kohli became the first Indian captain to win a Test in South Africa, England and Australia. Interestingly all wins have come this year!
6 Number of consecutive Tests without a win for Australia -- the first time since 2013.
2 Number of Australian captains without a win in their first four Tests -- Jack Ryder and Tim Paine.
25 Number of Tests won by India under Virat Kohli's captaincy.
Only one captain -- M S Dhoni -- has led India to more Test wins (27).
Of them 10 have come outside India -- the second most for an Indian captain after Sourav Ganguly's 11.
49 Number of years for which Australia have not won a Test series after losing the first match.
The last such instance was in 1969 when the West Indies beat them at Brisbane, but Australia won the five-match series 3-1.