India have never won the first Test of a series in Australia and will be looking to come hard at Australia on Day 5.
Rajneesh Gupta has all the numbers from the fourth day of the Adelaide Test.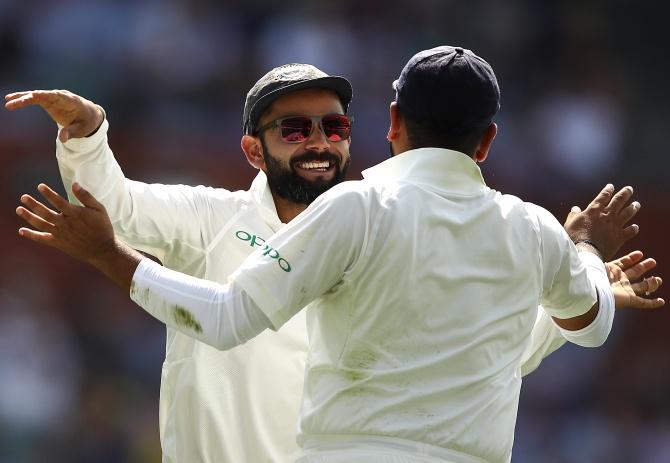 5 Number of Indian batsmen to top score in both innings of a Test in Australia.
Cheteshwar Pujara joined M L Jaisimha, Syed Abid Ali, Sachin Tendulkar and Virat Kohli. Tendulkar and Kohli have done so twice each.
60.51 The difference between home and away batting averages for Rohit Sharma in Test matches.
He averages 85.44 at home and only 24.93 outside India. This difference is the highest for any player playing at least 10 innings both home and away.
101 Number of wickets taken by Mitchell Starc in Australia. He is only the third left-arm bowler to take 100 wickets on Australian soil, after Mitchell Johnson (171) and Bill Johnston (101).
4 Number of times Nathan Lyon has taken 6 wickets in an innings against India -- the most such instances by any bowler.
Five others -- Lance Gibbs, Graeme McKenzie, Imran Khan, Muttiah Muralitharan and Dale Steyn -- have taken 6 wickets against India thrice apiece.
8 Number of catches taken by Rishabh Pant in the Test.
Only one Indian wicket-keeper has held more catches in a Test -- 10 by Wriddhiman Saha against South Africa at Cape Town in 2017-2018.
1977 The last and only time a side chased down a 300+ target against India -- Australia at Perth.
Since then opposing sides have lost 36 times and drawn 19 times while chasing a 300+ target against India.
0 Number of times India have won the first Test of a series in Australia.