Statistical highlights from the match between India and West Indies played in Chennai on Sunday.
# India's 80-run triumph is their biggest over West Indies in terms of runs in the World Cup, bettering the 43-run win in the 1983 final at Lord's.
# India have posted their fourth victory in seven World Cup games against West Indies.
# Yuvraj Singh (113 off 123 balls) has recorded his first hundred in the 2011 edition of the World Cup.
# Yuvraj Singh became the first player in the 2011 edition of the World Cup to post a hundred apart from three fifties.
# Yuvraj has received three Man of the Match awards -- the first to achieve the feat in the 2011 edition of the World Cup.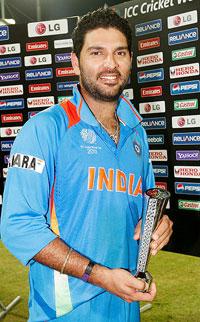 # Yuvraj has captured nine wickets in the present tournament at an average of 25.22 -- his best in a series/competition.
# Yuvraj's third hundred against West Indies is his 13th in ODIs. His previous two hundreds against West Indies were 131 at Kingston on June 26, 2009 and 110 at Colombo RPS on August 7, 2005.
# Yuvraj and Virat Kohli have shared a stand of 122 for the third wicket -- India's best against West Indies at the World Cup.
# Yuvraj has become the first Indian batsman to register a hundred at Chepauk at the World Cup.
# Yuvraj has also become the first Indian all-rounder to post a century and take two wickets in the same game at the World Cup. He is the ninth all-rounder to achieve the feat, joining Aamir Sohail, Aravinda de Silva, Neil Johnson, Feiko Kloppenburg, Sanath Jayasuriya, Ryan ten Doeschate, Tillakaratne Dilshan and Paul Stirling.
# Yuvraj has totalled 284 in six matches at an average of 94.66 besides claiming 9 wickets at 25.22 runs apiece in the present edition of the World Cup.
# With 24 wickets at an average of 18.70 in eleven matches, Zaheer Khan is the top wicket-taker in 2011, bettering Brett Lee's figures of 23 at 19.73 runs apiece in 12 games.
# Zaheer has taken his tally of wickets to 15 at 14.86 runs apiece in six matches -- the second best in the tenth edition of the World Cup, next only to Shahid Afridi's 17 at 11.47 runs apiece.
# Devon Smith has posted his fifth fifty in ODIs -- his first against India.
# Smith's brilliant 81 off 97 balls is his second highest innings at the World Cup -- the highest is 107 against Ireland at Mohali on March 11, 2011.
# Ravi Rampaul (5/51), on his World Cup debut, has bowled splendidly to take five wickets -- his career-best in ODIs.
# Rampaul's previous best bowling performance in ODIs was 4 for 37 against India at Kingston on June 28, 2009.
# Rampaul is the fifth bowler to take five wickets in a World Cup match for West Indies. Winston Davis, Kemar Roach, Vasbert Drakes (twice) and Joel Garner had registered the feats previously.
# Rampaul has become the second West Indian and the sixth bowler to capture five wickets on World Cup debut.  He has joined Winston Davis -- 7 for 51 against Australia at Leeds on
June 11, 1983, Gary Gilmour -- 6 for 14 against England at Leeds on June 18, 1975, Austin Codrington -- 5 for 27 against Bangladesh at Durban on February 11, 2003, Dennis Lillee – 5 for 34 against Pakistan at Leeds on June 7, 1975 and Damien Fleming -- 5 for 36 against India at Mumbai on February 27, 1996.
# Rampaul became the first bowler to bag five wickets in a World Cup innings at Chennai, eclipsing the four for 15 by England's Stuart Broad against South Africa on March 6, 2011.