- Scorecard | Images | Live update
Birthday boy Ross Taylor rode his luck to good effect and scored a spectacular 131 not out as New Zealand registered a comprehensive 110-run win over Pakistan in the World Cup Group A encounter in Pallekele (Kandy) on Tuesday.
Chasing a formidable total (302 for seven), Pakistan didn't even put up a semblance of a fight. They could only muster 192 runs in 41.4 overs.
Abdul Razzaq was the top-scorer for Pakistan with an attacking 62, his 74-ball knock inclusive of nine hits to the fence.
It was his 23rd ODI fifty, and in the process of scoring it (when on 22), he became only the fourth player to achieve the 5000 run / 250 wicket double.
Razzaq also was responsible for the best partnership in the Pakistani innings -- a 66-run stand for the ninth wicket with Umar Gul (34 not out).
Tim Southee was the most successful bowler for the Black Caps, his three for 25 taking his tally in the tournament to 10.
New Zealand captain Daniel Vettori injured his knee and didn't bowl in the Pakistan innings.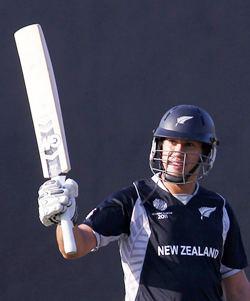 In what was the first One-Day International match at the brand new stadium, named after the legendary Muttiah Muralitharan, the Black Caps gave a good all-round performance to register their third win in four matches in the tournament.
More importantly, it was just their second win in eight matches over Pakistan in the World Cup while being their 35th win overall -- against 51 defeats -- in 89 matches.
For a team that had won just four of its last 21 matches coming into the fixture -- including defeats away at Bangladesh (4-0) and India (5-0) and a home defeat to Pakistan (2-3) -- it was nothing short of an incredible effort from the Black Caps.
Taylor, who turned 27 on Tuesday, returned to form in style, registering his fourth one-day hundred -- his first since October 2008, against Bangladesh.
The batsman's 124-ball knock was inclusive of eight hits to the fence and seven over it.
Taylor went through a wretched run of form coming into this game -- having registered just one 50-plus score in his last 14 innings. It didn't, therefore, surprise when he started on a tentative note.
However, a longer stay at the wicket, partly due to the fortunate reprieves -- most notably dropped by Kamran Akmal off Shoaib when on eight -- helped him gain in confidence as the innings progressed.
The last four overs were vintage stuff -- Taylor plundering runs in all parts of the ground, something he is known for, and forcing the Pakistan bowlers to commit mistakes.
In Martin Guptill (57) and the experienced Scott Styris (28) he got the support he required to build the innings.
With Guptill he put on a 57-run stand for the third wicket, and with Styris, a crucial 62-run stand for the fifth. These two partnerships helped give the New Zealand innings the fillip it required.
And then there was an 85-run stand – off just 22 balls -- between him and Jacob Oram (25) as 92 runs were plundered in the final four overs.
Umar Gul was the most successful bowler for Pakistan with figures of three for 32.
New Zealand innings:
New Zealand seemed to have got off to a spectacular start when Brendon McCullum (6) took advantage of a free hit and smashed the third ball of the opening over from Shoaib Akhtar for a maximum over midwicket.
However, the bowler had his revenge in the very next ball, cleaning up McCullum with a delivery that kept a bit low.
Martin Guptill and Jamie How (4) slowly but steadily helped New Zealand recover, combing aggression with caution to good measure.
The duo put on 47 runs for the second wicket. However, when things looked to have settled down for New Zealand, Gul struck, having How out leg before.
In came Ross Taylor, who had not been in the best of form. And sensing an opportunity Afridi re-introduced Shoaib into the attack.
The Rawalpindi Express was though unfortunate. Having twice induced the edge of Taylor's blade, he only witnessed the first going between the 'keeper and the slip to the boundary while Kamran Akmal dropped a sitter off the second edge.
Taylor had survived twice in the space of three balls. And Shoaib was twice unlucky.
New Zealand had made 68 for two after 15 overs.
Taylor rode his luck to forge a good third-wicket partnership with Guptill -- a stand that yielded 57 runs and laid the foundation of the Black Caps' innings.
However, just when the duo was looking to make things difficult for Pakistan, the latter's captain ensured his team hit back.
Shahid Afridi, already the tournament's highest wicket-taker with 14 scalps prior to the match, added a 15th when he cleaned up the well-settled Guptill.
Guptill's 86-ball knock 57 was inclusive of six hits to the fence. His replacement at the crease, James Franklin (1) survived just two balls.
Mohammad Hafeez trapped Franklin leg before and even if the latter went for a review, the decision still stood.
New Zealand had suddenly lost two wickets in the space of three balls. However, Taylor and Scott Styris ensured the New Zealand innings stabilized.
Their 62-run stand for the fifth wicket was more about tact than aggression and their strategy of rotating the strike worked wonderfully well for their team.
With the score at 173 for four after the 41st over, the batting power play was taken.
However, instead of benefiting New Zealand, it hurt them. Umar Gul returned to trap Styris leg before.
In came Nathan McCullum and he upped the tempo with a couple of sixes in Afridi's final over, the first over long-on and the second over deep square leg two balls later.
Nathan had his third maximum in the next over by Gul, a pull over deep midwicket. However, Gul had his man in the next ball, a slower ball rattling the timber.
It was McCullum's hitting (read three sixes) that ensured New Zealand had a decent batting powerplay -- 37 runs at the cost of two wickets.
Then Taylor took over.
It was Shoaib who suffered the most. In the Rawalpindi Express' ninth over, the 47th of the innings, Taylor plundered 28 runs.
4, 6, 6, 1 (wide), 0, 4, 1 (wide), 6 -- that is how the runs came, the final six over deep midwicket helping him complete his fourth ODI ton.
In the penultimate over by Abdul Razzaq, Taylor plundered another 30, including three maximums.
And that ensured New Zealand's eventual total read something that even Vettori wouldn't have fathomed after winning the toss.
Pakistan innings:
The Pakistan innings got off to a worse possible start, Southee having Mohammad Hafeez (5) out leg before.
The early breakthrough seemed to reenergize the Kiwis. Southee would have got himself another wicket in his second over had Daniel Vettori not dropped Kamral Akmal (8) at mid-on.
The New Zealand captain, in making the effort, injured himself (his knee) and had to leave the field. He didn't bowl in the innings.
Off the next ball, Southee gave Kamran his second successive reprieve, dropping him off his own bowling. To be fair to the young bowler, though, suffice to say, it was a tough chance.
New Zealand though didn't have to wait long for their second wicket. Kyle Mills, in his fourth over, gave his side a double breakthrough.
Mills first trapped Ahmed Shehzad (10) plumb in front and three balls later, rattled the stumps of the dangerous Younis Khan (0).
And when Southee returned to take the wicket he had missed out on twice -- having Kamran caught by Taylor (who else?) at first slip, it seemed all over for Pakistan.
The 1992 champions had lost four of their frontline batsmen with just 23 runs on board -- with just a little over seven overs being bowled.
Misbah-ul-Haq (7) and Umar Akmal tried to slow down the pace and stem the fall of wickets. They didn't succeed.
They had added just 22 runs for the fifth wicket when Southee had Misbah caught by Styris at gully for his third wicket.
After 15 overs, the Pakistani scorecard made for miserable reading: 46 for five.
In came Shahid Afridi (17) and the Pakistani captain tried to ease the pressure a bit by hitting successive boundaries off Jacob Oram and a maximum off James Franklin, a trademark shot that cleared the long on fence.
However, all it offered was a brief respite, Oram coming back to have his revenge, rattling Afridi's stumps.
Umar Akmal (38) and Razzaq tried to do some repair work but the damage had already been made.
And Razzaq and Gul's late order hitting did nothing more than reducing the margin a bit and regale the crowd.
In the final analysis, the first ever international in Pallekele will always be remembered for a certain player's majestic hundred.
Ross Taylor, take a bow!