Becoming a father for the first time has not dimmed Paul Collingwood's passion for the sport and the England all-rounder is eager to prolong his career in limited-overs cricket for as long as possible.
"I have spent my time in Tst cricket and totally enjoyed my career in that form of the game. But I still believe I have got a lot to give in the one-day form and in Twenty20," Collingwood told reporters following a training session.
"I haven't put a time-frame (on retiring). I am still enjoying the environment we have created in the England team," he added.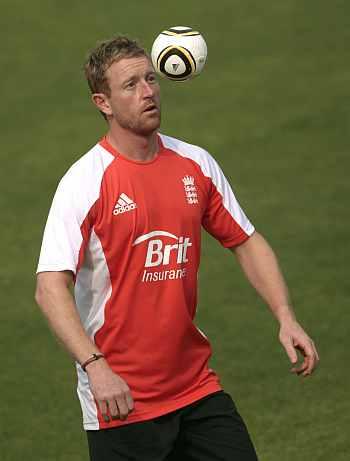 Collingwood, who arrived in Bangladesh with the rest of the squad after his wife gave birth to their daughter earlier than expected, ended his test career on a high last month after helping England to win the Ashes in Australia for the first time in 24 years.
Having led his team to victory in the Twenty20 World Cup final in the Caribbean last year -- thus helping England to win their first world title of any kind -- he now wants to add the 50-over trophy to his collection from the Feb.9-April 2 event.
"The players are very excited to play in India, Sri Lanka and Bangladesh because of the enthusiasm you have out here," the 34-year-old added.
"We have got a very skilful side. We seem to adapt to the conditions very well. We have played some really good cricket in the last two years in the one-day form of the game.
"We have played some really tough series and went on to win them, in West Indies, in South Africa and obviously beat Australia (in the Ashes) at home.
"We can take lot of confidence from how we have played over the last couple of years. We believe that we are good enough to hopefully go on and win the World Cup," he added.
England play their first World Cup Group B match against outsiders Netherlands on Feb. 22 in Nagpur. They have warm-up matches with Canada, another unfancied team, on Wednesday and then against Pakistan two days later in Dhaka.