When brands look at cricket, India's male cricketers are an obvious choice.
Urvi Malvania reports.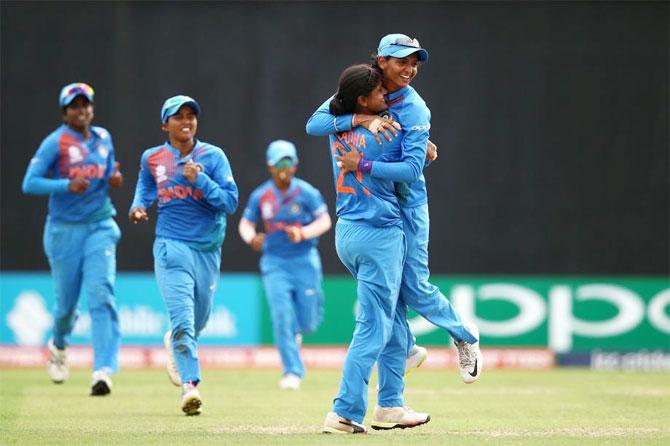 Over the past 10 to 12 months, Indian women cricketers have been in the news for all the right sports reasons.
Mithali Raj became the first female to score 6,500 runs in one-day internationals.
More recently, there was Harmanpreet Kaur's exploits against New Zealand in the ongoing Women's World T20 in the West Indies.
In sum, women have made their presence known on the field.
However, they are conspicuously missing from brand endorsements.
Unlike male counterparts or sportswomen in other sports, female cricketers in India have not been able to break into this scene.
While star players have brands like Hero and Bata as bat or kit sponsors, one does not see a Raj or Jhulan Goswami smiling down from TV screens or billboards, coaxing onlookers to buy a product or service.
Why?
"The biggest issue here is the media exposure that women's cricket has. Only recently have the matches started being telecast; overall coverage in the press has increased. As media exposure increases, audiences and brands will take notice," says Ramakrishnan R, co-founder and director, Baseline Ventures, a sports marketing and talent management entity that handles P V Sindhu and Kidambi Srikanth among other players.
This is the first time a standalone Women's World T20 is taking place and being telecast on Star Sports Network India as well as being live-streamed on Star India's OTT platform, Hotstar.
Broadcasters and cricket boards are now making conscious effort on providing media exposure to women's cricket.
For instance, during India's coming tour of New Zealand, the three T20s will be double features, meaning the women's tie will precede the men's games.
Both will be telecast on Star Sports.
While the lack of media exposure is one of the main reasons for Indian women cricketers losing the endorsement game, there are other factors as well.
The sheer dominance of the male cricket team from India is one.
"Indian (male) cricketers are undeniably among the most popular celebrities in the country, along with film stars. When brands look to associate with the game, they automatically look at the men, since they are more visible and popular," says a brand expert.
When brands look at cricket as a mode of association, he explains, male cricketers are an obvious choice.
The lack of visibility of female cricketers is a stumbling block.
Hence, brands tend to shift to other women athletes. In, for instance, tennis or badminton.
These games have got better exposure in terms of telecast over recent years and, hence, names such as Saina Nehwal, P V Sindhu and Sania Mirza are better known.
"Some sports are gender-neutral, like tennis, badminton or volleyball. Others like cricket and football tend to be skewed towards males. That factor is always going to be there," observes Ramakrishnan.
"But, as more people know about the women's game and achievements, they will get noticed by brands as well."
In terms of the brands that would be interested in hiring women cricketers as endorsers, experts believe it would be the same categories that would look at female athletes.
They will look for a combination of qualities such as strength, endurance, dedication and aggression, in terms of brand fit.