This is clearly a new India, says Dhruv Munjal, one that displays temerity in plenty, and backs up intent with performance.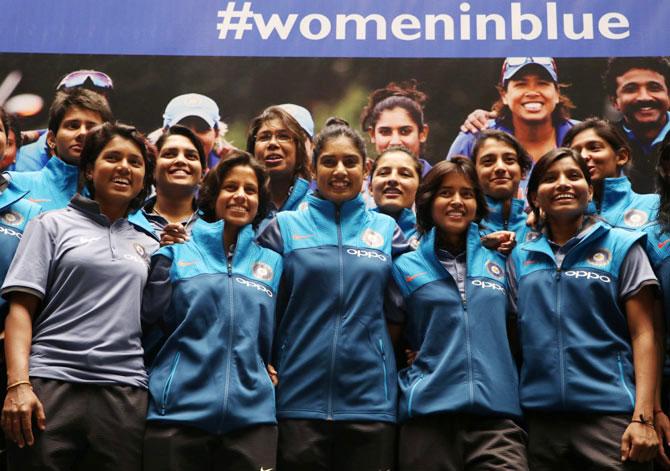 IMAGE: The Indian women's team in Mumbai. Photograph: Hitesh Harisinghani/Rediff.com
'You were born with wings, why prefer to crawl through life?'
Indian Captain Mithali Raj apparently enjoys a bit of Rumi. It calms her down before going out to bat, she says.
Fittingly then, crawling is not something that would've been discussed much when the team embarked on its quest to win a maiden World Cup.
Flying, it had to be then. And keeping with Raj's motif, flown they have -- and how.
It is difficult to put the enormity of what India has done in England and Wales into proper context.
There is a strong chance of understating the intensity of their play, whose broadcast so many fans have relished over the past few weeks.
Yes, thousands have recently been tuning in to watch the Indian women's cricket team, rapturously and eagerly egging it on.
Unlike the men, who enjoy the status of a sacrosanct, world-thwarting juggernaut in the modern game, and their failure to go deep in a major tournament is treated as nothing short of a cataclysm, the Indian women are blessed with a lesser aura.
In fact, for long, they embodied the hackneyed description that generally merits a largely unexceptional side: The 'can surprise, but will have to play out of their skins to upset the big guns' kind of stuff. That was, of course, until now.
This World Cup has reshaped that notion into a great fallacy.
India's win over Australia in the semi-final confirmed that their wins against England and New Zealand earlier in the tournament were no flukes.
Luck doesn't get you far in the Women's World Cup: a rigorous round robin format ensures that weaknesses are cruelly exposed along the way.
India were worthy finalists -- a first appearance in the fixture since 2005 when they succumbed against the Aussies at Centurion.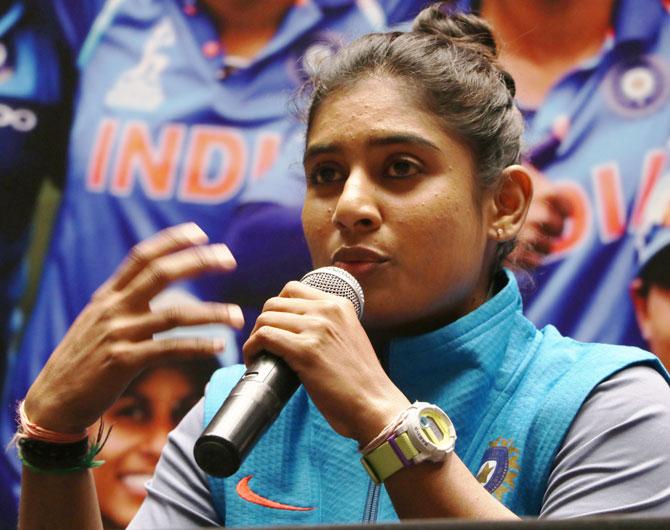 IMAGE: Mithali Raj backs the idea of a women's IPL to give domestic women cricketers a platform to show off their skill. Photograph: Hitesh Harisinghani/Rediff.com
What makes India's ascent more remarkable is their recent history in major tournaments.
They crashed out of the 2013 World Cup at home in the first round, tasting defeat even against lowly Sri Lanka.
At the World T20 three years later, a similar script followed; this time Indian misery was compounded by a loss to Pakistan, who they swept aside with consummate ease this time around.
What painfully stood out in both these tournaments was an evident lack of adventurism.
Even as Australia, England and New Zealand brought to the women's game a new wave of belligerence, the Indian side chose to languish in archaic times, exhibiting little vigour and often bowing out of tournaments with unsatisfactory takeaways.
Every once in a while, old-timers Raj and Jhulan Goswami produced sporadic flashes of brilliance, but they seldom proved enough to pull the entire team through.
All that seems a long time ago now.
Look no further than Harmanpreet Kaur's rip-roaring 171 in the semi-final to corroborate that claim.
Her performance against Australia was typical of the batting-friendly times we live in: fearless and inclusive of coruscating strokeplay.
Her liking for the big stage has perhaps only been augmented after turning out in the Big Bash earlier this year, where she starred for the Sydney Thunder.
A short passage of petulance -- which left Deepti Sharma in tears -- aside, Harmanpreet very much resembled a player born for such an occasion.
And unlike times of dismal past, the bowlers did not let her efforts go in vain.
Sapna Pandey didn't allow the opposition to get away at the top, Sharma picked up key wickets, and Poonam Yadav's loopy leg-spin kept the Australian middle-order in check.
The highlight of the afternoon came from Goswami, who produced an unplayable outswinger to dismiss Aussie skipper Meg Lanning -- a delivery that would have made Jimmy Anderson immensely proud.
Undoubtedly, the most discernible improvement has been the fielding.
Athleticism and Indian women's cricket have never really complemented each other in the past; a bunch of diminutive, sprightly fielders is somewhat turning that around now.
The odd catch is still grassed, but the days of routine embarrassments in the field seem to be finally behind us.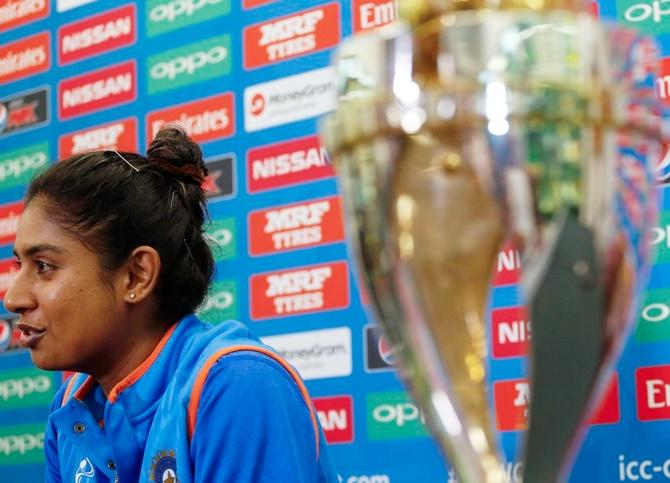 IMAGE: Mithali Raj showed that her class is timeless. Photograph: ICC/Twitter
Most pleasingly, not for once did India look like a one-woman team during the World Cup.
A new star has emerged in almost every game: Smriti Mandhana overwhelmed the English with a plucky hundred in the opening game,
Raj showed that her class is timeless in the round robin game against Australia, and Rajeshwari Gayakwad ripped through the Kiwi batting line-up in an astonishing exhibition of left-arm spin bowling.
This is clearly a new India, one that displays temerity in plenty, and backs up intent with performance.
They have an easygoing swagger about them, too. Reading books and swaying to music in the dressing room is not something they're afraid of doing.
Funnily, this youngish team is shepherded by two battle-hardened veterans.
You don't need to be an astrophysicist to figure out where the women's game in India would be without Raj and Goswami.
And luckily for India, the two 34 year olds are not just passing on experience, but still excelling at their respective disciplines.
Raj has amassed the most runs in the women's limited overs game, Goswami the most wickets.
Without them, the balance between experience and exuberance in the team would get terribly distorted.
That the Board of Control for Cricket in India has started offering contracts -- albeit paltry ones -- to women players has obviously helped.
The fact that the Board, in a way, no longer treats them like peripheral figures has ignited a confidence unseen in the women's game before.
Playing for India, now a lot of them realise, can reap rich monetary dividends too.
There is little doubt then that the team has elevated its performance considerably in the past 12 months.
What could fuel their progress even further would be a tournament akin to the Indian Premier League.
The Aussies, with the Women's Big Bash, have shown what a difference a world-class T20 league can make.